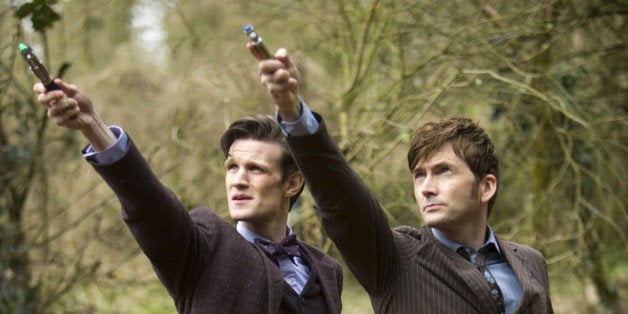 "Doctor Who" showrunner Steven Moffat was not happy with the BBC when they canceled the series for 16 years back in 1989.
In the new "Doctor Who"-centric issue of Radio Times, Moffat wrote a piece celebrating the 50th anniversary of "Doctor Who."
"Ah, 50 years. What can one say about 50 years of 'Doctor Who'? Well, first of all, one can be pedantic," he wrote. "'Doctor Who' hasn't been on for 50 years -- owing to the outright stupidity and unforgivable blindness of the BBC (sorry guys, it needs to be said), there was a 16-year gap."
Even though the series was canceled in 1989, it lived on in radio dramas and books before returning to the screen in a 1996 TV movie with Paul McGann as the Doctor. Fans would have to wait another nine years for a full "Doctor Who" television series when Russell T. Davies revived the show in 2005.
"Doctor Who" has remained popular since its revival in 2005, but there were rumors swirling last year when fans thought BBC was producing fewer episodes of the series, leading some to believe that it was on the verge of another cancellation. Moffat cleared up the rumors when he spoke with NME. "It's a huge money-spinner. It's doing better than ever abroad -- the global number of people watching 'Doctor Who' has just gone up and up and up," he said. "It was the most downloaded show on American iTunes last year, so [there's] not a chance of the BBC giving up on 'Doctor Who.'"
The "Doctor Who" 50th Anniversary Special, "The Day of the Doctor" airs this Saturday at 2:50 p.m. EST on BBC America.
Calling all HuffPost superfans!
Sign up for membership to become a founding member and help shape HuffPost's next chapter
BEFORE YOU GO
PHOTO GALLERY
"Doctor Who" Season 7