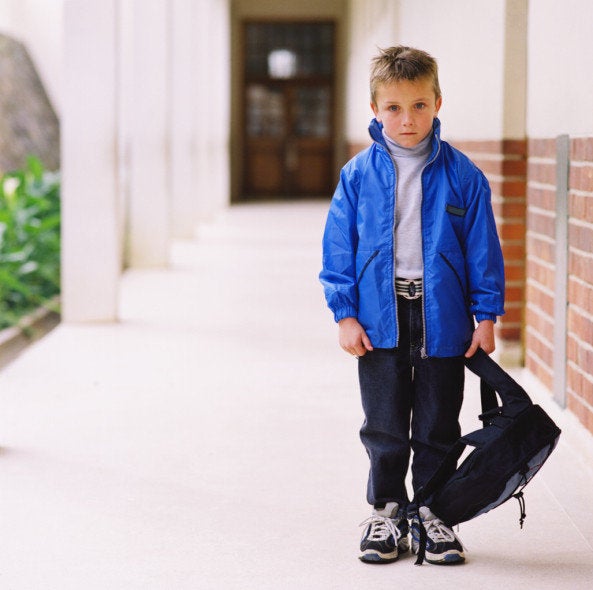 Getting out of bed on a Monday morning; turning off the computer after being called to dinner; going to bed on time. What do all of these have in common? They are all transitions and kids have trouble with them. However, these are nothing compared to the huge looming transition of settling down into a new school year. The laziness of summer is now replaced with the structured rigor of school.
Kids experiencing divorce dislike the end of summer as much as anybody. But they also face their own unique challenges this time of year. A child of divorce may be seeing her friends and family for the first time since her parents split. Worries such as, "What do I say?" or "Will they treat me differently?" are common.
On top of that, he may have to go from one house to another. More worries: "Did I forget my books at Mom's place?"; "Where is my homework?"; "Does Dad know what we have to do for English tomorrow?"
It's a lot for a child of divorce. But you can ease their way by preparing your child and his or her teachers in the following ways:
1. Talk to the principal about your family situation. It will be good for her to know in case your child should prove to be vulnerable. If your son or daughter is starting in a new school it's an heroic act of parenting to prepare the school, and check in early to make sure that he or she is thriving.
2. Some schools have supportive programming for children of divorce. You can enroll your son or daughter if you think they would benefit.
3. Take your kids shopping for school supplies towards the end of summer. It will start to prepare them for the transition ahead. And, it may get them talking.
4. Put some time aside to talk to your kids about what's coming, but don't push too much. It will feel forced. Ask if they have any worries about the first few days. Ask them what may be exciting this year. Let them know that you are here to listen and to help. A little reassurance goes a long way.
5. Work out an iron clad schedule with your ex. Your child needs to know exactly where he or she is going to be every day. Confusion will not help the transition.
6. Develop a reliable method of communicating with your ex about homework assignments, medication issues and the like (e-mail or a note book that travels with the children should work).
7. Two homes and good organization don't go together. Sometimes homework will get left and gym cloths forgotten. Don't stress. If you can afford it, get two sets of books. Ask your child to try his/her best to remember everything that he/she needs to do. With good humor and some extra effort, it should work out.
8. If your son or daughter is on a medication regime, be well organized. Make sure that there are enough of the required medications in each home at all times. Missing a dose should not be an option.
9. A sweet idea: Perhaps have a special dinner (with dessert!) or get together with friends after the first day of school. It's great to have something to look forward to.
10. Finally, be prepared in case there is a real drop in grades. Sometimes academic under performance is the first sign that a child of divorce may need some psychological help.
A transition as big as starting a new school year is challenging for any child, especially for a child of divorce. But it doesn't need to be the end of the world. By following these few tips, you can keep your child organized and on top of his or her schoolwork. The difficult time you're both going through can be kept from interfering with what's most important: your child's health and education.