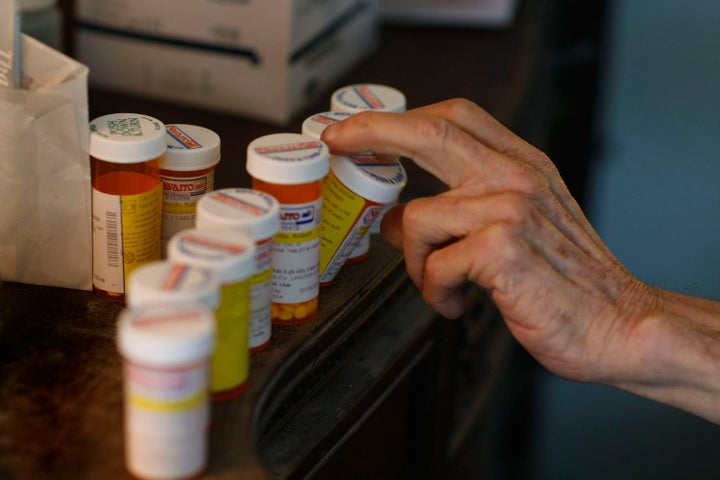 Cancer medicines desperately needed by sick children and adults are in short supply, undermining the ability of U.S. doctors to administer treatments, top oncologists warned this week.
Many drugs are scarce because there is no incentive for drugmakers to manufacture low-cost generics, which have slim profit margins for pharmaceutical companies. Doctors do not expect that equation to change any time soon, making them scramble to find acceptable alternatives, or to ration or delay treatment when they cannot.
Generic chemotherapy drugs are in particularly tight supply at the nation's hospitals, including mainstay cancer treatments such as cisplatin, doxorubicin, cytarabine and leucovorin.
"These are chestnuts. These are not old-fashioned drugs. They remain incredibly important drugs which serve as the backbone for treating many of the most common and treatable cancers," said Dr. Robert Mayer of the Dana-Farber Cancer Institute in Boston and a past president of American Society of Clinical Oncology (ASCO) which held its annual meeting in Chicago this week.
Cisplatin is used to treat testicular, bladder and ovarian cancers that have spread. The drug, also used to treat lung cancers, is sold under multiple brand names, originally by Bristol-Myers Squibb. A generic form is sold by Teva Pharmaceutical Industries Ltd, among others.
Doxorubicin, also available under multiple brands and as a generic from Teva and others, is used to treat non-Hodgkin's lymphoma, multiple myeloma, acute leukemias and other cancers.
Cytarabine, produced by Hospira Inc and others, is used to treat certain types of leukemia. Leucovorin, also sold by Teva, is used along with certain chemotherapy drugs to treat colorectal, head and neck and other cancers.
Dr. Michael Link, a pediatric oncologist at the Mayo Clinic and current ASCO president, called it a disheartening crisis.
"Here we have highly effective drugs, they've been shown they work and to think we don't have them available is almost unconscionable," Link said. "We don't see an end in sight."
In some cases, doctors can substitute another drug for one that is in short supply.
"It's still uncomfortable to say that this is ideally what we'd like to do, but unfortunately we don't have it," Link said. "You can imagine the conversation and I'm sure they're going on all over -- doctors have to tell their patients or their patients' parents that we can't give them the proven drug because we don't have it."
For some of these medicines in short supply, there may not be acceptable alternatives.
"One could say that substituting Pepsi for Coca-Cola doesn't make a difference. Maybe it does and maybe it doesn't," Mayer said. "But more often it might be substituting 7-UP for Coca-Cola, and that might make a difference."
Leucovorin, a form of folic acid that is used to enhance the effectiveness of other chemotherapy drugs, is one example.
"This is the one that I hear the most about from my colleagues. If you don't have it, you just have to omit it. It certainly isn't in the best interest of patients. It is a very inexpensive drug," Mayer said.
Sophia Parhas, a pharmacy manager at Children's Memorial Hospital in Chicago, said if there is a shortage of the generic, the hospital will often buy the branded product.
"We make some substitutions ... so doctors will go back and forth between daunorubicin and doxorubicin, depending upon which one is short," she said.
Another option is for doctors to flip the order that drugs are given depending on the supply situation. Allen Vaida, executive vice president of the Institute for Safe Medical Practices, which has been tracking the shortage, said doctors have also been forced to delay or ration treatments.
"Patients are started on a therapy and they may go through four or five or six cycles. When a drug becomes short, your cycle may be coming up a month later than planned," he said.
"Oncologists, especially in major cancer centers, are in a quandary. 'Do I start my patient on therapy? Do I save what I have for patients who started two cycles ago?'"
Dr. Richard Schilsky, cancer specialist at the University of Chicago and a past ASCO president, said the shortages have been going on for about nine months with no sign of abating.
"When you talk to the drug companies, they say there are manufacturing problems or they are taking plants offline and then it takes a while to get them back up," he said.
"They point the finger at the FDA (Food and Drug Administration), saying the FDA is under-resourced and they can't get plants inspected to allow resumption of drug production. The drug suppliers are in the middle of this as well," he said.
But underlying all of this, he said, is a dearth of financial incentive to make the lower-cost cancer drugs, especially when new cancer drugs command huge premium prices.
"The return on investment of manufacturing generic drugs is pretty low. If something goes wrong, it may be that some manufacturers decide to pull out rather than fix the problem."
Hospira spokesman Dan Rosenberg said shortages arise for many reasons -- capacity constraints, commodity shortfalls, or when a competitor withdraws its product for some reason or when competitors have shortfalls. It is not always possible for Hospira to ramp up production that quickly, Rosenberg said.
"We are doing everything we can to ensure access to these products for clinicians and patients," he said. "Often, we continue manufacturing products at a loss because we realize there is a critical medical need and we are the only company that provides the medication."
A Teva spokesman said its California plant that makes injectable drugs, which was closed last year due to quality issues, is now back up. But the plant will not reach full capacity until the end of this year.
To address the shortages, U.S. senators Amy Klobuchar, a Democrat from Minnesota, and Robert Casey, a Democrat from Pennsylvania, introduced a bill in February that would make drug companies inform the FDA about supply problems or plans to stop making a drug. The FDA would then have time to work with other suppliers to make the drugs or arrange for imports.
"That is a canary in the coal mine," Schilsky said. "It doesn't really resolve the fundamental problem."