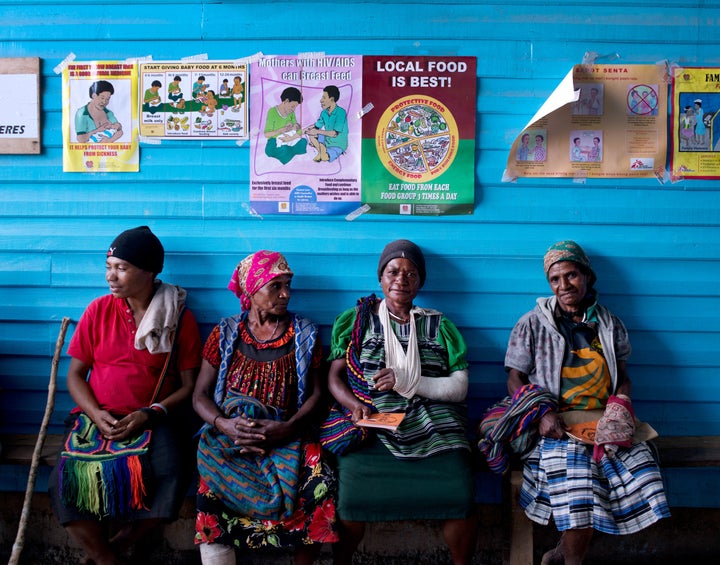 The first time I met Mary, she came into MSF's emergency surgery project in Tari, Papua New Guinea (PNG), suffering from wounds all over her body where her husband had beaten her with a stick. The second time I saw her in the hospital she had terrible lacerations to her hand; her husband had tried to 'chop' her head with his machete and she had raised the hand to protect herself. The third time, he had punched her and broken her nose. And the fourth time, less than a month ago, we had to suture up gashes on her head and back after he'd beaten her brutally with a stone.
Then, last weekend, Mary ventured out of her house to the Tari market, defying her husband's strict edict that she stay at home at all times. When he found out, he attacked her in public, breaking an arm and a leg. She's now back in our hospital—for a fifth time—in a wheelchair, slowly recovering.
For the past eight months, I've worked as a managing nurse at MSF's project in Tari—the remote capital of a remote district in this little-known island country north of Australia. We work in the surgical ward of the Provincial Hospital, often helping to stabilize patients with serious injuries from road accidents, skin abscess and burns. But roughly a third of our patients are people who've been severely injured by family and sexual violence. Almost all of them are women and children. We provide them with first line medical care and surgery, if needed, at the hospital and then we take them for more specialized treatment and mental health care at the MSF family support center next door.
MSF started working in PNG nine years ago because there was a huge need for these specific services; I frequently hear people from the community say that MSF has saved thousands of lives by being here. That part of it—helping make a significant difference in our patients' lives—has been extremely gratifying. But I can't ignore the problems that we as an organization cannot address.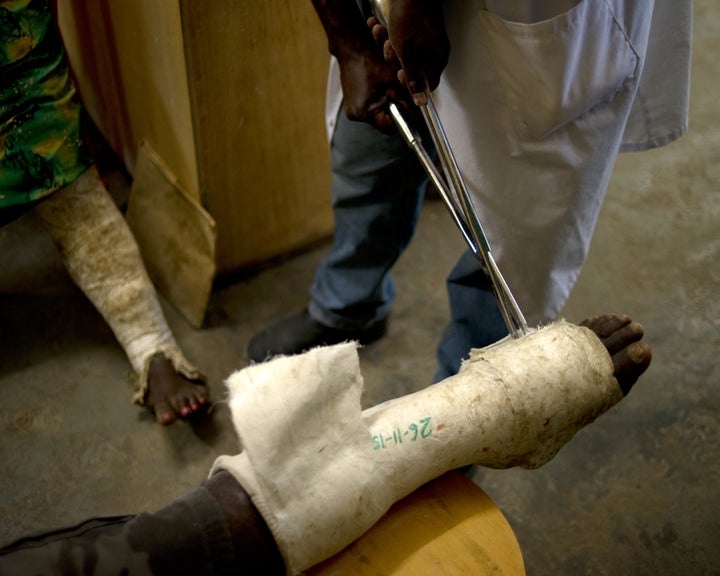 Every time Mary came in for treatment, she was terrified of going back home and getting beaten again. But she was even more scared of what might happen if she left their three children alone, or alone with her husband, so she had always declined my offers to stay the night.
This last time, however, when I told her that her injuries were so bad that she couldn't go home, that she had to stay as an inpatient, I could see she was relieved. She still worried about her children, but she now had an enforced time of respite from her tormentor.
I wish Mary was an exceptional case, an extreme of what we see in the hospital and in the family support center. But she isn't. MSF has treated 27,993 survivors of family and sexual violence since 2009 and our case numbers have gone up every year. Many of our patients have come in more than once—women trapped in abusive relationships, or children who were likely abused by a family member or by someone else they know.
This is not exclusive to PNG, of course. MSF treats patients for sexual violence all over the world and with the exception of conflict zones, where rape is often used as a weapon of war or by men taking advantage of a breakdown in order, most people who are raped already know their attacker. The difference in PNG is that survivors of family and sexual violence, including children, often have nowhere to go other than back to an unsafe place where both we and they know they are likely to be abused again.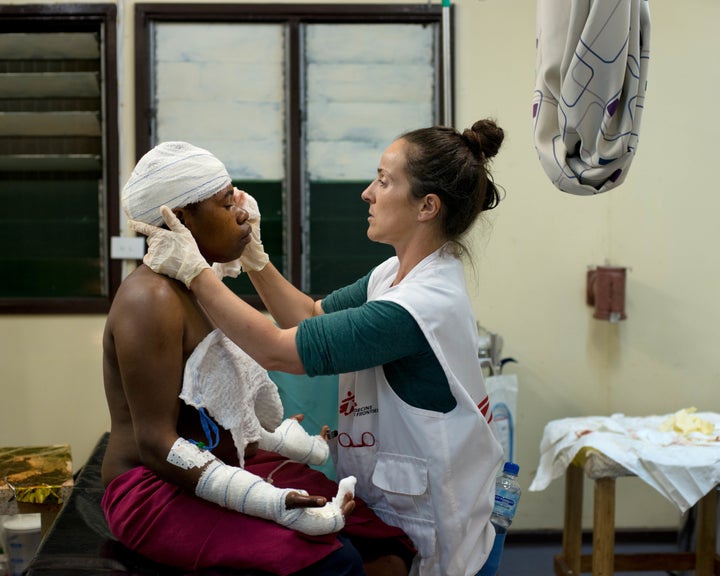 When MSF began running these programs in PNG, there were very few programs of any kind that provided assistance to victims of family and sexual violence. Today, after several years of offering medical and psychological care, training national staff, sharing models of care, and working with the government to prioritize the medical and mental health care needs of a population suffering from extreme levels of violence, there have been some improvements. As of this month, in fact, we will hand over the project in Tari to provincial health authorities. (MSF will continue running other projects in the country, mainly for tuberculosis).
I have mixed emotions about this, to be frank. While I have confidence in the wonderful national staff that MSF has trained and I know there are individuals committed to running these treatment programs well, there is still very little protection available to women and children suffering from patterns of abuse. When Mary's fractures have healed, there is nowhere in Tari, or in much of PNG, for she and her children to seek safety: no safe houses, no shelters, no family services.
Although reliable countrywide data is difficult to find, the rates of family and sexual abuse in PNG are estimated to be among the highest in the world outside of a conflict zone. MSF's data shows that most of our patients are abused by partners, spouses, or family members, and more than half of those patients are children. About half of our patients said they had been raped at home: one of every 10 women said they experienced sexual violence as a matter of routine while two of every five children have experienced sexual abuse more than once.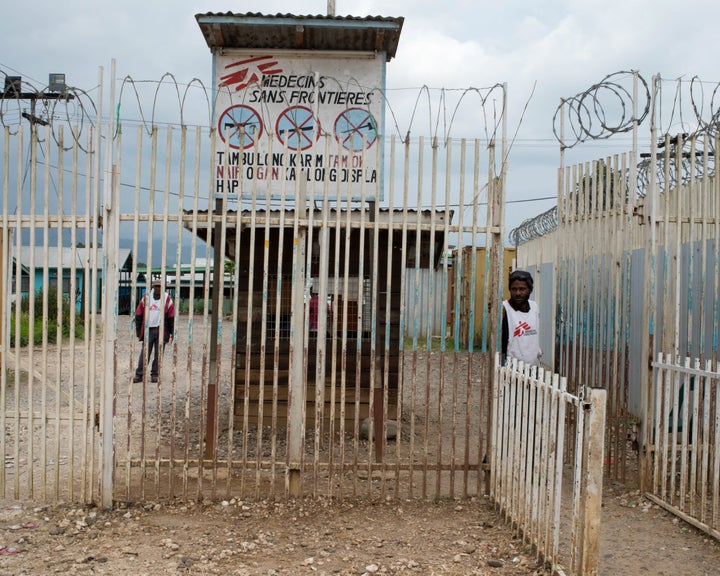 On many days, we see painful reminders of the pervasiveness of violence here: our own female national staff members sometimes come to work too sore or beaten up to perform their duties. The very nurses, mental health counsellors, cooks and cleaners who help us treat women and children for these vile abuses at home are subjected to them, too. 
Divorces are possible but very complicated. Here in Tari, when a woman is married, the man must pay a "bride price" to the woman's family. This can be a hefty sum—in some instances, the man's whole tribe contributes money and livestock—and the woman's family and tribe must agree to pay back the bride price before she can leave. Traditional village courts may grant a woman a divorce, but in this strongly patriarchal society, they are reluctant to do so.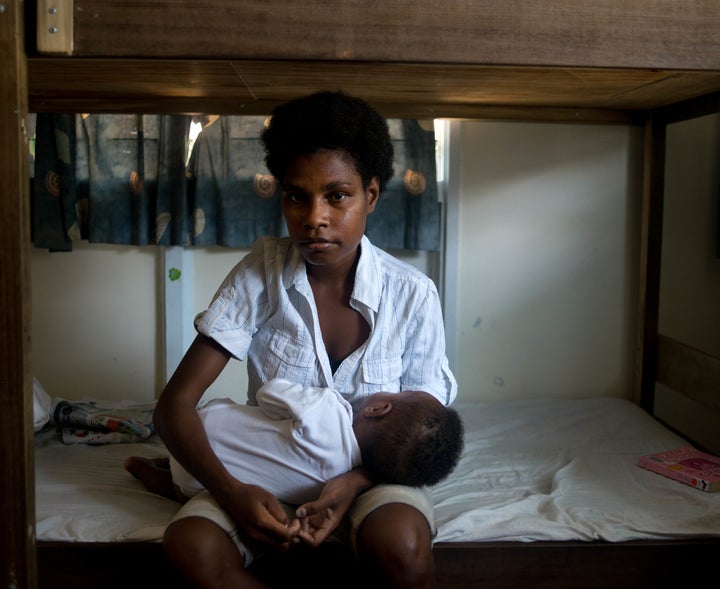 The government has taken steps in the right direction, but its efforts are still nascent. Newly established family and sexual violence units at some police stations are languishing without adequate numbers of trained personnel. The 2013 Family Protection Act that made family violence a punishable crime—for the first time—is not being adequately enforced. And, after seven years of review, a child welfare act passed last year, mandating child protection officers to prevent and respond to child abuse and giving officers the power to remove a child from a situation where he or she is at risk to a licensed safe house. But regulations to enforce this act have not been passed, and progress has been stalled. Plus, only four of the country's 22 provinces have budgets for its implementation.
I'm proud of the work that MSF has done in PNG but I am worried that while we've helped make urgently needed medical and mental health care available to these survivors, we might merely be fixing them up to go right back to more suffering, more abuse, more sexual violence. How long will they remain survivors?
The only way there is any hope for a future for Mary and all of the other women and children living in a cycle of abuse in PNG is for the government to find increased political will to follow through and take action on these issues. It also needs the political will of countries that donate to PNG - Australia being the largest and the U.S. and E.U. being substantial contributors - to put pressure on PNG to do it.
International Women's Day is on March 8; it's a good time to bring attention to the lives of women and children in this far away place, and to remind our governments of the power they have to help make a significant difference.
Calling all HuffPost superfans!
Sign up for membership to become a founding member and help shape HuffPost's next chapter