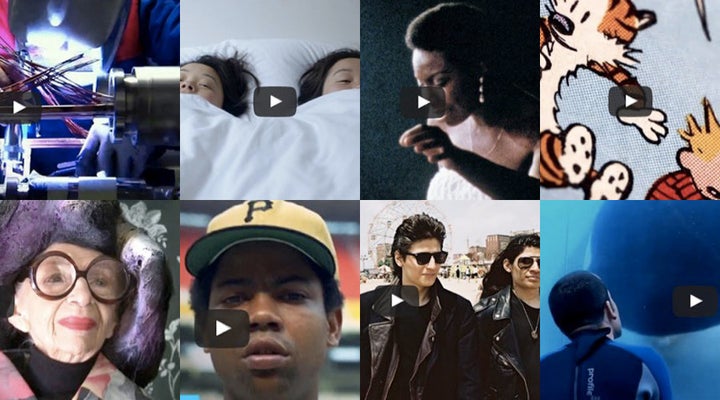 We've already given you recommendations for TV and film to stream when you're actually watching Netflix and chilling. But if extreme weather is still forcing you inside with no content to devour, here are 28 documentaries you can watch from the comfort of your own Netflix account. 
This list is for the doc-obsessed who who can't stop talking about films like "Tickled" or "Zero Days" or "Amy." The nonfiction fans looking for a fix, who just want to come home to a queue filled with documentary goodness. Hey, you might not be getting vitamin D, but you are definitely going to have some things to talk about at your next dinner party. (Note: That dinner party will also be indoors.)
1. "The Wolfpack" (2015)
This is the beautifully chilling story of the Angulo brothers, who spent much of their early lives shut inside an apartment on the Lower East Side of Manhattan, only learning about the outside world through the movies they watched and recreated together. If you haven't seen this 2015 doc yet, you have an absolutely amazing night ahead of you. (Director: Crystal Moselle)
2. "Iris" (2014)
Famed "Grey Gardens" documentarian Albert Maysles follows Iris Apfel, a 93-year-old New York style icon with an unfathomably unique collection of couture jewelry, who says things like "it's better to be happy than well-dressed." True. Style. Inspiration. (Director: Albert Maysles)
3. "Miss Sharon Jones" (2015)
This doc follows the struggle of the late, legendary R&B singer Sharon Jones, who ― after being dubbed the modern-day female James Brown― was diagnosed with cancer. The camera follows Jones and her band, The Dap Kings, as they attempt to hold their lives together during a massive tour. (Directors: Barbara Kopple)
4. "Particle Fever" (2013)
If you enjoy geeking out over particle accelerators, you'll like "Particle Fever," told through commentary from six different scientists during the launch of the Large Hadron Collider. All the drama that you'd expect to accompany "the biggest and most expensive experiment in the history of the planet" ensues. (Director: Mark Levinson)
5. "Beaver Trilogy Part IV" (2015)
This one is for the cult film lovers. It's is the unconventional fourth installment to a series of original films lumped together as the "Beaver Trilogy" ― by Trent Harris, circa 2000 ― about an innocuous small-town Utah outsider with bigger-than-imaginable Hollywood dreams. Affectionately referred to as "Groovin' Gary," aka "the Beaver Kid," the first "Beaver Trilogy" mysteriously introduced the man, and this fourth piece tries to puzzle together questions previously left unanswered. (Director: Brad Besser)
6. "What Happened, Miss Simone?" (2015)
Want to get to know the enigmatic woman that was Nina Simone? This tragically beautiful film uses rare recordings and archival footage to recount the life and trauma of one of history's most unique stage presences ― who was, as her daughter explains, the same person in the limelight as she was in the shadows. (Director: Liz Garbus)
7. "Cartel Land" (2015)
Described as "a classic Western set in the 21st century, pitting vigilantes on both sides of the border against the vicious Mexican drug cartels," this documentary tackles gun violence, police activity and border politics all in one dramatic yet still character-based one-hour-and-forty-minute film. (Director: Matthew Heineman)
8. "Jaco" (2014)
Ever heard of bass guitarist Jaco Pastorius? He was a cross-genre musician who played with Joni Mitchell, Herbie Hancock, Weather Report and so many more. You've probably heard his music, but you've never heard this story. Music nerds, this makes for a good Thursday evening. (Directors: Stephen Kijak and Paul Marchand)
9. "The Queen of Versailles" (2012)
Meet the billionaire couple who planned to live in a 90,000-square-foot mansion inspired by Versailles, that was unfortunately built on the success of the time-share industry and the ashes of the American dream. (Directors: Lauren Greenfield)
10. "Being Ginger" (2013)
Pegged as a story about modern dating, "Being Ginger" is an honest glimpse into the life ― and really, lives ― of a modern redhead who is genuinely interested in the history of bias connected to red hair. (Director: Scott P. Harris)
11. "Team Foxcatcher" (2016)
Maybe you've seen "Foxcatcher," the Oscar-nominated fictionalized film starring Channing Tatum, Steve Carell and Mark Ruffalo. The documentary "Team Foxcatcher" similarly focuses on the Foxcatcher wrestling facility and founder John du Pont, once a sports-obsessed philanthropist who eventually became a convicted murderer. (Director: Jon Greenhalgh)
12. "Dear Mr. Watterson" (2013)
If you still harbor an inexplicably soft spot in your heart for Calvin & Hobbes, just watch this documentary with a plate of cookies and a glass of milk. Prepare to fall in love with the philosophies of creator Bill Watterson. (Director: Joel Allen Schroeder)
13. "She's Beautiful When She's Angry" (2014)
"She's Beautiful When She's Angry" centers on the beginning of the women's movement in 1966 to 1971, from the founding of NOW (National Organization of Women) to WITCH (Women's International Conspiracy from Hell!) and everything in between. From the ups to the downs ― specifically, how leadership decisions overlooked greater issues of race and sexual orientation within the women's rights movement ― the film dives deep into the ways second-wave feminism succeeded and failed. (Director: Mary Dore)
14. "Hot Girls Wanted" (2015)
"Hot Girls Wanted" takes viewers inside Florida's "amateur" porn industry, exploring how five real young women handle the fleeting fame and aftermath of an industry few of us understand. (Directors: Jill Bauer and Ronna Gradus)
15. "Do I Sound Gay?" (2014)
Follow David Thorpe as he investigates his own fear of "sounding gay." Thorpe, a gay man himself, works with a speech therapist to identify and rework his vowel sounds and nasal voice, all along the way speaking with LGBTQ celebrities, friends and family about his particular anxiety and what it means. (Director: David Thorpe)
16. "Twinsters" (2015)
When a French fashion design student came across her own face on YouTube, she sent the American video creator a message. It turns out that the two Korean-born women were twins separated at birth, and their story of reconnection is intimate and worth a watch. (Directors: Samantha Futerman and Ryan Miyamoto)
17. "Welcome to Leith" (2015)
"Welcome to Leith" shines a light on a small town in North Dakota that became the staging ground for an infamous white supremacist named Craig Cobb. The documentary follows his neighbors and other community members who are desperate to rid their home of a symbol of hate. (Directors: Michael Beach Nichols and Christopher K. Walker)
18. "The Imposter" (2012)
A Texan boy went missing in 1994. Then, three-and-half years later, he was supposedly located thousands of miles away in Spain. "The Imposter" centers on the boy's family, who, despite obvious inconsistencies in the boy's physical appearance, embraced the long-lost "son" as their own. When the truth spills out, you're left questioning your own desire to believe. (Director: Bart Layton)
19. "Tig" (2015)
"Tig" follows Tig Notaro, a comedian dealing with a life-threatening infection, the sudden death of her mother and a bilateral breast cancer diagnosis. In the face of constant obstacles, she performed "Hello, I Have Cancer," a profound exploration of comedy's place in tragedy. (Directors: Kristina Goolsby and Ashley York)
20. "The Search for General Tso" (2014)
You've probably eaten General Tso's chicken, that well-known Chinese-American dish that seems to be sold everywhere fast food reigns supreme. You've probably also asked yourself, Who was General Tso? This documentary attempts to answer that question and tell a tale of American immigration along the way. (Director: Ian Cheney)
21. "Blackfish" (2013)
Sea World announced in March that it plans to phase out killer whale shows. This is the documentary that made America ― and the world ― pay attention to something animal injustice activists have been protesting for years. (Director: Gabriela Cowperthwaite)
22. "Amanda Knox" (2016)
You know her story, but directors Rod Blackhurst and Brian McGinn are finally letting Amanda Knox tell it for herself. (Directors: Rod Blackhurst and Brian McGinn)
23. "Detropia" (2012)
Here's everything you wanted to know about Detroit, a city that has encountered massive economic upheaval and racial tensions over the past 50-plus years and subsequently became a place for artistic and political revolution. (Directors: Heidi Ewing and Rachel Grady)
24. "Jiro Dreams of Sushi" (2011)
If you salivate over the mere prospect of a sushi dinner, meet Jiro Ono, an 85-year-old man considered by many to be the world's greatest sushi chef who runs Sukiyabashi Jiro, a 10-seat restaurant nestled inside a Tokyo subway station. (Director: David Gelb)
25. "Beyond Clueless" (2014)
Immerse yourself in the worlds of 200 teen movies, and the coming-of-age comedies and dramas we've become to accept as canon. Bonus: It's all narrated by cult teen star Fairuza Balk. (Director: Charlie Lyne)
26. "No No: A Dockumentary" (2014)
"I took some LSD when I took off with the car and the next thing I know, there I was out there, you know, high as a Georgia pine, tripping on acid." So recalls Dock Ellis, the baseball player who pitched a no-hitter while high on, yes, LSD. Sports history fanatics ― you'll want to see this. (Director: Jeff Radice)
27. "The Propaganda Game" (2015)
Director Alvaro Longoria ushers viewers inside the territory of North Korea, juxtaposing the artificial environment he was allowed to see with the pleas of global leaders and human rights activists asking for justice for those denied freedom in the country. (Director: Alvaro Longoria)
28. "The Square" (2013)
"The Square" highlights the young activists in Tahrir Square who helped launch an entire revolution ― peaceful, protest, violence and all. Watch as the camera follows intimate, street-level conflicts and communions that shed light on a still-ongoing phenomenon. (Director: Jehane Noujaim)
Calling all HuffPost superfans!
Sign up for membership to become a founding member and help shape HuffPost's next chapter
BEFORE YOU GO
PHOTO GALLERY
12 Fascinating Political Documentaries To Stream