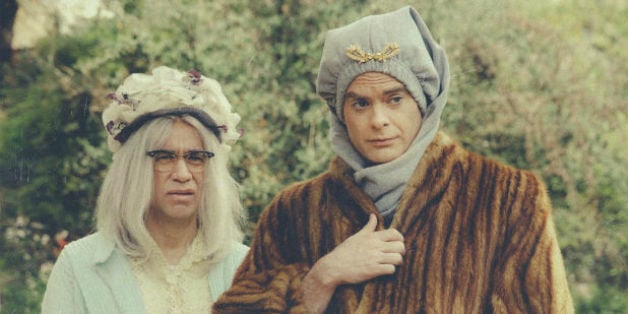 The first episode of IFC's new comedy series Documentary Now! is a pitch-perfect parody of the cult doc Grey Gardens. Co-creators and stars Bill Hader and Fred Armisen pay homage to mother-and-daughter duo "Big Edie" and "Little Edie," relatives of Jackie Kennedy who are the subjects of the 1975 documentary by brothers David and Albert Maysles. Grey Gardens captures the decrepitude of the Edies' decaying Long Island mansion -- a decay that mirrors their own mental states. In the Documentary Now! parody, Hader mugs for the camera in a headscarf fashioned out of a pair of sweatpants. "The wardrobe department loved that episode," Hader told Entertainment Weekly. "They would put sweatpants on my head, and I was like, 'What is this? This is so insane.' And then I watched Grey Gardens and, yeah, she has, like, sweatpants on her head."
As much as I admired the episode, I wondered if the brilliance of the parody would be lost on viewers who haven't seen Grey Gardens. But then I realized that documentaries have become so mainstream that even if you haven't seen Grey Gardens, or the 1922 documentary Nanook of the North -- considered the first feature-length documentary, and the source material for Documentary Now!'s third episode -- you've probably heard of them. The popularity of documentaries among ordinary filmgoers who don't have cinema studies degrees has risen steeply over the past decade, and Documentary Now! only confirms the genre's firm standing in mainstream pop culture.
Just as comedy series like Nathan for You, Kroll Show, and Burning Love spoof different genres of reality TV, Documentary Now! spoofs the form and tone of a variety of documentary styles. In fact, I'd argue the television industry's love affair with reality TV is directly related to our growing enthusiasm for documentary films: We've become so attuned to reality TV's editing style, parallel storylines, voiceovers, and, of course, low-budget production values, that we've come to see nonfiction feature films in a whole new light. And now that we're intimately familiar with their formal cues, it's parody time, baby.
What was once considered stuffy and educational -- the filmic equivalent of eating your vegetables -- has become meaty and enticing. As historian Steven Mintz pointed out a full decade ago, the proliferation of cable channels helped create a stable market for documentary filmmakers. This lead to an explosion of different documentary styles on TV, from earnest, social-issues-driven docs à la Ken Burns, to news docs like those shown on PBS's Frontline, to concert films.
In cinemas, persona-driven documentaries of the mid-2000s like Michael Moore's Bowling for Columbine and Fahrenheit 9/11, or Morgan Spurlock's Super Size Me -- docs in which the filmmaker places himself at the center of his narrative -- achieved both critical and box-office success. Documentary heavyweights like Errol Morris and, more recently, The Act of Killing's Joshua Oppenheimer have toyed with the format to present something more surreal and ambiguous than we previously expected from the documentary genre.
In recent years, programmers have begun to realize that audiences are clamoring for more nonfiction films. In 2013, documentaries accounted for 16 percent of the Cannes film market, compared with 8 percent in 2008. In 2014, the documentary Virunga premiered on Netflix (it would later earn an Oscar nomination), and the streaming service -- which has encouraged our obsession with documentaries with its impressive slate of nonfiction offerings -- has pushed for original documentary programming this year with the series Chef's Table and the film What Happened, Miss Simone?.
I think the growing popularity of documentaries speaks to something else, too: the rapidly shrinking space for mid-size theatrical launches, those films that aren't blockbuster franchises or shoestring indies. In a report released earlier this year, research analyst Doug Creutz wrote that "major studios are all moving towards increasingly indistinguishable strategies, as they all put more and more eggs in the franchise picture basket." Nowadays, the place for filmmakers with a vision and a voice is more often than not on the small screen. But for audiences who crave meaningful feature-length entertainment, documentaries have swooped in to save the date night.
According to Patricia Aufderheide, a professor of communication studies at American University and the author of the 2007 book Documentary: A Very Short Introduction, "Documentaries have become more popular as a distrust of mainstream media has grown. Viewers see documentarians as truth tellers."
But, like reality TV before it, documentaries are no longer a niche attraction or an oddity among "regular" scripted programming. Documentary Now!'s painstakingly accurate spoofs are an homage to what is now a totally regular part of our media diet. Welcome to the mainstream, docs! Here's a pie to the face.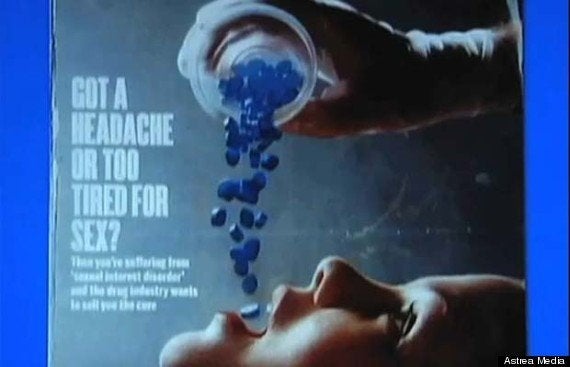 Must-See Documentaries
Support HuffPost
The Stakes Have Never Been Higher
Popular in the Community