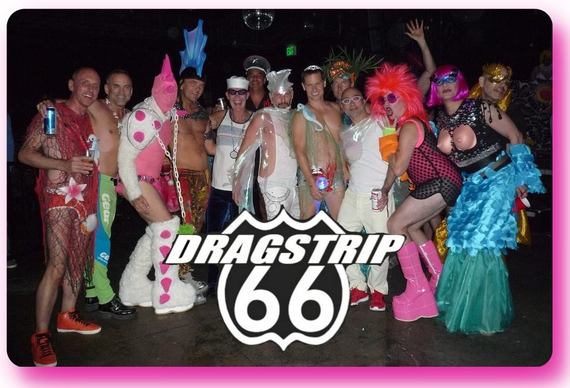 From 1993 to 2013, if you happened to wander down to the right nook of LA's Silverlake neighborhood, you'd find a portal to another realm. Strange costumes, cutting-edge music, ground-breaking drag queens and a crowd of weirdos, party animals and freaks transformed the night into a party like no other.
It was a monthly extravaganza called Dragstrip 66, and although it's vanished into the mists of time, a new documentary project seeks to exhume its memories for a new generation.
The party was created by Mr. Dan (aka hostess Gina Lotriman) and DJ Paul V. (creator of the Born this Way blog) back in the early days of Bill Clinton. It was to be an all-inclusive safe space for everyone -- gay, straight, bi and trans -- to feel completely welcomed, celebrated and able to express themselves without judgement.
One month, you might encounter a theme like "Florence of Arabia," or "Dungeons and Drag Queens." Another month you might show up to discover "Queen Acres" or "Mi Navidad Loca." On any given night you could glimpse luminaries like Jackie Beat, Sharon Needles, Miss Coco Peru, Joey Arias or Varla Jean Merman. Celebs like Roseanne Barr, Anderson Cooper, Traci Lords, Marilyn Manson, Sir Ian McKellan and Pedro Almodovar put in appearances as well.
The door policy of "Dress a Mess, Get in for Less" ensured that anyone in outlandish costumes or drag would be guaranteed cheap admission. And a regular "Promenade" event allowed anyone in any fancy mode of dress to climb up on stage and strut their stuff.
After eleven years at Rudolpho's, the Fire Marshall was called one too many times and shut the party down. It moved to The Echoplex and finished up its 20 year run with a massive blowout two years ago.
Now what? Infamy! Co-directors Phil Scanlon and Paul V. have launched an effort to chronicle the club's impact on its patrons and the world. "Think John Waters directing the Sex Pistols as styled by Bob Mackie and Goodwill," they say.
Dragstrip 66: The Frockumentary will share the story of the now-legendary pansexual club's enduring impact on its patrons, while scouring the video archives and inviting viewers to experience the convergence of '90's alternative music, queer politics and a subversive drag ethos that defined Silver Lake and Dragstrip 66's punk/glam/camp aesthetic.
Want to help recapture the magic? Head over to their crowdfunding page to learn more. And read on for an interview with Paul and Phil.
What are some of your favorite "only-at-Dragstrip 66" memories?

Phil Scanlon:
I'll always remember the first time I entered the club. It was a bewildering cavalcade of music, laughter, performance, dancing, costume and make-believe. I clearly recall telling myself that 'I don't know what the hell this is, but I know I belong here!'
Paul V. Vitagliano:
Wow, where do I even begin? Seeing everyone being so creative with their drag and costumes month after month. Watching insanely hot guys and trashy drag queens mosh to Hole or Green Day on the dancefloor together. Having our icons like Mink Stole and Holly Woodlawn perform for us. Oh, and Perry Farrell singing happy birthday to me on stage while I was wearing nurse drag! That was pretty special.
Tell us about the music at the club.
PV:
We literally played great music from the 1960's on, basically. Rock 'n roll, funk, punk, new wave, soul, disco music, electronica. I just found a cassette of one of my DJ sets from 1996. On it was The B-52s, Isley Brothers, Garbage, Bronski Beat, Missy Elliott, Jane's Addiction, Madonna, Chemical Brothers, Blur, Roxy Music, Steppenwolf, Green Day, Buzzcocks, L7, James Brown, David Bowie, Pat Benatar and Rick James. And this was all in the same 90-minute set! Of course, our skill came in bridging all this music together with a logical flow of vibe and energy. But Dragstrip patrons danced to everything. And God bless 'em, because they loved it all.
PS:
The music was always unique and customized to the audience. DJ Paul V. and DJ Tom Walker spun provocative mashups that demanded engagement. And the crowd responded by beating the dance floor into splinters.
What drag performances or queens stick out in your mind?
PS:
Mr. Dan's parodies for the queens were always topical and intentionally transgressive, but everyone was part of the performance at Dragstrip 66. Patrons would regularly jump on stage and interact with the actual performances, which included everything from weddings to births. One month a queen gave birth to an adult child, then she ate the placenta and lactated on the audience. I had the honor of dancing with the newborn moments after its birth.
PV:
Yes! That was Mz. Allana and Shokra during our "Forever Divine" theme night. John Waters would have appreciated that! But we had every layer of live performances with our queens. Some were performance art driven, others were fully choreographed affairs. Every performance featured Mr. Dan's brilliantly rewritten parodies that were sung live. Jackie Beat was and is always the gold-standard for that, but I remember some great moments from Varla Jean Merman and Joey Arias, along with our family of girls like (the original) Sharon Needles, Gender, Sabrah Summers, Kay Sedia and Coco Peru. That's definitely another Dragstrip 66 distinction: lip-synching was absolutely forbidden.
Any great celeb sightings over the years?
PS:
There is a long list of celeb sightings which I missed by spending so much time on the dance floor!
PV:
Some of our most favorite artists and icons joined us. Lance Loud, Sir Ian McKellan, Ann Magnuson, Wilson Cruz, Adam Lambert, Roseanne Barr, Drew Barrymore, Karen Black, Anderson Cooper, Nina Hagen, L7, Traci Lords, Scott Thompson, Lea Delaria, Claire Danes, Marilyn Manson, Red Hot Chili Peppers, Jennifer Coolidge, Perry Farrell, Susan Tyrrell, Thrill Kill Kult, Jane Wiedlin, Alan Cumming, Heather Matarazzo and Pedro Almodovar. Whew! The coolest part was we had no VIP or roped-off section to offer them, which I think many of them appreciated, actually.
How did Dragstrip change or influence the nightlife landscape in LA?
PV:
There were many things we did that soon became the 'norm' with nightlife. Happening only monthly was unheard of at the time, but it made each one feel like a special event. Also, giving each event a theme is quite prevalent now. I like to think that our pansexual or omnisexual diversity has influenced how people view what an LGBT-identified event can - and should - be offering people now.
PS:
Dragstrip 66 was an unusual mix of perfect elements (location, music, historical period) that was greater than the sum of its parts. It was a safe space for everyone to explore their creativity and receive unconditional support. Unlike most nightclubs at the time, it literally welcomed everyone. And that allowed people of every age, ethnicity and sexual preference to socialize and enjoy each other.
How has Dragstrip 66 influenced drag itself?

PV:
Well, nothing exists in a vacuum, and that's why something brilliant like RuPaul's Drag Race can be watched in millions of living rooms now. Many of those girls like Kelly Mantle, Raja, Alaska, Detox, Willam, Tammie Brown and Delta Work all stepped through our doors or on our stage at one point or another. And today, drag and gender expression is seen at just about every queer event of note. Especially 'bearded drag' which we saw from the very beginning. The punk and gender-fuck looks at Dragstrip definitely influenced what you see now.
Was it more risky to be going out in drag back then?
PV:
Going out in drag in the early 90's was not only risky, it was still considered subversive and quite decadent. It was also maligned by some of the gay community itself. For many years, a lot of gay guys thought the club was only about dressing in drag, which it wasn't. And truthfully? We had the damn hottest men out of drag every month! Guys who were approachable and friendly. That also set us apart from many of the other gay events going on, because we truly welcomed everyone as long as they wanted to add to that energy and participate. In drag or not, gay-identified or not.

PS:
And it was simply more risky to go out and just be out. Dragstrip's version of dress up was never to pass as a goddess or to even lip synch. Our drag was designed to provoke and disrupt, to embrace our otherness, and stand with our pumps firmly planted in the world. If you wanted to dress up and and be uninhibited, you had to travel to the very eastern part of LA (namely Silver Lake) and stand in line outside a Mexican restaurant on a then-sketchy corner. Today, drag is mainstream. It's celebrated, discussed and embraced in a way that would seem impossible twenty years ago. The Dragstrip 66 aesthetic was like the visual equivalent to the rhetoric of ACT UP.
Did you see the advent of protease cocktails influencing the mood and the crowd?

PS:
The cocktails meant that AIDS was no longer a death sentence, so after ten years of rampant sickness and death, the community was ready to think about living again. It seemed like we were allowing ourselves to enjoy life after a long period of isolation and fear. It seemed all very subliminal at the time. But looking back, we gathered and partied together with a new found joy, maybe even a vengeance.
PV:
As Phil said, at the time we didn't consciously connect the two things together. But in hindsight, we know there was a kind of giant, collective exhale going on. And that need to reconnect and celebrate each other, and celebrate life again, was a big driving force as to why what we were offering people impacted their lives in such a palpable way. In many ways, ACT UP and Queer Nation were our spirit animals. They still are.
Are there any new awesome parties happening now that people should know about?
PV:
We always acknowledge that Dragstrip 66 stood on the shoulders of Geraldine, Divine, Sylvester, The Cockettes and Leigh Bowery, and we can see who is standing on our shoulders now. Here in Los Angeles, we're proud that our torch has been passed to fabulous events like A Club Called Rhonda, Mustache Mondays and Dragula. Mario Diaz has always been offering great things, as are Chris and Victor from Bears In Space. Quite frankly, the LA club scene is kicking everyone else's ass right now.
Why do you think it's important to document the club's legacy and history?

PS:
With Dragstrip 66, the LGBT community got to experience the magic and power of communal self-expression. The club was also truly an underground phenomenon that flourished before the internet became the dominant form of communication. So our movie will show examples of what kind of wonderful experiences are possible if people are given the freedom to express themselves. And to connect with each other in a welcoming environment.
PV:
It's important on many levels. Dragstrip 66 was a once-in-a-lifetime convergence. It was an extraordinary moment in time and in gay history, during an era that directly effected many people's lives. One longtime patron recently told us he was considering suicide until he discovered the club, and finally felt like he 'belonged,' and that is so profoundly humbling and powerful to us. We know that best friendships were forged there, longtime lovers and partners met there, and countless indelible memories were sealed there. So we want our film to show the world all these incredible people that came together for 20 crazy years and who so fervently and passionately made that all happen. And like they say: 'The children need to know about it!'
Calling all HuffPost superfans!
Sign up for membership to become a founding member and help shape HuffPost's next chapter