Sociology and politics often dictate migratory patterns. But for the Armenians of Watertown, Massachusetts, it was economics.
The beleaguered ethnic group found a working home at the Hood Rubber Company, which had opened in 1896 in the town, located six miles northwest of Boston. Until its closing in 1969, the factory offered employment and stability to Armenians fleeing from the Abdul Hamid massacres and the 1915 genocide.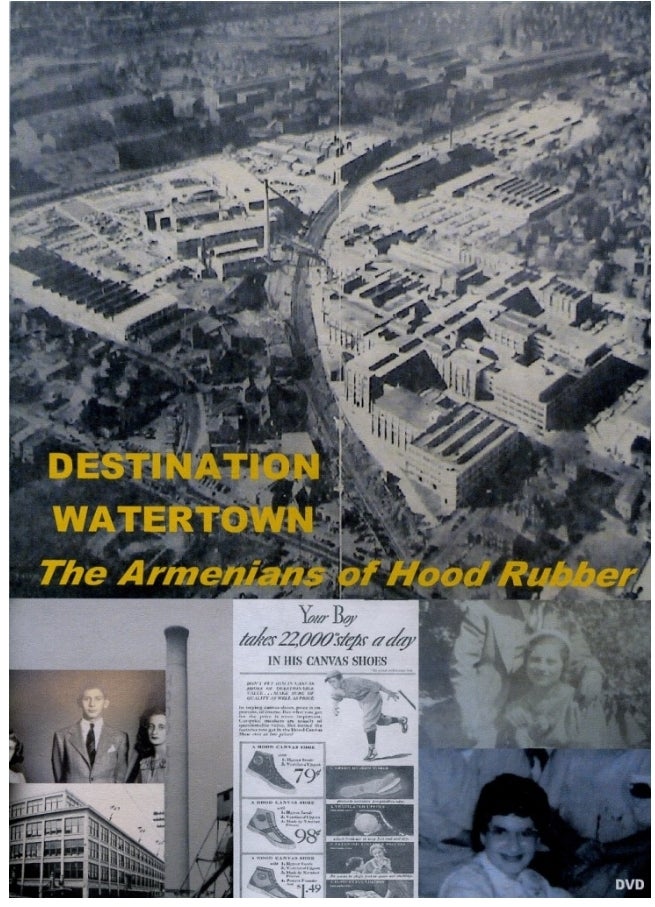 "It is a timeless and universal story of immigrants escaping genocide and persevering through the hard life of factory work in America in the early decades of the 20th century," said filmmaker Roger Hagopian before the April 4 screening of his 68-minute 2010 documentary Destination Watertown: The Armenians of Hood Rubber at the town's St. Stephen's Armenian Apostolic Church Hall.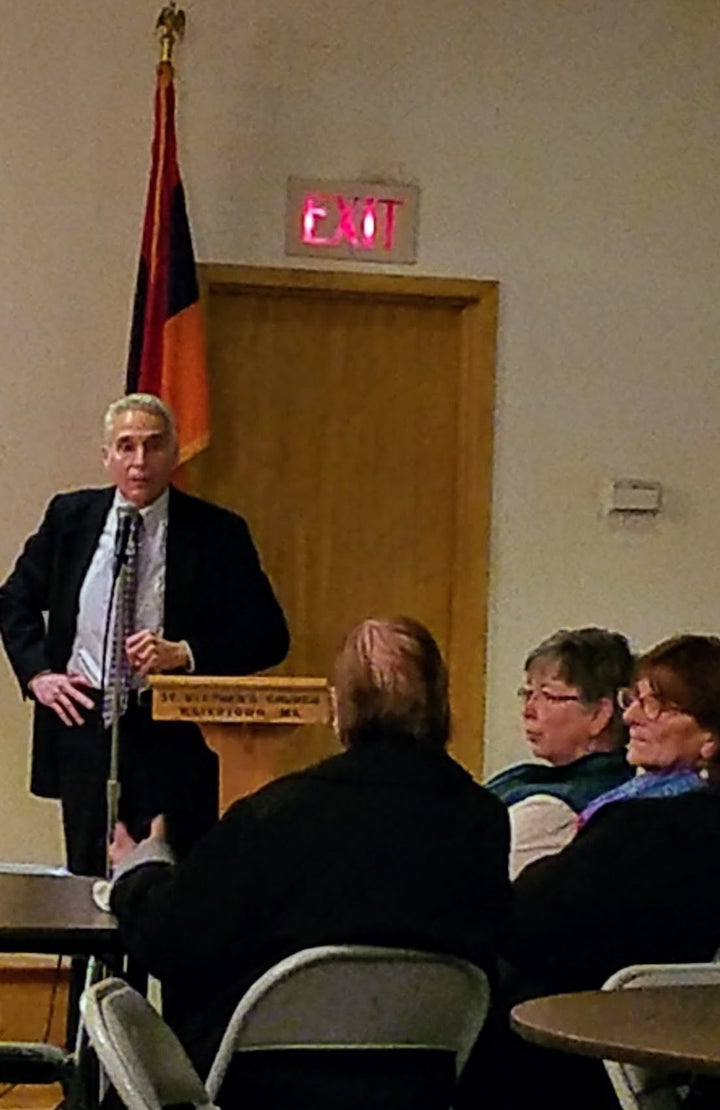 According to the film, The Hood Rubber Company, founded by brothers Frederic Clark Hood and Arthur Needham Hood, opened in 1896. By 1897, over 3000 shoes were being produced per day at the 70,000 square-foot plant. They were mainly sneakers, but also, rubber boots (some used in World War I and II) and leather footwear. Tires and rubber tubes were also made, as were auto battery jars and other rubber floor products. By 1919, it was the largest vulcanized rubber shoe factory in the world. At its peak, 90,000 pairs of shoes were made daily, and 9,000 workers were employed within the expanded site of over sixty buildings on over forty-five acres.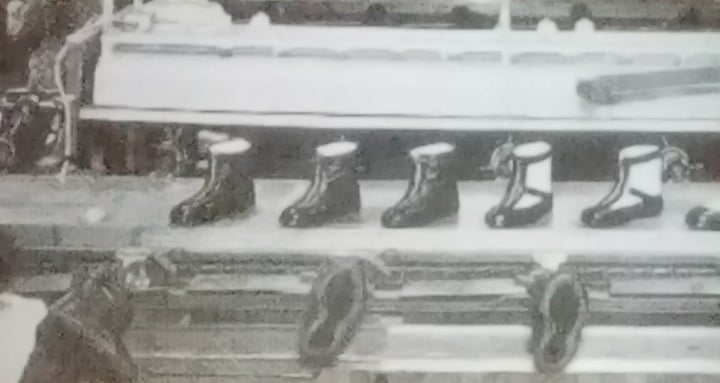 Hagopian, whose grandmother worked at Hood, continues to show the film at free public screenings. His four other films: "Memories of Marash,'' "Journey of an Armenian Family,'' "Our Boys,'' and "Memory Fragments of the Armenian Genocide,'' are on view at the Armenian Library and Museum of America in Watertown.
Hood was taken over by B.F. Goodrich in 1929, and operations were brisk throughout the Depression and World War II. But the industry ultimately went into decline, and the site closed in 1969.
Its story, however, went far beyond sheer economics. For Hood Rubber workers, largely immigrants and unskilled laborers who also included Jews, Italians, and Syrians, the factory provided both a paycheck and a ticket to safety. In the film, they talk of the good benefits they received, the English classes the company sponsored at the nearby Abraham Lincoln House. The company also had a dentist on site, and a company hospital. There were birthday parties and, it appears from the film, great camaraderie.
"By the end of the 1920s," said Hagopian, "approximately 3,500 Armenians, or 10 percent of the population, were living in Watertown, and more than 500 were working at Hood Rubber."
The film, which is narrated by Hagopian's wife Linda and Robert Mirak, board president of the Arlington, Mass.-based Armenian Cultural Foundation, is as lighthearted as it is historically poignant. Many interviewees recall the "sneaker tests," where, on Wednesdays, neighborhood kids could receive a pair of sneakers to test out. Many got P-F. Flyers, developed in 1944 with the "Posture Foundation" arch-support insole patented in 1933 by inventor Hyman L. Whitman. "If we were lucky we'd get the Bob Cousy sneakers," said one interviewee. "I'd wear them out purposely to get new ones for school."
The factory enjoyed an advantageous location on the Charles River, and ships would travel downstream during high tides. There was also a railroad; Hagopian said he has been working with town officials to get plaques erected along the former rail trail.
"The community evolved in the shadow of the factory's giant smokestack," Hagopian told HuffPost.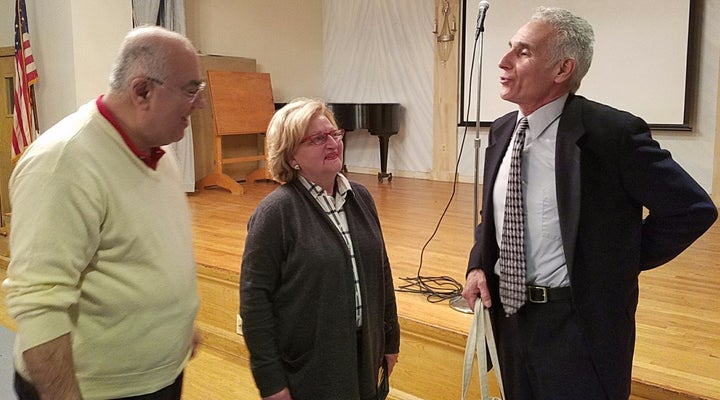 As the film details, the Hamidian massacre, with a casualty rate that ranges from 80,000 to 300,000 deaths, spurred an influx in migration. As history knows, it led to genocide, Meanwhile, word was spreading through Ottoman Empire that there was work to be found at Hood Rubber, and by 1916, there were 8000 Armenians in Watertown.
Similar situations were occurring in other factory towns, of course. "Manufacturers were getting rid of established English-speaking workers, and the unskilled workers would work long hours for one-third the price," Hagopian said before the screening.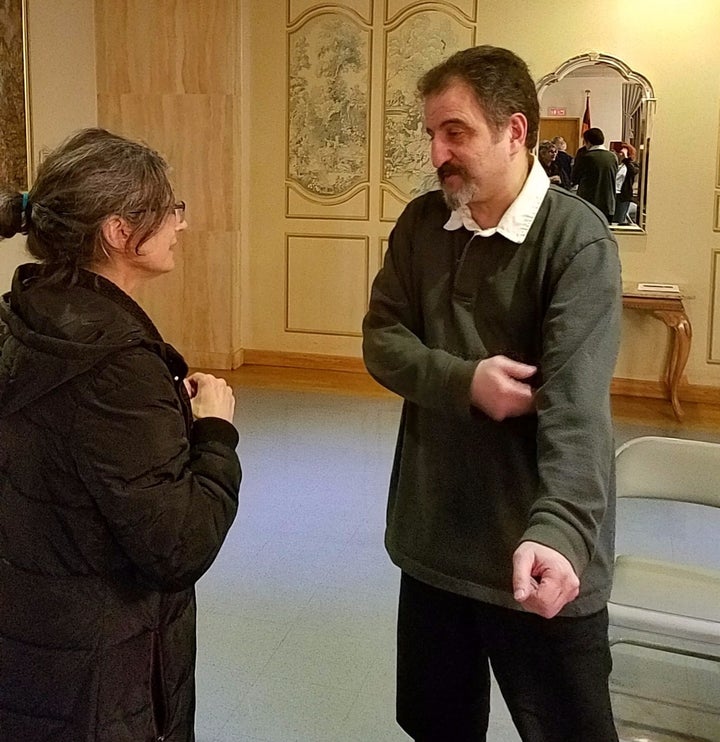 Also in attendance was Marc Mamigonian, Director of Academic Affairs at the Belmont-based National Association for Armenian Studies and Research, which established the first chair of Armenian Studies at Harvard University in 1959 and went on to create many other endowed chairs.
"It's rather hard to draw parallels in the current political environment, which seems to be less welcoming to immigrants," said Kaligian. But as far as the industry, he could speculate. "A comparison to the manufacturing industry today would perhaps be farm workers," he said, also noting that the highest concentration of Hispanics in the Midwest are largely in meat packing factories.
But if the Armenian Hood workers encountered such resentment, it only seems to have brought the community closer together, especially after experiencing tragedy of such magnitude in a land they still loved, and had to leave behind.
"Although many immigrants had hoped to return to their homelands," said Hagopian prior to the showing, "it soon became apparent that they could not."
So they embraced their new country. In the film, some recalled how after Pearl Harbor Day, women made rubber boots and raincoats for the Army while the men in their families were away. One described gluing hoods onto rafts for use in the sea.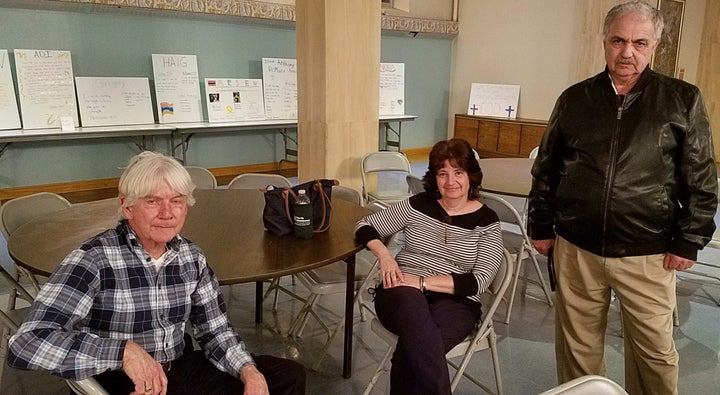 The documentary is filled with historic facts, photographs, graphics, maps and other archival materials. But the former employees provide its rich anecdotal bounty. Their personable tales are often humorous, but the pressures of life on the production line are apparent throughout. The machinery was dangerous as well; many recall the accidents and hazards inherent to their position. Add to this the toxic environment of chemical fumes and polluted air, and it doesn't sound much like a dream job.
"If OSHA walked in there today, they'd have a heart attack," says one former employee. Nora Seferian burned a hand. Another details the use of a special ribbon on an old typewriter that her mother used: "There was blue under her armpit, and I always suspected that her breast cancer was from it, as it was on the same side."
One worker described learning every part of the conveyer belt line. "We had to make 500 pairs a night. You'd get points, and the more points you got, the more money you'd make," he said. A woman explained that the only way to go to the bathroom was to stock up on shoes and get a co-worker to put them in for her. Others mention sarcoidosis. One worker's arm was cut off on a stuck cutting machine. "Soot poured from the Hood chimney," another recalled. "It would cover cars, laundry, the ground. In East Watertown, the smell of burning rubber pervaded our childhoods and our lives. It was like waking up in the morning and smelling leaves and grass."
The film details how one worker was run over by cart. "The air was thick with chemical dust. Noise was constant."
Hagopian agreed that the factory was a bad thing environmentally. "But it developed the Armenian community in Watertown," said one worker in the film. "Who was going to give me a job? I couldn't speak English; I couldn't read or write."
An audience member asked if the plant was ever unionized. "Hood Rubber had one strike in 1911," Hagopian answered. "It was a partial strike, and was not very effective," he continued. He said that Hood was a progressive company that learned from the famed Bread and Roses strike in Lawrence, and established its rules and regulations accordingly.
Even at the church, few complained about the legacy.
"That job helped them until the end of their lives.," said Russ Arico, a Watertown native who still lives in the town. "Because my father was 55 when the factory closed, both he and my mother received the insurance for the rest of their lives." He said they had a small pension, and received it as well, even though his father went on to work at nearby Polaroid.
"They wanted to make it," explained Hagopian. "They were very patriotic people who were very grateful to be here."
Susie Davidson tweets at @SusieDavidsonMA.