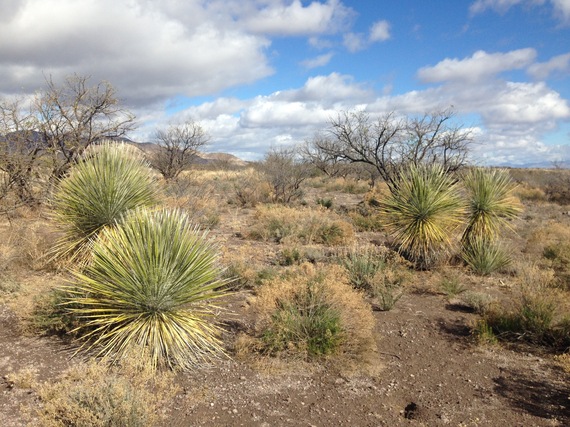 The border is a place characterized by intense contradictions. That's my conclusion after spending almost a week in southern Arizona as part of a faculty immersion seminar to learn about border issues. As an outsider--I'm a Puerto Rican living in the Midwest--I'm removed from the challenges that those living on the borderland face on a daily basis, no matter on which side of the wall they find themselves. I'm aware that my vision and understanding is limited, but during those few intense days of visiting migrant shelters, listening to religious and community leaders, lawyers, doctors, human rights activists, talking with recently deported migrants in Nogales, filling water stations in the desert, and attending an Operation Streamline court proceeding, I was constantly reminded of the need to share what we witnessed at the border. As Isabel García from Derechos Humanos told our group: ""What you see along this border is the most important thing you can take back." What I witnessed, were the intense contradictions that arise from the constant struggle between life and death.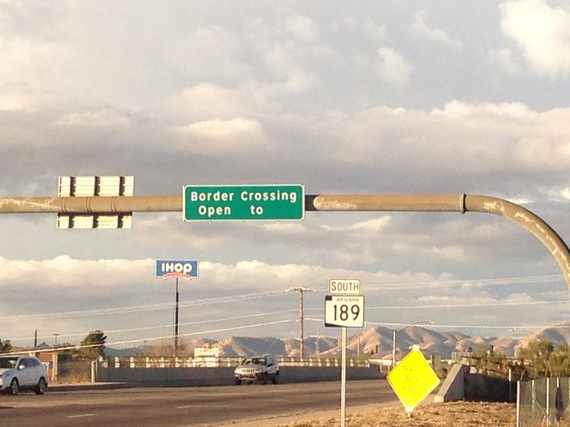 The irony behind this U.S. road sign alerting travelers of the open "border crossing" ahead is difficult to ignore. The border isn't "open" to all--only to those with papers--although historically, and until recently, the U.S.-Mexico border allowed for a much freer transit of people from one side to the other. NAFTA (1994) changed all that by promoting the free flow of goods while stopping the flow of people.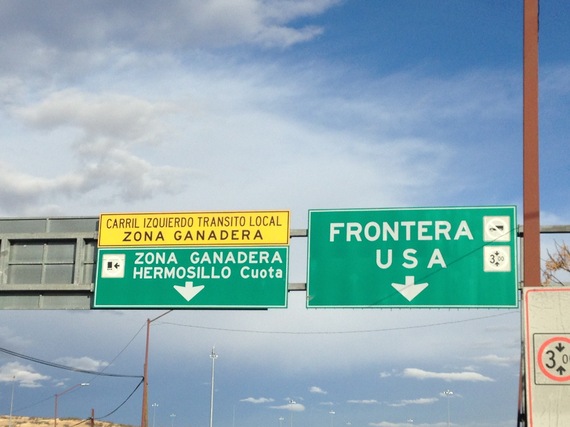 Across the border, on the Nogales, Mexico side, near the Kino Border Initiative shelter. The "zona ganadera" (cattle zone) sign hides two poignant ironies: 1) cattle is free to cross the border while human beings are not (even if their families are on the U.S. side); 2) many of those deported are forced to cross back into Mexico through a cage-like corridor resembling a cattle chute. The dehumanization of the migrant finds the perfect metaphor in this sign.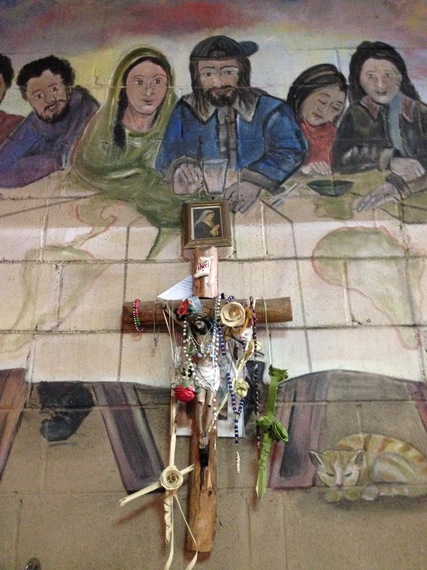 Mural and cross at the Kino Border Initiative shelter in Nogales, which helps recently deported migrants by offering meals, clothes, first aid, free phone calls to family in the home country, check cashing, as well as advice at this crucial stage of the journey, when they are at risk of violence at the hands of drug cartels and law enforcement. Faith in God's mercy gives them hope to find their families or escape death.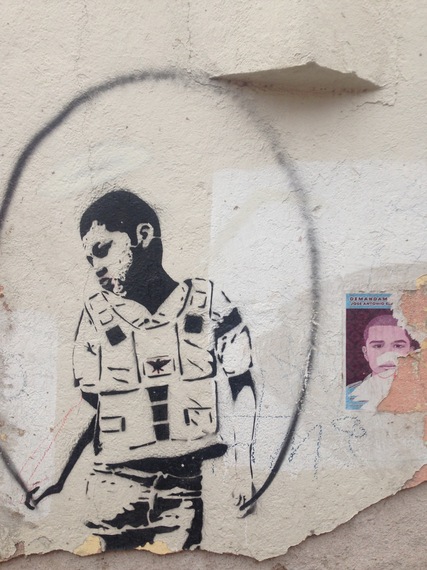 Street art commemorating the life of José Antonio Elena Rodríguez, a sixteen year-old Mexican minor shot and killed by the U.S. Border Patrol in 2012 on the Mexican side of Nogales. The case has become emblematic of the injustices and violence faced by people of color at the hands of US Border Patrol.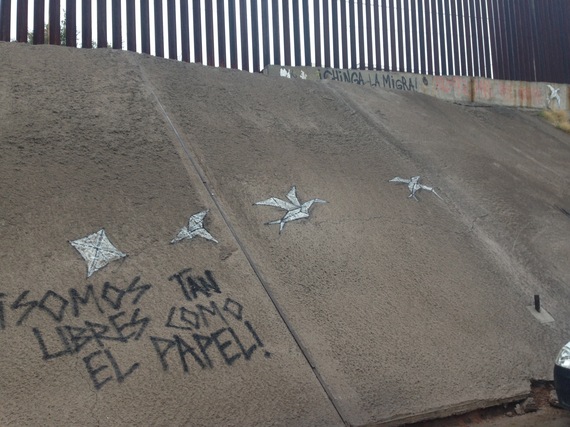 Across the way, street artists proclaim the triumph of life and liberty through the symbolic transformation of a piece of paper into a white dove flying into the horizon. Underneath the wall-fence their message reads: "Somos tan libres como el papel" (We are as free as paper).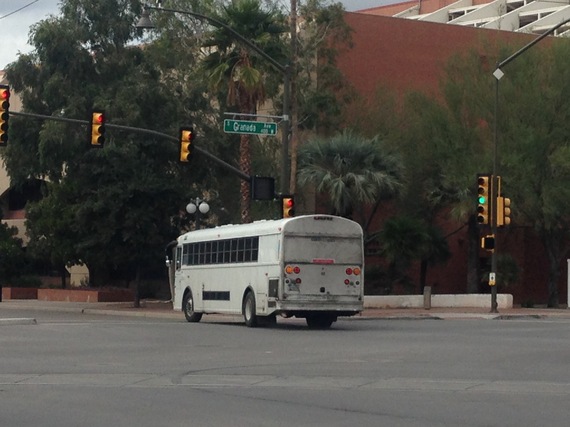 A bus full of migrants approaches the Federal courthouse, where they are about to become victims of Operation Streamline. This little known program was designed to prosecute undocumented migrants in federal court, usually about 70 people in under two hours. Witnessing these weak, traumatized, and abused migrants--handcuffed and shackled like dangerous criminals--being sentenced to anywhere between 30-180 days, and knowing that they'll be subsequently deported with a federal criminal record that will make it impossible to return to the U.S. (even if they have family here), felt like the death of our justice system. Even in the face of such travesty, we heard one of the prisoners shout "Dios bendiga a América" (God bless America).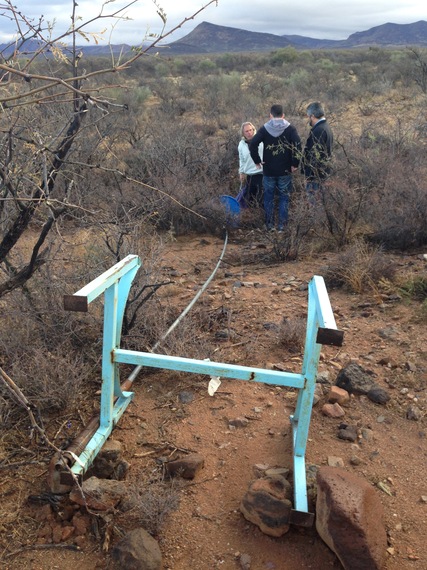 Humane Borders vandalized water station in the desert. Water is life, and migrants and stranded travelers have survived thanks to these stations. Finding the barrel several yards down the hill, water spilling, and the flag down, instantly translated into a symbol of hatred. Why would anyone damage any water source, knowing very well that it can mean the difference between life and death for another human being?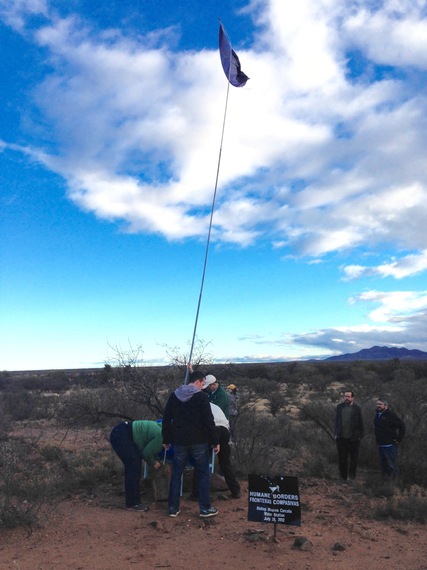 Team effort raising the Humane Borders blue flag, a beacon of hope for migrants dying from dehydration while crossing the desert.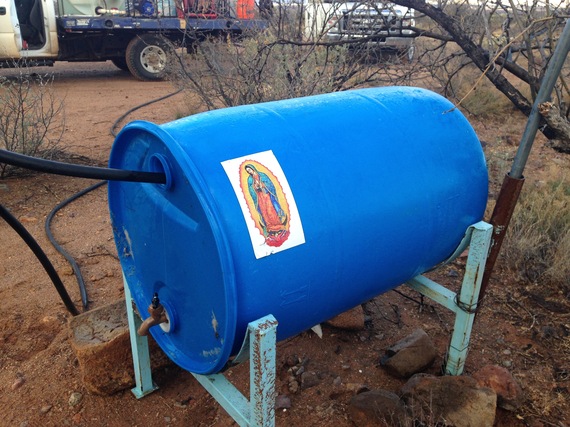 Humane Borders water barrel back on its stand. The Virgen de Guadalupe sticker a reminder of the deep faith that guides migrants through one of the most unforgivable landscapes of this country.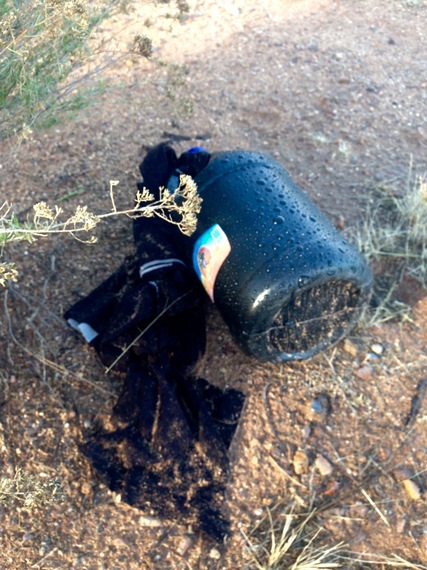 Discarded water jug with piece of clothing tied to it found about a hundred yards from the vandalized water station. These black jugs are sold in Mexico and migrants often travel with them in order to carry water without the risk of being detected due to the water reflection. Every discarded bottle and every piece of clothing found across the desert tells a story; only we don't know if it's one of death or survival.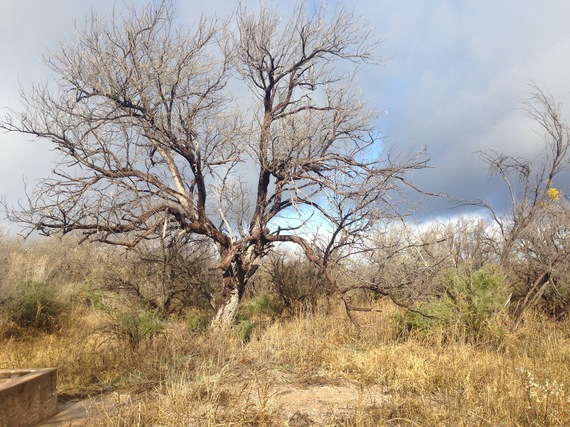 The Sonoran desert has become the epitome of the contradictions that plague our broken immigration system. Life and death; good and evil; hope and resignation; freedom and captivity, all coexist--and are in constant struggle--in the borderlands. The militarization of the border has had an "intended" consequence: it has funneled migrant traffic through the most dangerous and deadly areas of the Arizona desert. We have a serious humanitarian crisis in our hands, and we are responsible for it. Decades and thousands of deaths haven't been enough to convince our government and society that "Prevention Through Deterrence" is not a humane immigration policy. As Reverend John Fife, founder of the Samaritans, told us, "They never took into consideration the desperation of poverty."
And yet, in the midst of all the reminders of death that I saw, I also witnessed the power of compassion and the human spirit. The Tucson area is home to many brave and selfless individuals who are tirelessly working towards achieving justice for the most vulnerable: undocumented migrants feeling extreme violence in Mexico and Central America, as well as those searching to be reunited with their families in the U.S. Some of the organizations doing crucial humanitarian work in this area include: Samaritans, No More Deaths, Humane Borders, Derechos Humanos, End Operation Streamline Coalition, Kino Border Initiative, Mariposas Sin Fronteras, the Florence Immigrant and Refugee Rights Project, BorderLinks, and Casa Alitas, among others. These organizations need our help, please research them and consider supporting them in any way you can.
As a nation, we have the power to make things right, but only education can save us. As Isabel García reminded us during our visit, "We lack the fundamental knowledge, the history of immigration in this country. We're ignorant of the history, the root cause of the migrant humanitarian crisis we are living today." Once we understand this history, we'll be able to move forward to prevent the loss of lives of the most vulnerable.
REAL LIFE. REAL NEWS. REAL VOICES.
Help us tell more of the stories that matter from voices that too often remain unheard.