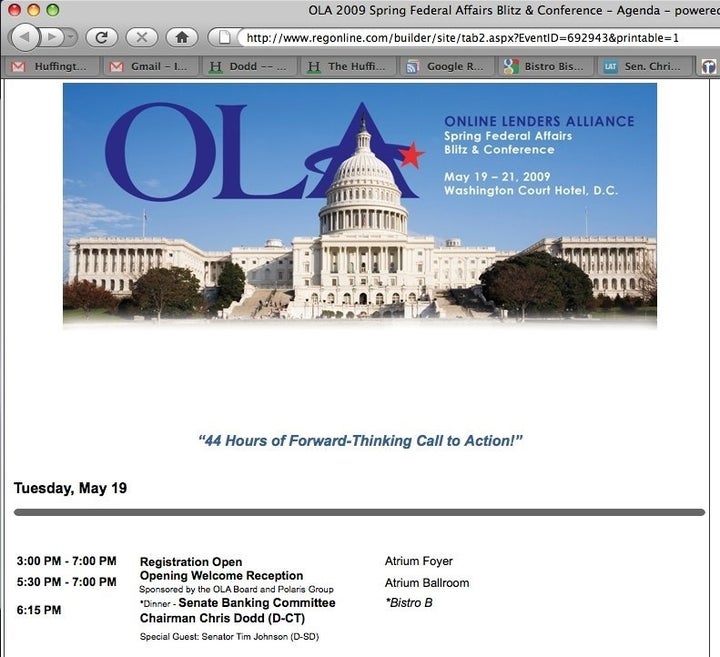 The Online Lenders Alliance, a lobby group for Internet payday lenders, is hosting a three-day conference in Washington, D.C. The agenda's highlights include Senate Republicans, such as Richard Shelby (Ala.), who is listed as attending a Wednesday reception, and David Vitter (La.), who is expected to deliver a keynote address on Thursday morning.
Senate Banking Committee Chairman Chris Dodd (D-Conn.) was on the agenda for a Tuesday dinner, along with special guest Sen. Tim Johnson (D-S.D.). The Huffington Post, hoping to attend (but unsure if press would be allowed), went to the restaurant to see what Dodd would have to say about online payday lending. Consumer advocates who cheered Dodd's advocacy of credit card reform, which passed the Senate that very day, are also hoping for a 36 percent cap on interest rates, per a measure introduced by Sen. Dick Durbin (D-Ill.)
Dodd told the Huffington Post last week that he was not crazy about such an interest rate cap because of how it would affect short-term lenders. A 36 percent cap on annualized interest rates would effectively ban payday lending, whether from a storefront or a website, since a typical $90 fee on a $300 payday loan amounts to an annual percentage rate of over 1,300 percent. Dodd's home state of Connecticut uses a 12 percent limit to ban payday lending, which the Connecticut attorney general calls "exploitive and predatory."
The Huffington Post didn't get a chance to go into these niceties with Dodd. Inside the restaurant, Dodd staffers said the dinner, which was not open to press, was not even sponsored by the Online Lenders Alliance.
The dinner "is not an OLA event," OLA spokeswoman Lisa McGreevy said in a subsequent phone interview. But the OLA agenda lists a Dodd dinner -- was there a mixup?
"I don't think there was any mixup," she said. "There is a fundraiser tonight for Senator Dodd."
McGreevy added: "There may be some OLA people there."
When Dodd and Johnson arrived at the restaurant -- Bistro Bis, near the Capitol -- the Huffington Post said hello and asked about the fundraiser.
"Tim is hosting me," Dodd said.
Does it have anything to do with the Online Lenders Alliance?
"Some people will be here from there," Dodd said.
But it's not an OLA event?
Here's what the OLA's agenda says:

Dodd has received $44,000 from people affiliated with the payday lending industry this year, the Los Angeles Times reported.
Popular in the Community