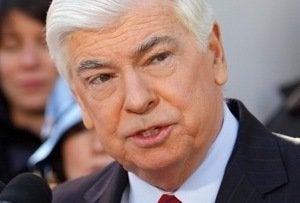 Sen.Chris Dodd (D-Conn.), who is retiring at the end of this term, downplayed on Thursday the role that Elizabeth Warren has been assigned to set up and run the Consumer Financial Protection Bureau.
"What I gather is Elizabeth will be some sort of adviser in all this," Dodd, the Senate Banking Committee chairman, told reporters in the Capitol. "They need to send us a director, though, a nominee. The issue's no different today than it was yesterday. We need a nominee that can be confirmed by the Senate to run the place."
An administration official told HuffPost that Warren will be named "assistant to the president and special adviser to the Treasury," in charge of setting up the CFPB.
Dodd has been one of the most outspoken Democrats during the debate over whether to name Warren to run the agency that she is credited with devising and helping shepherd through Congress. He has repeatedly insisted that she is "unconfirmable" -- which means she wouldn't garner the 60 votes needed to defeat a GOP filibuster -- and Dodd and Warren clashed on occasion during the debate over financial regulatory reform.
"I don't know what their intentions are. I talked to them the other day about this. I read the news stories this morning," Dodd said of the White House decision to name her an adviser to both Obama and Treasury Secretary Tim Geithner. Under the Dodd-Frank Wall Street reform law, the secretary can designate a director to set up and run the agency until a permanent director is in place. That option was first reported by HuffPost in July.
The position comes with the full power of a director, but Dodd sought to reduce the role's authority. "There's always been talk about having Elizabeth involved in this in some way and I thought they might even send her up to be the nominee. They didn't do that, so the issue still remains: Who are we going to consider?" Dodd said. "I appreciate what the White House did yesterday, but the question still remains: Who's going to run this place?"
Dodd said that the White House has not discussed with him any candidates they may be considering as permanent directors, but he said that his committee was ready to hold hearings quickly. "My hope is that they send up a nominee sometime in the next few weeks," said Dodd. "Maybe in the lame duck we'll have hearings and we'll consider whose going to actually run the place, because you need a director and you need someone who's confirmable. Anything short of that, as I said yesterday, puts this bureau in some jeopardy in my view. Without it being established and up and going, it's vulnerable," he said.

Calling all HuffPost superfans!
Sign up for membership to become a founding member and help shape HuffPost's next chapter