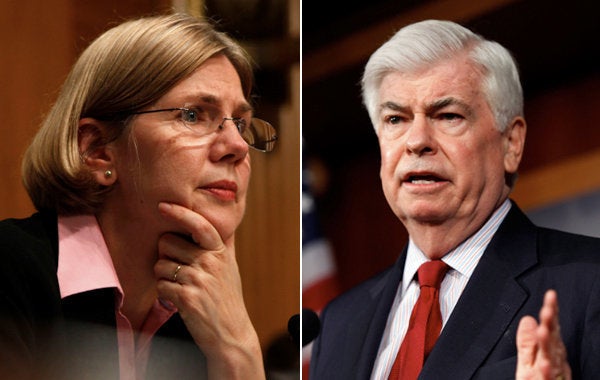 *This article was updated at 4:15 p.m. ET to reflect a clarification.
In questioning Elizabeth Warren's candidacy to lead a new Consumer Financial Protection Bureau, Senate Banking Committee Chairman Christopher Dodd has repeatedly asked whether Warren possesses the appropriate management experience to lead a large federal bureaucracy.
But it's the first time Chairman Dodd has publicly raised such an issue when it came to evaluating presidential nominees to agency positions under the banking committee's purview.
A review of transcripts from past confirmation hearings shows that Dodd has never questioned the management experience of nominees to head federal agencies his committee oversees. The heads of the Securities and Exchange Commission, Department of Housing and Urban Development, Federal Housing Administration, the Export-Import Bank and the National Credit Union Administration all survived hearings under Dodd's chairmanship without him once asking a question about the experience needed to guide their respective agencies.
Nor did Dodd raise any management questions when prospective bank regulators came before his committee -- even when the regulators did not have significant management experience. In the two years prior to his assuming the chairmanship in 2007, the heads of the Federal Reserve, the Federal Deposit Insurance Corporation, Office of Thrift Supervision, Office of the Comptroller of the Currency, and a prior chief of the SEC all came before his committee. Each time, Dodd declined to ask about their experience running bureaucracies, a review of transcripts shows.
In fact, Dodd didn't even show up for two of those hearings.
When he did show up, and make statements or ask questions, Dodd largely praised the nominees -- rather than engage in tough, critical questioning. When former OCC chief John C. Dugan came before the banking committee in July 2005, Dodd congratulated him on the nomination, then said he had "great confidence" that Dugan and the other prospective regulators before the committee would bring "great expertise, stability, and dignity" to their new posts.
Dodd didn't ask a question during the hearing for Dugan, or any of the other nominees (which included John M. Reich, who would oversee thrifts at the OTS, and Christopher Cox, who would lead the SEC).
Dodd's Democratic colleague, former committee chairman Paul S. Sarbanes of Maryland, grilled Reich on his agency's staffing and its dependence on a single bank for a large portion of its budget. Sarbanes also critically questioned Dugan on the OCC's practice of effectively nullifying tough state consumer protection laws through the practice of preemption.
Reich resigned last year under pressure. His agency oversaw numerous banks that failed in part due to poor supervision, and the AIG unit that peddled credit default swaps, the explosion of which nearly brought down the nation's financial system. Dugan recently stepped down at the end of his five-year term, his agency under fire for its lax protection of consumers.
Cox's SEC failed to catch Bernie Madoff's Ponzi scheme and oversaw highly over-leveraged investment firms like Lehman Brothers, Bear Stearns and Merrill Lynch -- all of which either failed or were guided into government-backed mergers.
"I have been a member of the U.S. Senate for some 28 years. I can count on one hand the number of nominees that I have opposed over that time of Republican and Democratic administrations," Dodd said during an April 2009 confirmation hearing. "I do not believe it is a time for people to inject the opposition, their ideological framework. Presidents' elections have meaning, and if a President gets elected, he or she deserves to have the teams in place to help them execute their policies and their promises to the American people."
Warren's case is special, though. The Harvard Law professor and chair of the Congressional Oversight Panel, a bailout watchdog, could be asked to start an agency from scratch. The consumer regulator is an entirely new agency, and will undoubtedly face turf battles with regulators charged with ensuring the safety and soundness of the banking industry.
High overdraft fees, for example, ensure comfortable profits, but consumer advocates call them abusive. The head of the consumer bureau would have to balance those competing concerns, as well as guide an agency with a budget of hundreds of millions of dollars.
The first director will set the tone for the next several years, consumer advocates and banking industry experts say.
However, Dodd's open questioning of Warren's qualifications for the job and her potential to be confirmed raises additional questions.
For the past few weeks, in interviews with Bloomberg News, Dow Jones, TPMDC, the Hartford Courant and American Banker, among others, Dodd has consistently questioned Warren's capacity or confirmability to head the agency she largely conceived.
"My simple question about Elizabeth is: Is she confirmable?" Dodd told the Courant in an interview this month. "It isn't just a question of being a consumer advocate. I want to see that she can manage something, too."
During a July 26 news briefing White House Press Secretary Robert Gibbs said Warren is "very confirmable." Other White House spokespeople have repeated that claim.
In an interview with American Banker, Dodd again raised the issue of management experience.
"In the case of the consumer protection division you need to have someone who can manage and setup a good agency, and that requires a skill set to do it right," Dodd said.
But Dodd never raised similar questions when it came to bank regulators' perceived lack of management experience. For instance, Dugan and Bair had top positions in the Treasury Department, but neither ran an organization on their own. Cox was an attorney and longtime member of Congress, but he, too, never oversaw a bureaucracy.
Dodd didn't speak on the record at Bair's confirmation hearing, nor did he submit any written questions for the record, documents show.
Dodd, through a spokesman, declined to comment for this article.
The outgoing banking committee chairman, who is not seeking reelection this year, has said that he would support Warren were she to be nominated.
The bailout watchdog and noted consumer advocate is among three candidates to lead the new consumer agency, according to the White House. The unit will be entrusted with protecting borrowers from abusive lenders. The agency will have wide authority to regulate consumer credit products like mortgages and credit cards.
The other candidates are Michael Barr, a top lieutenant to Treasury Secretary Timothy Geithner, and Eugene Kimmelman, a top lawyer in the Justice Department.
"If the president wants to name her and it goes through the hearing process, then fine, he'll have my support," Dodd told the Courant this month regarding Warren's possible nomination. "But she has to tell me more than just she's a good consumer advocate or that's she's got a great campaign."
*Senator Dodd questioned Warren's confirmability in published interviews with Bloomberg News and TPMDC. He questioned her capacity to lead the new agency in interviews with American Banker and the Hartford Courant. He raised both concerns regarding potential nominees in an interview with Dow Jones.
*************************
Popular in the Community