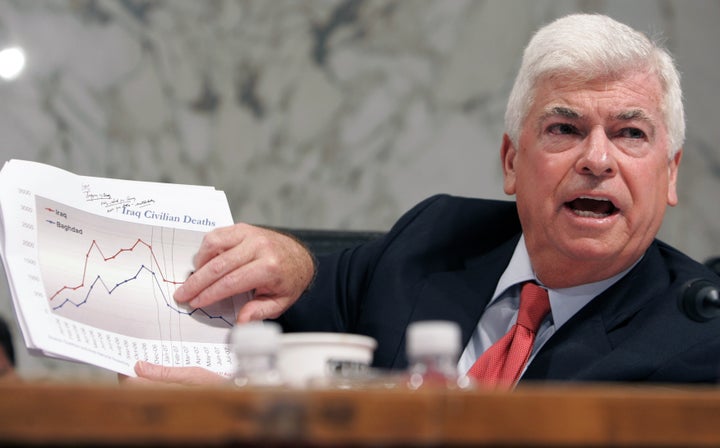 There are a whole host of obstacles preventing Democrats from passing filibuster reform in the Senate. One of them is fellow Democrats.
On Wednesday morning, retiring Sen. Chris Dodd (D-Conn.) threw a big wrench in the plans put forth by his Senate colleagues to restrict the minority party's ability to stop or slow legislative activity.
"I'm totally opposed to the idea of changing the filibuster rules," the Connecticut Democrat said on MSNBC's "Morning Joe". "I think that's foolish in my view. You can write all the rules you want. At the end of the day if the chemistry isn't there [it won't work]."
A lion of the Senate and a leading voice within his party, Dodd's remarks are inherently protective of the institution he's set to leave following the 2010 elections. But they don't exactly jibe with emerging sentiment within the Democratic Party. Currently there are two proposals being discussed that would change or even fully eliminate the filibuster's use. As high a figure as Majority Whip Dick Duribn (D-Ill) has offered his support for seeing filibuster reform enacted.
Those plans, however, would require more than a simple majority if voted on anytime other than the beginning of the next Congress -- a margin that Majority Leader Harry Reid (D-Nev.), who asserted 67 votes are needed, has suggested won't materialize. Dodd's comments confirm what a long shot this is.
Asked by the "Morning Joe" crew what could be done to make the Senate more productive, Dodd suggested that fewer trips home would go a long way towards producing comity among the chamber's members.
"In the past you have one or two trips home during a year that were paid for by the government," he said. "Today you can go home every day if you want if paid for by the government as long as you're doing business back in your congressional district or state."
Popular in the Community