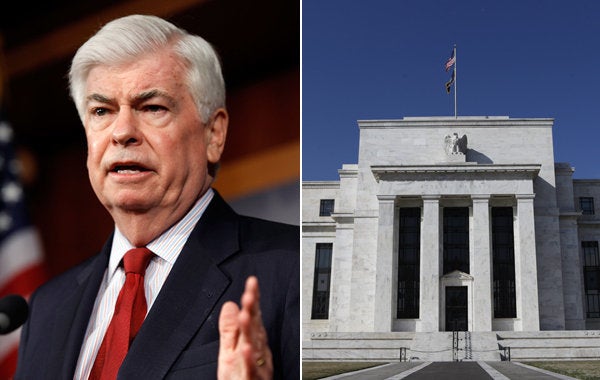 In a proposal set to be unveiled this afternoon, Sen. Chris Dodd (D - Conn.) anchors his latest financial reform bill around a relatively undiminished Federal Reserve.
The Fed, of course, has no shortage of critics eager to excoriate its handling of the financial crisis. Actually, that's putting it lightly -- the central bank has been blasted for its handling of consumer protection, interest rates, its failure to spot the housing bubble and its role in bailing out some of the nation's largest financial firms.
As Simon Johnson notes, critics will surely object to the fact that Dodd's bill will entrust the Federal Reserve to oversee the nation's largest and most systemically important financial firms. "Unfortunately, on the major issue - too big to fail financial institutions that caused the 2008-09 crisis and that will likely trigger the next meltdown - there is nothing meaningful in the proposed legislation," Johnson wrote of the bill.
Dodd's treatment of the Fed has certainly evolved over the past few months. In November, this Wall Street Journal headline declared that Dodd was among a group of "Senators Seeking Sweeping Curbs On The Fed." Also in November, the Washington Post, for its part, declared "Dodd's Reform Plan Takes Aim At Fed."
The first version of Dodd's bill would have "stripped the Federal Reserve of nearly all of its power to oversee banks," the Washington Post noted.
"Not only would a new government watchdog for financial consumers be housed within the Fed, it would also retain much of its present authority over large bank holding companies and gain new authority over selected non-bank financial firms.

Sources said the Fed would also continue supervising smaller, state-chartered banks now in the Fed system -- a change from an earlier proposal that would have transferred those banks to Federal Deposit Insurance Corp. supervision.
Though Dodd's new bill emerged as talks with Senate Republicans hit an impasse, the Fed's new powers seem to be a concession to the Obama administration. Here's the AP on how the bill evolved:
In looking for common ground, Dodd significantly shifted from financial regulations he proposed four months ago, when he called for a single powerful regulator to oversee all of the nation's banks and for a stand-alone consumer financial protections agency.

Instead, as preferred by the Obama administration, the Federal Reserve would gain oversight of all financial firms - banks and nonbanks - that are considered the biggest and most interconnected. For the Fed, the price of such power is losing supervision over smaller bank holding companies with less than $50 billion in assets.

Moreover, to the dismay of liberals and consumer advocates, the Fed would also house a consumer protection entity. That agency would be headed by a presidential appointee and would have an independent source of funds not subject to congressional appropriations. But its power to write regulations would be subject to review by a council of regulators that could veto consumer rules by a two-thirds vote.

John Taylor, head of the National Community Reinvestment Coalition, a consumer advocacy group, said Dodd was "capitulating to the industry's interests."
Here are more details from the AP:
-- Institutions that are bank holding companies, such as Goldman Sachs and Morgan Stanley, cannot alter their status to avoid Fed oversight. The measure is being called the "Hotel California provision" because firms can enter Fed supervision but can never leave.
-- Unlike the House bill, which imposes new requirements on broker-dealers and investment advisers, Dodd's is expected to adopt a proposal from Sen. Tim Johnson to conduct a study of potential investor protections before writing any regulations.
Popular in the Community