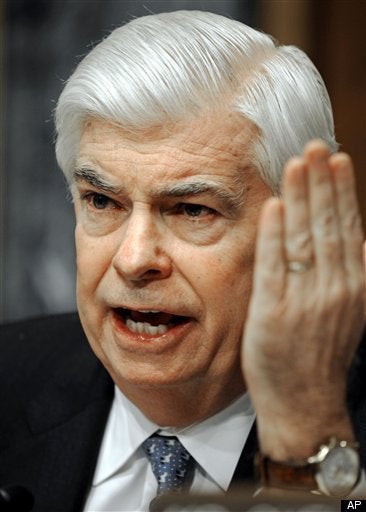 This story is being updated as more details emerge about Dodd's decision
Bob Corker was looking for Chris Dodd. When the Tennessee Republican got him on the phone, he started to get the feeling that financial regulatory reform talks were collapsing after weeks of negotiations.
"You've been a great partner," Dodd, the chairman of the Senate Banking Committee, told Corker, who had been taking a lead role in the talks.
"My little antennae went up," said Corker in response to Dodd's use of the past tense to describe their partnership. On Wednesday afternoon, the pair met privately and Dodd broke the news: He was moving forward with his party on reform, cutting short negotiations with Corker that have been dragging on for roughly a month.
Dodd (D-Conn.) announced on Thursday morning that he will unveil a bill on Monday without GOP support and he intends to bring it to a vote the following week.
"It has always been my goal to produce a consensus package," Dodd said in a statement on Monday morning. "And we have reached a point where bringing the bill to the full committee is the best course of action to achieve that end. I plan to hold a full committee markup the week of March 22nd."
Dodd's statement pointedly does not mention Sen. Richard Shelby (R-Ala.), the top-ranking Republican on the committee, who walked out on previous negotiations only to return recently.
"I have been fortunate to have a strong partner in Senator Corker, and my new proposal will reflect his input and the good work done by many of our colleagues as well," said Dodd. "Our talks will continue, and it is still our hope to come to agreement on a strong bill all of the Senate can be proud to support very soon."
Corker said his staff took the news particularly hard. "Obviously, they're in shock," Corker told reporters in a frank, 40-minute press conference Thursday morning.
Dodd and Corker discussed issuing a joint statement Wednesday night, but Corker pulled out of it, saying he couldn't jointly announce a move that he was in total opposition to.
Corker said he believes that twin pressures on Dodd doomed the talks. The most pressing -- the "elephant in the room," he said -- was the push to do health care reform through reconciliation in the next two weeks. Due to that pressure, Dodd felt he needed to get a bill to his committee next week, according to Corker. Talks with Corker and other Republicans were progressing, he said, but not fast enough to get the bill done by next week.
Asked by HuffPost if reconciliation had put pressure on him to move quickly, Dodd said that it was only one factor.
"What's the pressure is the clock. Whether it's reconciliation, immigration, there are a lot of issues around here that we want to deal with. It was one of [the pressures], obviously, but it's not the only reason," he said.
Corker said that the second pressure point for Dodd was that "members on the left were getting nervous" about where the Consumer Financial Protection Agency would be located. Progressive Democrats have been particularly vocal in their opposition to placing the CFPA inside the Federal Reserve and Dodd was beginning to wonder if he had enough Democratic votes, he said.
The same Democrats are also concerned that the CFPA will lack sufficient independence and authority. But, said Corker, Dodd had accepted a GOP proposal to create a board of regulators with veto power over any rules passed by the CFPA. The panel would include the SEC, FDIC, Fed, Treasury and CFTC.
The collapse of the talks had nothing to do with the CFPA, Corker said. Even conservative Republicans had agreed to allow a consumer agency to have broad rule-making authority, he said, adding that the GOP has never before agreed to give such powers to a similar agency: "That's never happened."
Corker added that Republicans drew a line in the sand on enforcement: They do not want the CFPA to have its own cops, but want it to enforce its rules through existing regulators, a proposal that he said Dodd had accepted.
Sens. Jack Reed (D-R.I.) and Judd Gregg (R-N.H.) were the furthest apart of any negotiating partners, Corker said. The two were tasked with regulating derivatives and Gregg was pushing for greater end-user exemptions than Reed would allow.
Corker said that it would be a "travesty" to pass such a substantive bill through committee in just one week and that, if Democrats approve the process, voters "might as well send robots" to Washington.
While agreement had largely been reached on the CFPA, a major sticking point included risk retention -- a Democratic proposal that requires banks to hold at least a small part of any loan they issue, rather than allowing them to make risky loans and immediately sell them to third parties. Corker said he worries that risk retention will cramp liquidity. The FDIC has already begun the rule-making process to implement a version of that measure.
Corker insisted that there had not been a breakdown in talks, but that time had simply run out. "There was no breakdown," he said. Negotiators were on the five-yard line, he said, and "the lights went out."
It's a little stunning, I've got to be honest," said Corker. "I still think we're going to get there. I hope we're going to get there."
Democrats, however, do not need Corker to pass the bill. Earlier this week, Sen. Olympia Snowe (R-Maine) told HuffPost that once the bill was out of committee she looked forward to playing a central role in negotiations. She already joined Sens. Maria Cantwell (D-Wash.) and Dianne Feinstein (D-Calif.) in sending a letter to Dodd, calling for tough regulation of derivatives. Dodd's decision to move forward without Republican support in the committee opens the door for Snowe, who's more moderate than Corker and Shelby, to step in.
Popular in the Community