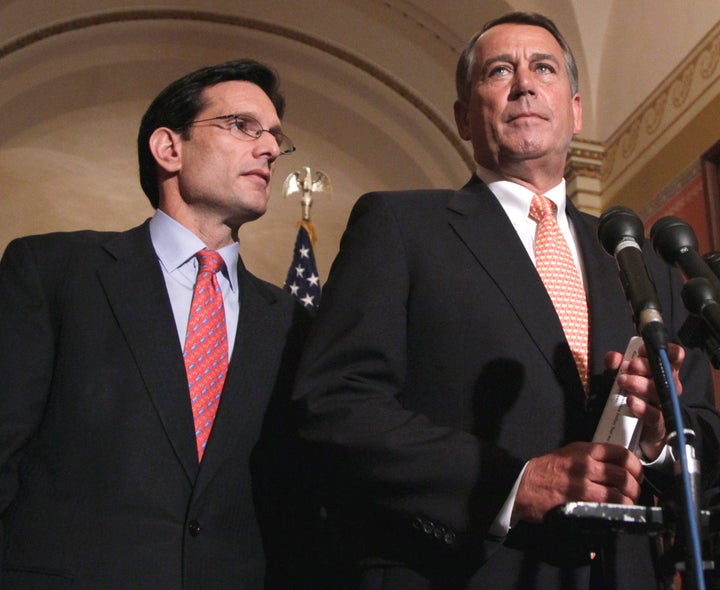 WASHINGTON (Sarah N. Lynch and Christopher Doering) - Two congressional committees led by Republicans approved measures on Wednesday to delay and weaken key provisions of last year's Dodd-Frank Wall Street reforms, but they were expected to fizzle in the Senate.
With Democrats in control of the upper chamber of Congress and President Barack Obama able to defend Dodd-Frank with his veto pen, efforts by Republicans to water down and postpone the reforms seemed unlikely to succeed, analysts said.
That is not stopping Republicans from pressing their rollback agenda, however, especially in the U.S. House of Representatives.
"Dodd-Frank is not in any way, shape or form in danger of being repealed," said Ed Mills, a financial policy analyst with brokerage FBR Capital Markets. "But they're building the groundwork over time to strip away elements that the business community feels are the most onerous."
As a global regulatory crackdown moved ahead fitfully in the United States and Europe after the 2007-2009 financial crisis, a House subcommittee voted in favor of weakening the powers of the new U.S. Consumer Financial Protection Bureau, or CFPB.
Set up by Dodd-Frank to protect consumers from abusive and misleading credit cards and mortgages, the CFPB will open its doors in July. Like the rest of Dodd-Frank, it has been hotly opposed by Republicans and Wall Street since it was proposed.
The legislation approved by the subcommittee would have the bureau run by a five-member board rather than a single director, and make it easier for the new Financial Stability Oversight Council to overturn bureau regulations.
Another Republican-led committee voted on Wednesday for an 18-month delay of post-crisis regulations intended to reduce risk in the over-the-counter derivatives market. The rules are being implemented by the Commodity Futures Trading Commission and Securities and Exchange Commission.
The legislation would keep in place the timeline for issuing final rules for definitions such as swaps and swap dealers, and for rules requiring record retention and regulatory reporting.
"The speed at which these rules are coming out is unprecedented, and these are important rules and thus a delay of 18 months is reasonable," said Greg Mocek, a former enforcement chief at the CFTC and now a partner at law firm Cadwalader Wickersham & Taft.
Like the CFPB measure, the derivatives delay bill may win approval in the full House, but it has little chance of becoming law. There is no similar Senate bill and futures regulators have said that they do not need additional time.
The Dodd-Frank law, enacted last July, extended full federal regulation to the $600 trillion over-the-counter derivatives market for the first time. It requires derivatives to go through clearinghouses and trade on exchanges as much as possible, with more disclosure and reporting also required.
"It's highly politically risky to move back the date of implementation" for the derivatives rules, said Michael Greenberger, a law professor at the University of Maryland and the CFTC's former director of trading and markets.
"The Republican drive for this does not take into account that the CFTC is contemplating a phase-in process," he said. "It is allowing people to prepare themselves for the new regulatory situation."
To implement the derivatives rules, and many others mandated by Dodd-Frank, regulators asked Congress for more money. At a Senate committee hearing, both the Securities and Exchange Commission and CFTC asked for funding increases.
Republicans seeking to weaken Dodd-Frank and restrain federal spending are trying to block big funding increases for the two agencies. The SEC wants a $222 million increase for its fiscal 2012 budget, beginning October 1, which would bring the total to $1.4 billion. The CFTC wants an increase of $106 million, bringing its budget to $308 million.
Separately, SEC Chairman Mary Schapiro told reporters on Wednesday that there is no guaranteed way to prevent a repetition of the May 6, 2010 "flash crash," but that measures being implemented should help head off volatile price swings.
Last year's unprecedented drop sent the Dow Jones industrial average down some 700 points in minutes before it sharply rebounded -- a rapid breakdown that exposed deep flaws in the mostly electronic U.S. marketplace.
Schapiro said the agency has moved fast on circuit breakers to dampen volatility, along with new rules for breaking clearly erroneous trades, rules banning "naked access" to the market, and a prohibition on stub quotes, those offers to buy or sell stock at prices not in line with the prevailing market.
"Can I guarantee we will never have another flash crash? No," Schapiro said. "But I think these are really important steps to take that I think go a really long way toward fortifying our market structure."
(Additional reporting by Dave Clarke, with Lauren LaCapra in New York and Joe Rauch in Charlotte, N.C.; Writing by Kevin Drawbaugh; Editing by Tim Dobbyn)
Calling all HuffPost superfans!
Sign up for membership to become a founding member and help shape HuffPost's next chapter