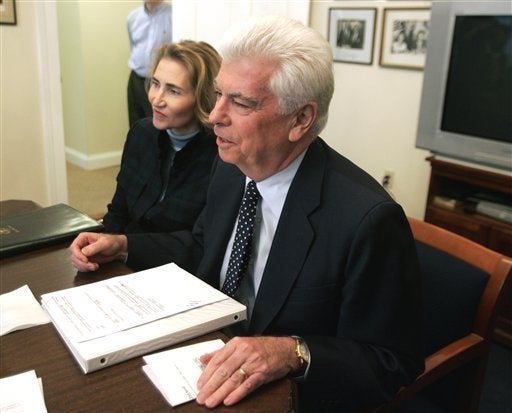 Connecticut Sen. Chris Dodd is batting back claims from a conservative-leaning publication that his wife -- like he -- has questionable financial ties to AIG.
On Wednesday morning, the New York Post published a short story that suggested an incriminating connection between Jackie Clegg Dodd and the embattled insurance giant. The smoking gun: the senator's wife worked as an outside "director" for a Bermuda-based company that was affiliated with AIG. The connection and implication of wrongdoing were immediately criticized as specious at best.
For starters, as Dodd noted in a letter to the Post, his wife stopped working as an outside adviser for the group -- IPCRe -- five years ago. Moreover, AIG had only a minority investment in the company and sold its share back in 2006. Its controversial financial products division had no ties whatsoever. For her work, Clegg Dodd earned a relatively modest $12,000 with an additional thousand for every director or committee meeting she attended, according to a statement obtained by Real Clear Politics.
But there are other points Dodd defenders stress as well. An independent ethics counsel review looked into the senator's wife's position and found no conflict of interest. The senator, moreover, disclosed his wife's employment status on his financial disclosure forums for each year she served with IPCRe. And then there is a technical issue: IPCRe was not a subsidiary of AIG but rather a "compan[y] in which AIG holds an interest" as part of "other operations," according to an SEC filing.
That Clegg Dodd's position with IPCRe would become an issue five years after her time at the company ended is a testament to just how toxic AIG has become in the current political climate and how problematic the senator's own ties to the company are for his reelection effort. Chris Dodd was the biggest recipient of donations from the insurance giant in the Senate, having received a total of $280,000 in donations. His watering-down of a provision that would have restricted bonuses issued by bailed-out companies like AIG -- even though it came at the behest of the Treasury Department -- only added to the notion that was too close to the company's executives.
All of which is fair game, the senator seems to be saying. But to bring his wife into the equation is not.
"To try connect the AIG bonuses and my wife's service on the board of this company, which ended 5 years ago, is nothing more than a cheap political attack," Dodd wrote. "It is one thing for the Republicans to attack me, but it is completely unacceptable for them to unjustly attack my wife. This line of attack is completely false and it is despicable."