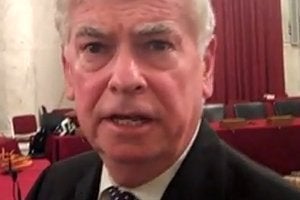 Just six weeks after he told Reuters it was essentially a done deal, Senate Banking Committee Chairman Christopher Dodd punted when asked about the likelihood of Federal Reserve Chairman Ben Bernanke's confirmation for a second term.
Asked by a citizen journalist if it was a foregone conclusion that Bernanke's nomination for a second term would be confirmed by the Senate, Dodd replied: "Not necessarily, not necessarily. We'll see how members react."
The intervening six weeks have seen a growing public anger about skyrocketing unemployment, and a growing recognition that government bailouts since last fall have helped Wall Street -- rather than Main Street.
Dodd's new comments came in a video posted to YouTube today by videoblogger Mike Stark. Stark also asked Dodd about the Obama administration's top economic team and whether a change is needed. Dodd said he was concerned about the country's economic plight, but said: "It's the President's call at this point because those are his choices."
Dodd also said of Bernanke: "I'm inclined to be supportive. I think he's done a far better job in the last couple of years than he did initially."
Dodd's spokeswoman, Kirstin Brost said "there was nothing new" in Dodd's statement.
"He has said consistently we are going to have a thorough hearing, there are serious issues that need to be addressed, but he is inclined to support Bernanke," she wrote in an e-mail. "There are no foregone conclusions in Congress."
Brost also pointed to an August statement by Dodd, in which he said:
While I have had serious differences with the Federal Reserve over the past few years, I think reappointing Chairman Bernanke is probably the right choice. Chairman Bernanke was too slow to act during the early stages of the foreclosure crisis, but he ultimately demonstrated effective leadership and his reappointment sends the right signal to the markets.

There will be a thorough and comprehensive confirmation hearing. I still have serious concerns about the Federal Reserve's failure to protect consumers and I strongly believe these responsibilities should go to an independent consumer financial protection agency. I expect many serious questions will be raised about the role of the Federal Reserve moving forward and what authorities it should and should not have.
In the video, Dodd also acknowledged some of his own shortcomings as a member then chairman of the banking committee, in the context of Bernanke's recent performance:
"He's been better on some of these issues, which I wish I'd paid attention to years before."
Support HuffPost
The Stakes Have Never Been Higher
Related
Popular in the Community