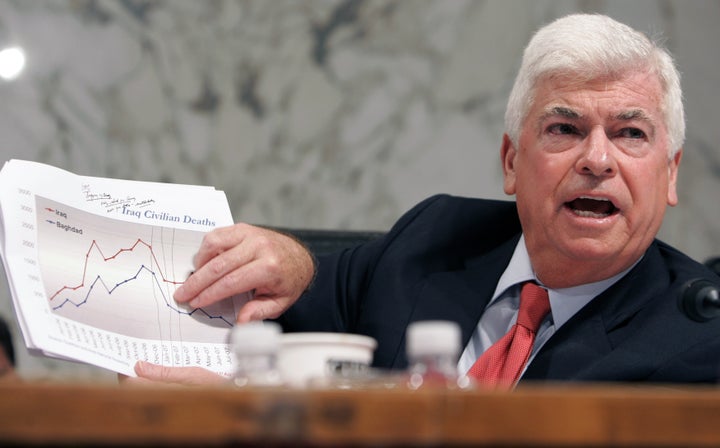 This post has been updated. Please see below.
The financial regulatory reform bill that emerges from a key Senate committee will likely call for an agency dedicated to protecting consumers from abusive financial practices -- while not a stand-alone entity, it will nevertheless be free from outside interference, sources tell the Huffington Post.
Senate Banking Committee Chairman Christopher Dodd (D-Conn.), who's shepherding financial reform legislation through the chamber, will release the latest version of his bill later this month, perhaps as early as this week. Sources say he'll likely call for an agency that will have:
The authority to write and enforce rules governing mortgages, credit cards and consumer loans;
Its own budget, one not subject to the Congressional appropriations process so it can't be harmed by lawmakers bent on taking away its power;
A unitary executive nominated by the president and confirmed by the Senate;
And the power to police both banks and non-bank financial firms like payday lenders and mortgage finance companies.
The new body will likely be housed within the Treasury Department. While it won't be a purely independent agency like the Federal Trade Commission or the Consumer Product Safety Commission -- two consumer-focused agencies on which it's modeled -- it will still meet "the principles of [an] independent agency," Heather Booth, executive director of Americans for Financial Reform, said in an e-mail.
Perhaps most importantly, though, the new organization's decisions will likely not be subject to vetoes by the regulators in charge of overseeing the health of banks and the financial system as a whole. That way, it will be able to protect consumers without having to worry about bank regulators overruling it in the name of banking profits, for example.
Key details, however, are scarce. Committee aides are still writing the legislative text.
For Booth, whose coalition includes consumer, labor, civil rights and liberal advocacy groups, the direction staked out by Dodd since his negotiations with the committee's ranking Republican , Richard Shelby of Alabama, hit an "impasse" late last week is encouraging.
"He wants this to be an independent agency that meets the original principles that we've long discussed with him, the principles the president outlined," Booth said Monday of Dodd.
Dodd and Shelby have been negotiating over the proposed consumer agency since the fall. Shelby doesn't want an agency that will be separate from the overseer of the banking system; Dodd wants an independent agency solely dedicated to protecting consumers. Dodd released a statement Friday stating that their discussions had stalled.
"Dodd went into bipartisan negotiations in good faith, but found Shelby was intransigent," Booth said. Dodd then decided to go his own way, though he remains open to a compromise with Shelby.
Booth said that though there are concerns over what details may emerge in the final bill, she's confident that a strong voice for consumers will emerge.
"There's such an anger in the public" regarding bank behavior, she said. "There's presidential support for real reform. There's popular support for that reform. Senator Dodd said he supports that reform.
"It's still a democracy, and the popular will in a democracy can make its way into law -- even against the enormous power and influence of financial industry lobbyists and financial industry money," Booth said. "But we still believe... that the voice for Main Street can be heard."
House Financial Services Committee Chairman Barney Frank (D-MA) today made the following statement about the need for increased consumer protection in the financial industry:

"I welcome Elizabeth Warren's forceful Op-Ed in today's Wall Street Journal making a strong case for increased consumer protection in the financial industry. No one familiar with the track record of the bank regulatory agencies with respect to protecting consumers can deny the need for an independent agency if we are going to have effective consumer protection. Bank regulators have traditionally treated their responsibilities for consumer protection as a second priority.

"Those who cite safety and soundness as a major reason to oppose increased consumer protection have it exactly backwards. In fact, the inability to protect consumers from abuse was a major cause of the financial crisis from which we are just emerging. Professor Warren importantly notes the example of Citigroup's unsuccessful and unilateral attempt to bring fairness to credit card practices. This experience demonstrates that competitive pressures will obstruct reform unless it is done by thoughtful legislation and regulation that applies to all.

"I welcome Senator Dodd's intention to fight to preserve an independent consumer agency, as we were able to do against the opposition of the financial industry in the House. Professor Warren's statement today is a beginning to the national debate that we should have on this issue in the coming weeks."
Popular in the Community