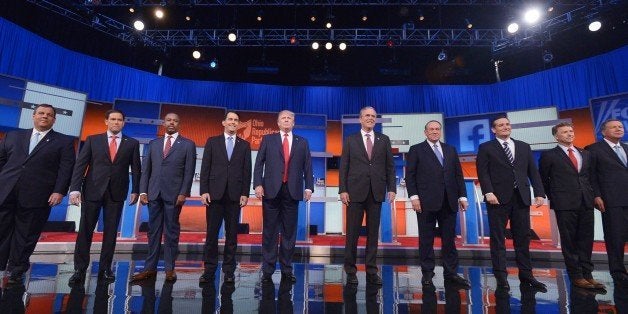 Last Thursday, Jeb Bush declared to an Iowa audience that he wouldn't rule out resuming torture practices by the United States government. "I don't know," he hedged. "I'm just saying if I'm going to be president of the United States, you take this threat [Islamic State group] seriously."
Two Thursdays ago, during Fox's highly watched GOP debate, Megyn Kelly asked presidential candidate Ben Carson whether he would bring back waterboarding. A retired neurosurgeon, Carson replied in the subjunctive, coyly saying that if he were to reinstate torture methods, he wouldn't broadcast this and "tell everybody what we're going to do." As a doctor (think: first do no harm), Carson must have seen countless patients in pain over his career. Even for him to say he might torture is alarming. More appalling is that his polls have since surged, and as of this week, Carson has been statistically named the winner of the Fox debate.
A few days before this debate, Donald Trump told ABC that he thinks "waterboarding doesn't sound very severe." This statement would shock us had Trump not already demonstrated his poor understanding of what torture entails, as evidenced by his disparaging remarks about John McCain's status as a war hero.
And three weeks ago, I attended a speech delivered by Rand Paul in West Lebanon, NH. During the Q&A, I asked Paul what he, if elected president, would do about Guantanamo Bay (with dwindling signs of closing during Obama's term), and moreover, whether he would seek to prosecute officials who had perpetrated torture during earlier administrations, in part so that these practices don't recur with legislative and executive impunity. Paul clumsily dodged the question, saying only that he's committed to talking about the issue with Sen. McCain and other peers.
All four of these Republican presidential candidates' stances sound pretty much the same when it comes to whether they would torture. The gist: If we must. Or, in less generous terms: If we can get away with it.
George W. Bush, after all, did get away with it.
I agree with the people who believe we shouldn't deign to treat torture as a policy debate. It's a war crime, both ethically and legally speaking.
But even if you wholly disagree with me -- and I'm sure many Americans do -- all of us have the right to know where every candidate stands on the issue.
This is a reasonable request not least because, back in June, the independent publisher Melville House sent every presidential candidate a complimentary copy of the Senate Intelligence Committee's damning report of the CIA's torture practices under the previous Bush administration. Melville House did so by telling the recipients: "We hope you'll read and share these copies with your staff and advisers, and that they will help you clarify your position on the legality, morality, and efficacy of torture."
As you can guess, the candidate who has spoken out most aggressively against torture is a Democrat. But it's not who you might think (not Bernie Sanders, not Hillary Clinton). It's Martin O'Malley, who has declared the need for a special prosecutor from the Justice Department to investigate U.S. officials who had committed torture. O'Malley insists that "there needs to be some accountability so that this doesn't happen again."
Here's why a direct call for the prosecution of torturers is among the best metrics for one's commitment to anti-torture measures. By declining to advocate for such legal actions, we're announcing our willingness to let bygones be bygones. Without pursuit of accountability, there's no guarantee that U.S. officials won't torture again with complete freedom. As Harvard professor Elaine Scarry argues, "Like the prohibition on torture, the obligation to prosecute is absolute."
But what right do we have to apply healing balms to our consciences without thinking and doing something about the wounds of others?
A call for prosecution isn't about revenge or Bush-bashing or media bloodsport. It's about righting a wrong precedent that has been at work since September 11, 2001. Let a precedent slide too long and it hardens into an American tradition. To be sure, prosecuting torturers isn't exactly a new notion: in May 2012, George W. Bush, Dick Cheney, and five of their legal advisers were already tried and convicted of war crimes in absentia at a tribunal in Malaysia. In December 2014, following the release of the Senate Intelligence Committee torture report, the Editorial Board of the New York Times demanded the prosecution of "torturers and their bosses." Similar calls to action have been expressed by The New Republic, Washington Post, and Al Jazeera.
A favorite game of torture apologists is the ticking time-bomb scenario. Big city, a bomb planted somewhere, a detainee may know its location--torture, yay or nay? Legal scholars, philosophers, and political theorists have spilled gallons of ink on the credibility and moral soundness of this hypothetical conceit.
As our election season heats up, a different clock is ticking. Fast approaching our deadline for each party's nomination, the American voting public cannot tolerate candidates who continue to remain unclear on issues of torture.
Given the literally inescapable harm inflicted upon detainees, it's not asking too much for politicians to stop escaping questions about torture.
It's not like we should use force to make anyone answer the questions we pose (because that would be wrong). Yet the next time you attend talks by presidential candidates--whether Republican or Democrat--press them about their positions on torture.
We need to know, and the least we can do is ask.
Popular in the Community