 The New York City Department of Education recently released the results of its annual Learning Environment Survey, with "smaller class size" once again topping the list of changes parents would most like to see to their children's schools.
Since the survey was first administered five years ago, class size has repeatedly been ranked as the No. 1 desired improvement by parents, out of 10 possible options. This year, 23 percent of survey-takers responded in favor of decreasing class size, followed by "more or better enrichment programs" at 16 percent, and "more hands-on learning" and "more preparation for state tests" at 14 percent.

But for the first time, those results omitted from the DOE's summary slide presentation. By comparison, last year's summary slide for the question regarding desired improvments featured a breakdown of the survey replies since 2009, as shown in bar graph form: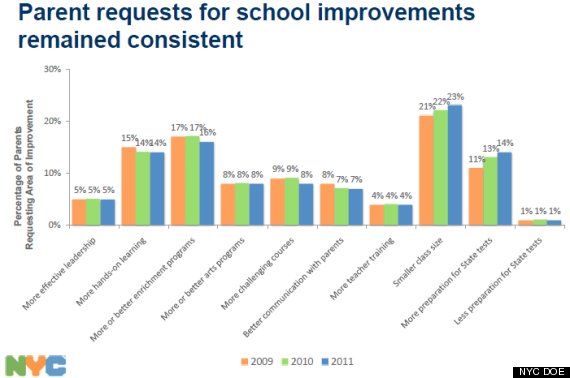 "When somebody stands up and says, 'I speak for all parents and we want smaller class sizes,' that's just not true," Bloomberg said at the 2007 conference, the New York Times reports.
Since 2007, New York City has insisted principals cut budgets by 13.7 percent in an effort to combat rising public school expenses and a struggling economy. Budget cuts in turn force teacher firings, which contribute to growing class sizes.
Related
Popular in the Community