Don't get me wrong, social media accounts allow brands a place to be playful, and there are many massive companies that nail this, providing a way for fans to feel connected in a new and meaningful way. But this informal freedom proves again and again how easy it is for brands to f*ck it up.
Hiring an intern to "sit on social" is a classic cause of these bloopers, but that is rarely the underlying cause. A lack of strategy, planning and intention often means that social media managers are pushed to churn out content, with a vague notion to sell more and create engagement. They also just give us an insight into how close minded and sexist people still are.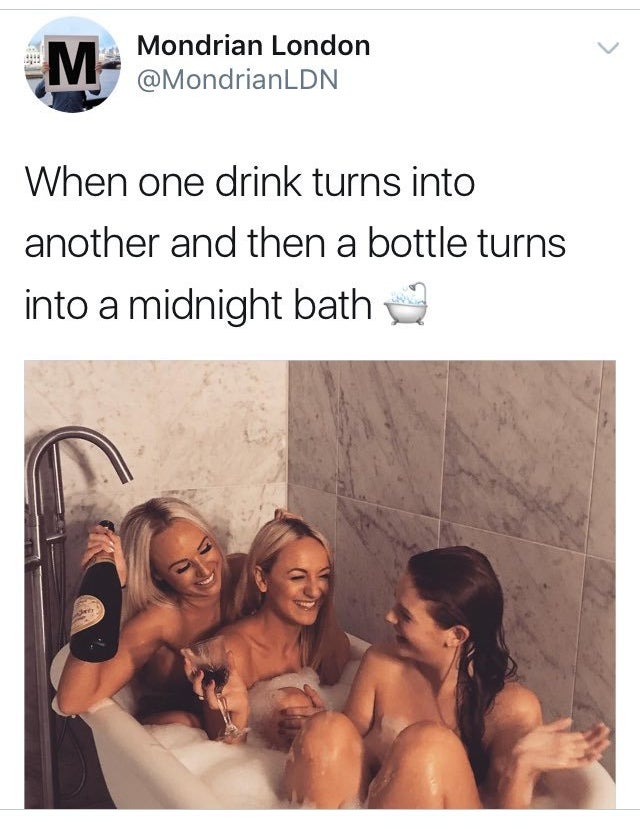 The Mondrian Hotel are owned by sbe, who proudly tell us that they are " A global tribe of individuals, partners and progressives, devoted to creating extraordinary experiences for our community throughout our proprietary brands." They're a big deal, with big bucks, with a portfolio of gorgeous hotels, restaurants and spas. This week their social team shared the above tweet on their @MondrianLDN twitter account (since deleted).
It was retweeted into my own stream by PR expert Miss Cakehead, and I was heartened to read the disgust from other women, explaining how shocked they were to see such an outdated, sexist and tacky image being used to promote their services.

Their twitter stream is full of this copy and pasted apology this morning, and they took the time to reply to Miss CakeHead's email, which she sent in anger and shock that this level of every day sexism was being shown by such a high-end and established hotel chain.

I appreciate that they listened, and have attempted to apologise, I know that people make mistakes, and need to be open to learning that what seems harmless may well not be. However, do I believe that this was a simple repost of a genuine client's night in? Of course not. If it truely was, their social team needs to be taught about the ettiquiette of tagging and making it clear it was UGC (user generated content). But that's by the by.
The bigger picture is why this even matters? Should a tweet of three women in a bath, drunkenly sharing some bubbles offend us? Should internet feminists focus their attention on bigger and better things?
Women are bombarded with sexualised and objectifying messages from the moment they're born, and we're continually told what girls are. Men hear these message too, and these message hurt them too. So does a solo tweet from a hotel chain matter? As an isololated incident of course not. But we don't live in vacuums, and this quiet and soft sexism damages all of us, and it needs calling out.
We need to expect more, and we need to tell people when they're getting it wrong. It's not petty, and silly. This shit matters.
Related
Popular in the Community