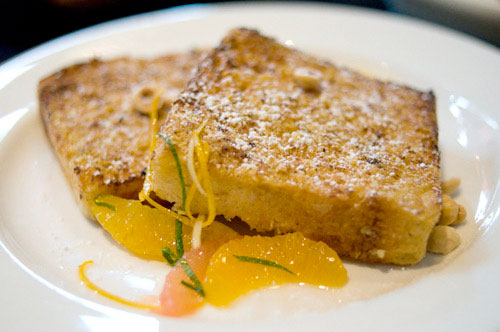 Photograph by Nick Solares
Ever since Locanda Verde opened in late May, the food world has been a-Twitter-ing and a-chattering about it, and why not? Robert DeNiro's involved; it's succeeding a highly visible failure, Ago; critics' and eaters' fave Andrew "Urban Italian" Carmellini is the chef; and perhaps just as exciting for me, former Craft pastry chef Karen DeMasco is coming off a two-year absence from the New York restaurant scene and returning to the fray, and the ovens, at Locanda Verde.
But when I heard that DeMasco was doing an all-morning and all-day pastry and coffee bar for both Greenwich Hotel guests and serious eaters alike, and a pretty extensive breakfast menu to go along with it, I knew it was going to be good, seriously good in fact. But what I wasn't prepared for was the fact that Locanda Verde might, just might, be serving the best breakfast in New York City, and maybe anywhere.
Who knew that an Italian restaurant in Tribeca would produce New York's best breakfast?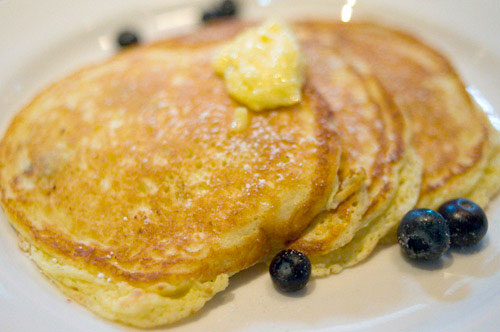 Photograph by Nick Solares
Let me start with the Pastry Mista ($11), the mixed breakfast pastry platter. You get three, and after sampling seven I really can't steer you in any definitive direction.
There are many olive oil cakes in the city, but this olive oil coffee cake is cinammon-y moist perfection. The fig and almond muffin is totally streusal-ly delicious. And the blueberry polenta muffin? We just organized a whole tasting devoted to blueberry muffins in the city, but this one leads the pack -- it's supremely moist and packed with fresh blueberries. The hazelnut sticky bun is flaky, light, and moist at the same time. That's not easy to do. Plus, it's not too sweet. The parmesan scone is the ultimate Italian cheese biscuit. And you would think the zucchini bread would be the most pedestrian item of the bunch, but that would be wrong. Good luck picking three. You will experience the most delicious buyer's remorse ever.
To top it off, the house-made strawberry-rhubarb preserves and the honey butter that come with it are truly amazing.
As for the dishes, you might be tempted to pass on the Sheep's Milk Ricotta ($9). That would be a serious mistake. Creamy, tangy imported Italian sheep's milk ricotta laced with truffled honey. You could just eat it with a spoon and be perfectly content. But to maximize your deliciousness slather it on the ridiculously good burnt orange toast that comes with it. You will definitely know some things you didn't know before eating this.
Uova Modenese ($11) turns out to be Carmellini's brilliant corned beef hash and eggs Benedict mash-up. It's made with house-made cotechino hash, spinach, and tomato hollandaise. Sounds amazing, doesn't it? It is.
Cloud-light and mega-tender lemon ricotta pancakes ($13) come with fresh blueberries and Meyer lemon curd. They could have used a slightly more crisp veneer but I am truly nitpicking here. Perhaps even better is the toasted hazelnut French toast ($14), served with a citrus salad. Just crispy enough on the outside and tender and slightly moist inside, and the toasted hazelnuts add the right amount of crunch and nuttiness.
The crispy polenta waffle ($14) comes with fresh local strawberry slices and a mascarpone topping that is more tart than sweet. It's a good waffle, but unlike just about everything else I sampled here, eating it isn't like tasting a waffle for the very first time.
Now let's talk about the most abused breakfast side dish ever: the potato. If you're as tired as I am of limp, off-white Greek coffee shop hash browns, you are sure to appreciate the crispy garlic potatoes ($6) here. Chunks of crispy on-the-outside tender on-the-inside golden brown local potatoes suffused with enough garlic flavor to cure any cold. I'm telling you, these are world championship-level hash browns, at least the order I had.
We're going to weigh in on lunch and dinner at Locanda Verde on Serious Eats New York next week, but you should now know that a truly inspired and seriously delicious breakfast awaits them at Locanda Verde. Who knew that an Italian restaurant in Tribeca would produce New York's best breakfast?
Locanda Verde
377 Greenwich Street, New York NY 10013
212-925-3797
Service: Friendly and attitude-free
Setting: Hotel restaurant that doesn't feel like one
Compare It To: Trestle on Tenth, Norma's, Sarabeth's
Must-Haves: Any of the pastries and muffins, sheep's milk ricotta, cotechino hash, toasted hazelnut French Toast, crispy garlic potatoes
Cost: $6 to $14
Grade: A
Related
Popular in the Community