I was in downtown Seattle sitting in the waiting room of a center for "hygiene" services- bathrooms, showers, laundry facilities - for people who are homeless, chatting with a few of the men sitting around on benches. "I'd like to talk with you for a few minutes - would that be OK?" I would offer, and then either got a reply of "Sure, why not?" or a simple "No, not now," and a shake of the head.
I had just helped conduct a simple five-question survey called "Everyone Counts," a snapshot of who is using similar services all around the county, including where people slept the previous night and if they were veterans. The results are used to complement the "One Night Count," in which hundreds of volunteers scour the streets, underpasses and parks of Seattle and surrounding suburban areas of King County from one to four AM to count the men, women and children who were unsheltered that night. Both are the work of the Seattle/King County Coalition on Homelessness, an organization that focuses on assuring essential services for people and families without homes, as well as advocating to address the economic and social policies that lead to the problem.
Like many, I'm horrified by the counts, the thought of so many human beings living within this supremely wealthy country who have no place, however humble, to call home. But that day I wanted more than numbers. I've never had the courage to stop and converse with the person behind those hand-lettered signs at the big intersections that say, "Anything HELPS" or "Disabled veteran." This was a chance to connect, however briefly, at some human level with a few of the people that our society has so ravaged.
Robert was a soft-spoken man with a trim beard and short graying hair "from the Bayou," as he described himself. "I worked the tugs in the Gulf for 20 years," he noted, then came to Seattle as a part of a Christian ministry. His manner brought to mind the down-to-earth country sincerity of the older generation in rural Montana where I was raised. Though he had family in Louisiana, he stayed in Seattle to be close to his daughter, who lives nearby. Robert was moving into transitional housing and starting a job after the weekend; this service center was a brief stop before his life changed for the better. But that day he was one of the homeless, waiting for a chance to take a shower, wash his clothes, prepare himself for the day.
Louis was a 29-year old bearded, dreadlocked man born in Haiti, but living in the US since his teens. His flashy good looks were a contrast to the life he described: "stranded" in Seattle two years ago, living a street life. Asked about day-to-day challenges he faced, Louis shrugged. "There's places to get food," he said. "I get by. But I don't have anyone here..." I wondered what it was like for him to have no contact with such a vibrant Caribbean culture, nor with his family. Louis seemed a lost soul.
My last discussion was with John, a 48 year old man who had been staying in a tent very near the site of a recent shooting. He was irate about the news coverage of the event. "They only talked about how it was a homeless camp, not about the fact that these were drug dealers who were involved!" he said. "It wasn't because of the homeless. We shouldn't be blamed just because of where it happened." Originally from North Africa, John had worked there with international aid agencies. We chatted about places we had both traveled to, agreeing on how the chaos of Lagos contrasted so sharply with the beauty of the northern towns of Nigeria. As I left, I commented that he would probably still be a valuable resource for agencies working in North Africa. His face lit up with a smile, and he agreed: "I like the sound of that. Yes, maybe I would."

I thanked the men after our conversations, feeling privileged at their willingness to let me into their lives for just those few minutes. As I left the center I learned that volunteers in this year's One Night Count had identified 4,505 people who slept outside that night. That was a 19% increase over last year's count, which was 21% more than the previous year -- and just a fraction of those who slept in shelters, or are very near bankruptcy, eviction, or moving into their car for somewhere to stay. This year the increases were most dramatic in the suburbs of Seattle, some of them more affluent than the city.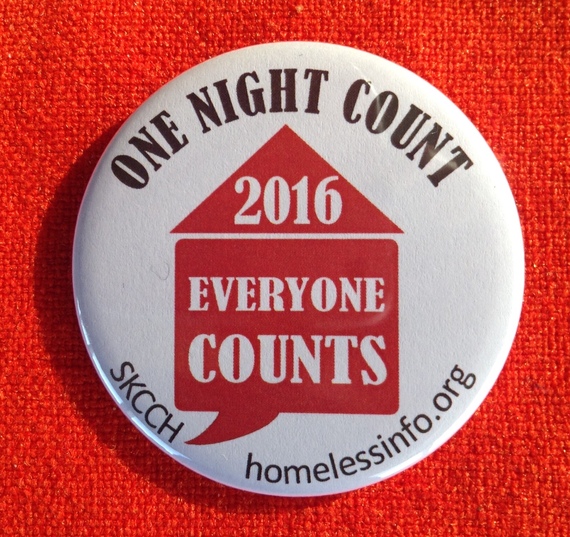 However as I left that day I wasn't thinking much about the numbers, rather about the people I had met. I still find myself wondering about them. Is Robert's job is working out? Has Louis has made any friends? Has John has thought more about finding a way to return to his roots in North Africa? A local project, Facing Homelessness, has a web site that provides the opportunity to hear stories from some of the people living without a home. Their request: can we "just say hello" and smile at those on the streets, if only to acknowledge our common humanity? It won't change their living situations, but it might change us.

If it changes us, we can of course do more than just count or connect with individuals. An important step could be to learn how to advocate for people who are homeless. The ranks of the unsheltered are increasing here, for reasons we mostly know: skyrocketing housing prices, catastrophic medical problems, unemployment or poverty-wage jobs, substance abuse or mental illness without anything like adequate or timely treatment, burgeoning inequality and a "safety net" full of holes. An effective advocacy group will address those causes, as well as the need to provide stopgap services. A quick browse of the internet will show that it's not that difficult to be part of the solution.
After my morning in the hygiene center - I'll also remember to say hello.
Calling all HuffPost superfans!
Sign up for membership to become a founding member and help shape HuffPost's next chapter