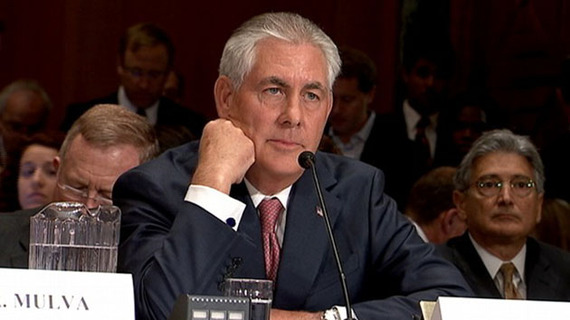 ExxonMobil CEO Rex Tillerson (center) and Vice President of Public Affairs Kenneth Cohen (right) claim their company has supported a carbon tax since 2009.
Before Kenneth Cohen retired from his post earlier this year as ExxonMobil's longstanding vice president of public and government affairs, he published a blog reasserting the company's support for a revenue-neutral carbon tax. Cohen's December 2 column was part of a broader public relations campaign to deflect allegations that ExxonMobil had downplayed evidence its own scientists uncovered about climate change and defrauded its shareholders and the public at large.

Cohen stressed that ExxonMobil believes "the risks of climate change are real and ... warrant constructive action" and traced the company's support for a carbon tax back to a January 2009 speech by company CEO Rex Tillerson. Since then, Cohen said, ExxonMobil has been actively promoting it as the most viable way to curb carbon emissions in its communications with shareholders, journalists, government officials and -- most especially -- federal lawmakers, who are in a position to do something about it. "ExxonMobil executives," he said, "have echoed that message in countless private briefings with members of Congress on carbon tax policy options."
A cursory look at just who ExxonMobil funds on Capitol Hill and how they vote tells a very different story. That funding is significant. From 2010 through 2014, the company spent $6.4 million to elect lawmakers and another $64.2 million -- more than any other oil and gas company -- to lobby them.
Given this largesse, one would expect a significant percentage of ExxonMobil's beneficiaries to support its position on a carbon tax. That's usually how it works. There may not be a demonstrable quid pro quo, but contributions guarantee access, and access guarantees influence. In this case, however, an overwhelming majority of ExxonMobil-funded senators and representatives consistently oppose a carbon tax -- as well as other measures to address climate change.

That makes me wonder: Just what have ExxonMobil lobbyists been telling Congress during those countless private briefings?
Although neither the House nor the Senate has voted on a stand-alone carbon tax bill in recent years, since 2010 legislators have voted on a handful of amendments that put them on record on the issue.
The vote tallies speak for themselves.
In March 2013, for example, Rhode Island Sen. Sheldon Whitehouse -- who has never received ExxonMobil money -- offered a budget resolution amendment that would ensure that "all revenue from a fee on carbon pollution is returned to the American people." That's exactly what ExxonMobil claims to support: a revenue-neutral carbon tax.
Whitehouse's amendment was defeated by a 58 to 41 vote. Forty-eight of the senators on the floor that day received campaign contributions from ExxonMobil between 2010 and 2014. Of those, 39 -- 33 Republicans and six Democrats -- opposed the amendment. In other words, more than 80 percent of the legislators ExxonMobil funded voted against the company's stated position.
Five months later, the House approved an amendment that would prevent the Obama administration from imposing a carbon tax without congressional approval. Steve Scalise, an ExxonMobil-backed representative from Louisiana, tacked the amendment onto a bill that ultimately died. His amendment passed on a 237 to 176 vote, and nearly 90 percent of the representatives who voted for it -- 204 Republicans and eight Democrats -- received ExxonMobil contributions.

More recently, in March 2015, the Senate voted 58 to 42 in favor of a budget resolution amendment introduced by Missouri Sen. Roy Blunt prohibiting a carbon tax. Thirty of the 40 senators who received ExxonMobil campaign contributions, including Blunt, voted in favor of the amendment.
Besides these amendment votes, another way to gauge where ExxonMobil-funded lawmakers sit on this issue is to take a look at what they cosponsor -- or ignore. Here again, the record is clear.
In March 2013, for instance, 156 House members cosponsored a resolution introduced by Rep. Scalise expressing "the sense of Congress that a carbon tax would be detrimental to American families and businesses and is not in the best interest of the United States." Including Scalise, 146 cosponsors -- 93 percent -- were funded by ExxonMobil.
Conversely, when Maryland Rep. John Delaney introduced a revenue-neutral carbon tax bill in May 2015, none of his ExxonMobil-backed colleagues signed on. The bill would tax carbon emissions and use revenues to reduce the corporate tax rate, assist displaced coal miners, and offset any increased energy costs for middle- and low-income households. Presumably ExxonMobil would approve. Neither Delaney nor the three other bill cosponsors received campaign contributions from the company.
Currying Favor with Key Members
Two committees in each chamber of Congress have jurisdiction over carbon tax-related bills. Between 2010 and 2014, ExxonMobil contributed to at least 50 percent of the members of each one.

On the House side, the company supported 24 of the 39 current members of the Ways and Means Committee and 35 of the 54 members of the Energy and Commerce Committee. Notably, 38 of the 59 ExxonMobil-funded lawmakers on the two committees are climate science deniers.
On the Senate side, ExxonMobil gave contributions to 16 of the Finance Committee's 26 members, nine of whom reject climate science. The company also funded half of the 20 members of the Environment and Public Works Committee. Seven of the 10 are deniers.

Given the track record of ExxonMobil-funded lawmakers on climate bills and amendments, it's unlikely that a carbon tax bill could ever get off the ground in any of these committees. And if, by some miracle, such a bill managed to attract a sizable number of cosponsors, it would still die. That's because the chairmen of these four key committees -- who have the ultimate say over a bill's fate -- have refused to schedule a vote on anything remotely related to a climate bill. And perhaps it is no coincidence that all of them have received campaign contributions from ExxonMobil.

In the House, the company supported the campaigns of Michigan Rep. Dave Camp, Wisconsin Rep. Paul Ryan, and Texas Rep. Kevin Brady -- consecutive chairmen of the Ways and Means Committee over the past five years -- and Michigan Rep. Fred Upton, chairman of the Energy and Commerce Committee. In the Senate, it funded Utah Sen. Orrin Hatch, chairman of the Finance Committee, and Oklahoma Sen. James Inhofe, who chairs the Environment and Public Works Committee.

Most of these chairmen -- Ryan and Upton in the House and Hatch and Inhofe in the Senate -- dispute mainstream climate science. Inhofe, perhaps the most outspoken climate science denier in Congress, has called climate change "the greatest hoax ever perpetrated on the American people."
By donating money to these strategically placed lawmakers, ExxonMobil's actions belie its professed support for a carbon tax. As long as they remain in place, no carbon pricing bills will ever get to the House or Senate floor, let alone to the president's desk.
Of course, Congress' refusal to address climate change can't be blamed solely on the machinations of one company. There are a number of other fossil fuel industry players besides ExxonMobil -- Koch Industries and Chevron immediately come to mind -- that also spend millions to influence Congress. And then there are the ideological, theological and pseudoscientific rationales lawmakers hide behind to justify doing nothing.
Even after taking these other factors into consideration, however, ExxonMobil still bears a good deal of responsibility for the climate stalemate on Capitol Hill. After all, over the last 20 years, it has been a leading sponsor of a network of think tanks, advocacy groups and trade associations that has been peddling lies about climate science, even after the company's own scientists warned decades ago that the consequences of global warming could be catastrophic. And the company continues to finance members of Congress who oppose taking action to address climate change.

At the conclusion of his December 2 essay, Kenneth Cohen pledged that ExxonMobil "will continue to pursue effective and efficient policy options using the established scientific knowledge as the foundation for the things we advocate." That may sound reassuring, but empty rhetoric doesn't take us where we need to go. If ExxonMobil thinks anyone is going to believe that it is sincerely interested in combating climate change, it needs to do more than talk. If the company really supported action on climate, it would stop funding groups that spread disinformation about climate science and renewable energy. And if it really supported a carbon tax, it would stop funding lawmakers who don't and only fund lawmakers who do.

In other words, ExxonMobil, put your money where your mouth is.
Elliott Negin is a senior writer at the Union of Concerned Scientists. UCS interns Jayne Piepenburg and DeAntre Bryant contributed research for this article. Data on climate science deniers in Congress came from documentation provided by the Center for American Progress. Data on ExxonMobil's campaign contributions and lobbying expenditures came from company filings compiled by the Center for Responsible Politics.
Popular in the Community