As the smartphone industry considers adding a 'kill-switch' for mobile devices to curb their theft, law enforcement officials crow that manufacturers haven't gone far enough.
What is being underreported are the abuses and theft (misappropriation) of users' data by social media platforms such as Facebook, mobile app developers and the smartphone carriers and manufacturers.
To listen to Facebook set the so-called "record straight" (Daily Mail, 4-22-14) saying that it denies sharing data is both farce and fiction at the same time.
Easily one of the biggest abusers of personal data, I, for one, trust the abusive spying program by the NSA over Facebook and its two-faced CEO Mark Zuckerberg any day. At least the NSA is tasked with defending the country; Zuckerberg's Facebook only cares about usurping user data to grow his company and juice its stock price. [Disclosure: I am neither a Facebook user nor a Facebook shareholder.]
Location Sentry, a startup developing a couple of mobile app products that will protect smartphone users against the latent, invasive spying of users' data and locations will soon be rolling out its apps that will disrupt the dataflow that advertisers have overpaid for in Facebook, Google, dating apps and social media apps that sweep users' GPS locations.
Location Sentry, whose mantra, Allowing You to Control Your Private Data, commissioned a market survey "to measure attitudes towards privacy of Gen Y (18-35) consumers attending Portland State University."
From the survey on How important is privacy: 57 percent voted it's "very important" and 41 percent "somewhat important." In other words, only 2 percent found it "unimportant" or "didn't care."
The survey, which covered twenty topics, with the first few capturing demographics of the Gen Y participants, went on to conclude: "The results... disavow the notion espoused by various VCs, carrier executives and industry pundits that Gen Y doesn't care about privacy..." They do.
Abuses by the Data Broker Industry
Last December, Senator Jay Rockefeller published a report -- A Review of the Data Broker Industry: Collection, Use, and Sale of Consumer Data for Marketing Purposes -- for the U.S. Committee on Commerce, Science, and Transportation.
The findings weren't pretty:
[1] Data brokers collect a huge volume of detailed information on hundreds of millions of consumers. Information data brokers collect includes consumers' personal characteristics and preferences as well as health and financial information...

[2] Data brokers sell products that identify financially vulnerable consumers. Some of the respondent companies compile and sell consumer profiles that define consumers in categories or "score" them, without consumer permission or knowledge of the underlying data. A number of these products focus on consumers' financial vulnerability, carrying titles such as "Rural and Barely Making It," "Ethnic Second-City Strugglers," "Retiring on Empty: Singles," "Tough Start: Young Single Parents," and "Credit Crunched: City Families."...

[3] Data broker products provide information about consumer offline behavior to tailor online outreach by marketers...

[4] Data brokers operate behind a veil of secrecy. Data brokers typically amass data without direct interaction with consumers, and a number of the queried brokers perpetuate this secrecy by contractually limiting customers from disclosing their data sources...

If you think you are safe, think again. You are not.
One thing this author learned last year in meeting with the then CTO of the CIA in Gus Hunt was the simple truth that when your mobile phone is powered off, people can still find you through that shutoff device.
If that wasn't disturbing enough, having social media companies change their data privacy policies with the shifts in the tides, consumers don't realize how bad they are being bled, pumped and siphoned for their personal data.
Abuse of Privacy Starts in the Device
Via Skype, I spoke to Craig Spiegelberg, CEO and founder of Location Sentry, LLC, about the abuses that occur to smartphone users, like myself, the moment you turn on a new device and check acceptance buttons on privacy policies and personal settings.
What he said made me look at my Samsung Galaxy S-III twice.
With a background in the telecom IT industry for more than two decades, Craig Spiegelberg spelled it out, saying,
A mobile phone is a totally different device than a desktop PC or a laptop. A smartphone IDs you, gives one's true location to the data brokers without the user's knowledge or even having an account with any of those merchants that troll consumer information. Mobile devices are radically different than any computer we have used in the past. It has seventeen -- 17 -- different sensors and radios that track your movements, locations at a given time and user behavior.
Spiegelberg went on to explain that the data broker business in the United States generates $150 billion a year. "This is done by a host of unknown companies that, like spyware, check what data you have uploaded when, places you shop, destinations you travel. The sensors collect data, including GPS locations, texts, call recording, contact lists, what data is sent to what IP addresses, and a lot more," he said.
In essence, consumers have to worry about cyber hackers, the Heartbleed bug and the social media platforms of the world, and now add to that list dark pool of unknown companies, which have become the new threat vector to digital profiling, personal data piracy and mining of personal behavior and privacy.
In the mobile world users have no friends.
Giving Control to Mobile Users
Doing a demo of the Location Sentry app over Skype, Spiegelberg showed how to take control of your mobile life. Not only does the app "spoof" or broadcast the wrong location of where he was actually sitting, somewhere in San Francisco, but he showed how the app projected his false location outside bands of certain radius.
The distance one wants to spoof is up to them: 10-mile radius, 30 miles, 50 miles or more.
Not only will that feature throw data brokers and trolls off the beaten path, but other features put the user in control by shutting down some of the unknown companies, while monitoring others that track your -- now false -- information.
"This is Security-as-a-Service platform. It's a freemium model, in which any user can begin using the app for free, and then upgrade to premium for a nominal fee," Craig Spiegelberg said.
More than that, it allows the user to control permissions, track data trolls and set risk levels to suit individual tastes. Executives at Fortune 1000 companies and other businesses might benefit, where managers and those with fiduciary responsibilities want to keep their data usage masked and location in a different zip code.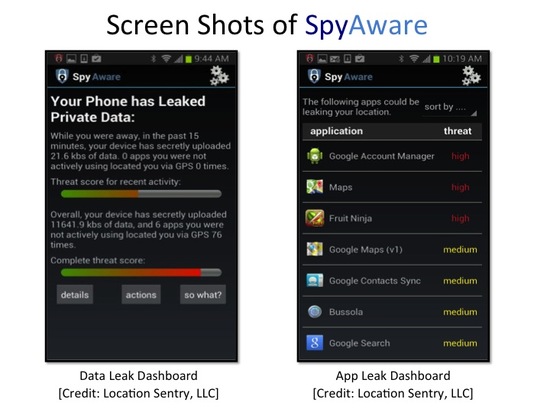 In discussions with a couple of government agencies, which he would not mention, the only downside to Spiegelberg's innovation is the app has been developed for Android users only.
"Apple has it's own operating system, which is very difficult to build this type of product without going through the red-tape of that technology company. Android accounted for almost 80 percent of mobile phones shipped worldwide in 2013. It's also open source and thus the natural place to start," he said.
Beyond iPhone users, Facebook and data brokers might see their business models of compiling troves of data from millions unbeknownst smartphone users broken. Facebook, which launched a new feature that will allow friends to track you, might find that new feature obsolete in a tech minute.
If that happens, then perhaps Senator Rockefeller should have a reason to smile, as his study confirms the abuses that take place everyday with consumers.
[Disclosure: I am not an investor or strategic advisor in Location Sentry; I have not used the product yet, but I plan to when the beta version is available next month.]
Calling all HuffPost superfans!
Sign up for membership to become a founding member and help shape HuffPost's next chapter