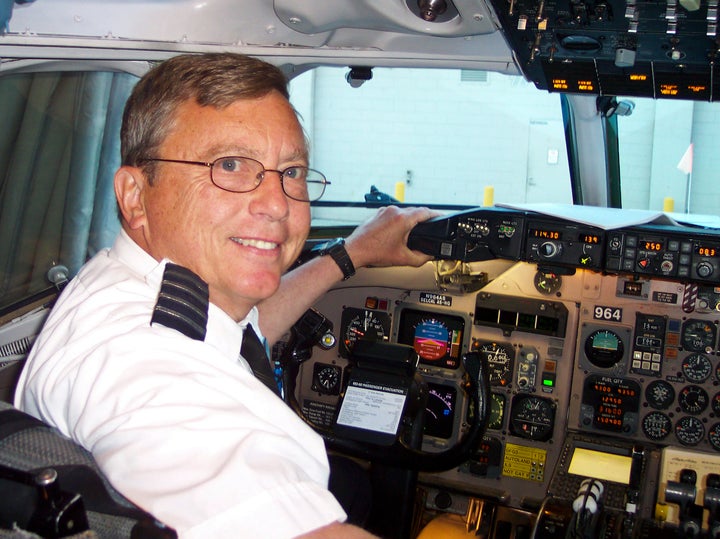 Perhaps it's because my first career was in nursing.
Perhaps it's because my father was a doctor.
Or, perhaps it's because my former husband was a naval aviator flying the F-4 Phantom in Vietnam and left his career as a pilot to go to medical school.
Whatever the reason, when my friend Helen Drake told me that her brother was a medical doctor who had left medicine for a new career as a pilot, I was eager to learn more! This was the opposite direction of my former husband and USN Pilot. My former husband had asked for a leave of absence from the Navy to go to medical school after his F-4 went down into stormy waters, and he was miraculously rescued. I was intrigued.
The rigor of medical school, internships and residencies was something I knew well. How did someone find the courage to admit that medicine was not his right work and move into something else? When did he first learn to fly? Had he found "right" work? I was determined to find out!!
I wrote my own book inspired by having met so many people in "wrong" work. As a career recruiter, I am hired by companies to make sure the people we place are in their "right" work, and I have a carefully defined formula that makes work "right" for people.
I reached out to David and scheduled an interview. First, I wanted to discover what had drawn David to a career in medicine. David had generously sent me a copy of his book, Steep Turn: A Physician's Journey from Clinic to Cockpit, before our meeting. I actually had many questions answered after finishing David's very well written book. First of all, I found out that David had chosen medicine as a career in large part because his mother had strongly encouraged the choice!
I also found out that David had first learned to fly in Pensacola, Florida, after completing his medical education and joining the US Navy as a Flight Surgeon. I knew David had a devoted wife, Martha, and their two children during much of his training. I knew also knew that David had fallen in love with flying right away, while in the USN. Most importantly, after finishing the book, I knew David was self-aware and self-reflective throughout his career. He was keenly aware of his own feelings about his work as well as his life priorities relative to the demands being made on his time and energy. David and I spoke at great length about the slow, but sure, awareness he developed about his lack of "fit" with his chosen career of medicine.
"I was lucky", David said. "I knew how good I felt when I was flying. I didn't feel that way in medicine. A lot of people can't admit they are unhappy because they don't know what else they would do for work. A lot of times people change spouses or sell their home rather than admit it's the work that is wrong. For years, deep down, before I seriously thought about changing careers, I thought I was too old to be a pilot full-time and so I stayed for 12 years in medicine. Finally, the pain of it all, from being on 24-hour shifts as an Emergency Room Doctor, never seeing my young family, and being acutely sleep deprived, got so acute that I had to admit I was not in right work. I didn't think I knew what would be right work for me. I bounced around looking at other options such as law or plastic surgery. Nothing felt right. I was 37 years old and felt that if I stayed in this profession, I wouldn't be alive very long. I went to a Psychiatrist for help. After signing up for a support group of other MDs who were unhappy in work, I came home and my wonderful wife said, 'You don't need a support group, you need to become a pilot! That is where you are happiest!' I didn't feel this was possible. I was sure I was too old to begin a career as a commercial pilot".
During his time of inquiry David happened upon a book by Gail Sheehy called "Pathfinders". In the book, Gail interviewed many different people and identified those that were the happiest and healthiest in life. These, she discovered, were the people who, when they reached a crossroad in life, jumped off the cliff and took the road less travelled, regardless of fear or risk.
As I said in my book, "When you jump off the cliff, either you will learn to fly or the earth rises to meet you!" David Crawley literally learned to fly! Deregulation happened and David was hired by Alaska Airlines as a commercial pilot. He retired from his second career as a Captain, in 2005.
I asked David what he had discovered were his top priorities in life relative to his decision to leave medicine. He knew that they included:
1) Work life balance and time with his family.
2) Work that was more linear and technical and less ambiguous than medicine.
3) Work that allowed him to spend more time in the outdoors.
4) Work that allowed him time for a wide variety of hobbies.
David shared some wisdom for others who may need to change work. "Look around! Have the courage to know yourself well enough to move in the direction of your dreams! Work can be fun! Get new skills or training if you need them. Don't feel like a failure if you are leaving one thing and going to another. Don't worry about exactly how it will all happen. I had a lot of luck with people and events leading me in the right direction. You will too! I'm happy I had twelve years in medicine. I just moved on to something that made me a lot happier!"
In my experience, the more clarity people have about their priorities relative to work, the more guidance and "luck" shows up to get them to where they need to go. They may not know exactly where they are going, but they do recognize it when it arrives. David called it "luck". Hear David's story on this podcast!
Rumi, the Persian Poet, said it this way:
"Let yourself be silently drawn by the strange pull of what you really love."
Related
Popular in the Community