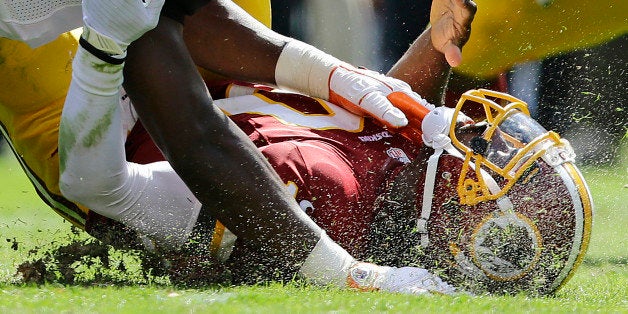 The Super Bowl is coming soon to big screens everywhere. I'll still watch the big game (being in advertising and marketing for three decades, I have to at least see the ads), but my mind is more and more on the minds of the players. The recent news of the apparent suicide of an Ohio State football player and that he was reportedly "confused due to concussions" only makes me more resolute in my views about the sport in its current incarnation.
More than three years ago, I wrote an opinion piece for the Huffington Post arguing that the future of football is limited. "I want to know what the sport's future is in light of all the life-threatening injuries and dangerously destructive playing. Am I the only one forecasting that the game will be outlawed sooner or later, because of the traumas that come from playing?"
Back when I wrote that, I felt like I was going out on a limb, maybe being a little provocative. As the survivor of one brain tumor (and, unbeknownst to me at that time, soon to survive No. 2), an advocate for an organization that helps veterans who have brain injuries, and a guardian of a 15-year-old who didn't understand why he should wear a helmet when longboarding (even on main thoroughfares), I was perhaps ahead of the curve in caring about head trauma and also a bit of a worrywart. But the statistics and the studies were there back then, and they were horrifying: 60,000 concussions suffered by high school players each year and numerous pro athletes whose deaths (some of them suicides) were linked to chronic traumatic encephalopathy (CTE).
Now the news is even clearer -- and worse. In 2013, Frontline aired a chilling report called "League of Denial: The NFL's Concussion Crisis." The NFL is currently working out a settlement with almost 5,000 former players who have filed a class action suit against the league for denying or downplaying the long-term neurological harm associated with head injuries sustained in the game. Ken Belson of The New York Times reported that "the National Football League, which for years disputed evidence that its players had a high rate of severe brain damage, has stated in federal court documents that it expects nearly a third of retired players to develop long-term cognitive problems and that the conditions are likely to emerge at 'notably younger ages' than in the general population."
These injuries are just making it to the mainstream consciousness. In October, the American Association of Advertising Agencies (a client of the agency I lead, Havas PR North America) commissioned a study of association members and the general public about what impact the NFL's recent domestic violence issues could have on NFL viewers and advertisers. But another topic cropped up in the course of questioning: head injuries. They're the elephant in the room for a game in which crunching collisions are a crucial part of the spectacle. When answering an open-ended question about ideas and phrases most associated with professional football, 27 percent of 4A's members and 21 percent of the public said brain injuries.
The NFL's settlement sounds like a real attempt to make things right -- if any amount of cash for significant loss of quality of life, or of life itself, is a fair trade -- with payouts of up to $5 million on a sliding scale (depending on the diagnosis and at what age the condition, including dementia, CTE, Parkinson's, Alzheimer's and Lou Gehrig's disease, was diagnosed). But it has plenty of critics.
In The Atlantic, Patrick Hruby criticized the NFL for being a $9 billion-a-year industry that profits as its stars suffer brain trauma, and for continuing to dodge blame or make meaningful changes. He wrote, "A closer look at [several former players'] objections and at the proposed settlement reveals the league trying to shirk full responsibility for the public health crisis it caused, maintaining a murky status quo of public equivocation and half-denial."
And NBCNews.com posited that brain injuries might be behind football's other big blight: the domestic violence and general bad behavior of so many players lately. The article quoted several experts who cited studies showing that traumatic brain injuries can lead to aggression and disinhibition.
Whatever's causing it, the violence is disturbing and bad news for football's brand. Rich Cohen defended the sport in a Wall Street Journal article, but he did say this: "The NFL seems to be a thug-filled freak show denounced by everyone everywhere. Judging by the column inches, you'd think the NFL is a bigger threat than Islamic State or Ebola."
Well, it certainly has harmed a lot more Americans, even if it is, as Cohen argues, a microcosm of America: "the good, bad, loud, violent, ugly and beautiful." He concedes, "Football is violent -- nothing but violence, controlled fury. This too is America. We live in a violent country, have violent impulses, love a violent game. Players must work themselves into a rage to succeed. Is it any wonder that some can't turn it off?" (He's less able to justify the brain injuries, noting that other sports, like soccer and hockey, carry brain risks, too.)
But is that the America we really want to be? Do we want to embrace that side of our history and culture? Do we want to celebrate an industry that takes aggressive young men and injures them and trains them to be more aggressive? Will marketers continue to want their brands associated with the game? For now, many do -- those audience numbers are hard to ignore -- but a strong backlash is definitely brewing.
To have a future, football will have to change. The game isn't inherently awful (full disclosure: I loved entertaining clients at the Arizona-Nevada college football game in the fall, so I might be a hypocrite as well as a skeptic). And I know that there are far more good people involved with the sport than there are bad. But American football needs a reinvention -- of its brand, its transparency, and its standards for behavior and, most of all, safety.