Social Media has assumed a significant role in the tech-savvy nations of the world in that it not only allows extensive networking but also brings nations closer together by easy dissemination of news and opinions. As with all forms of media, messages perpetrated through social media can have good and bad influences on society and youngsters in particular. Given that more women than men use social media, it is but logical to suppose that this form of media has a sizable impact, both good and bad, on gender matters.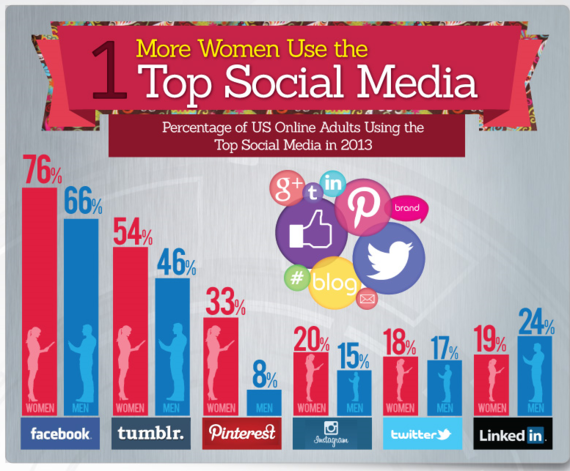 Has the ubiquity of women using social media mirrored the representation of women in it? A list of 100 influential Twitter users in Britain, "influence" being measured using three factors - user's audience size, engagement of the user with their audience, and 'authority', had only 17 women in it, with only one (Sarah Brown) in the top 10. Considering that technology itself has its own gender divide in favor of men, it seems logical, if not right, for women to be under-represented in social media. Apart from this general reason, the attitude of women versus men towards voicing opinion, particularly in relation to the response they get, plays a significant role towards relative female silence in social media. Sharon O'Dea, digital communications and Intranet specialist explains that while women have fewer qualms about sharing content there is a reticence towards taking a public standpoint on an issue, and this is seen in the greater presence of women in media sharing applications such as Facebook rather than a verbal sharing media such as Twitter.
This reticence of women in Social Media is largely a result of the unfavorable, and even often abusive, responses they get purely on the basis of their gender. Much as it may sound as an imaginary grouse, misogyny in social media is, unfortunately, anything but. Journalist and Designer Martin Belam performed an experiment wherein he ran a spoof Twitter account and found that it got more abusing and negative responses when the poster was portrayed as being female. Pornography, e-mail harassment, "flaming" (abusive or obscene language), and cyber-stalking are some of the issues faced by women in social media. The most common form of harassment found in social networking sites is "flaming", the use of highly aggressive language pattern - slut shaming is a frequently used and dangerous form of flaming in social networks. Women are often ignored, trivialized, or criticized by men who, according to Susan Herring, "have a tendency to forget that there is an actual human being at the receiving end of one's emotional outbursts"; although this particular statement was made in the nineteen nineties, it may still hold true to a some extent now.
Commercials that appear in social networking sites, as with adertisemets in all other forms of media, can be a source of gender stereotyping. Women are more often presented in commercials involving cosmetic and domestic products while ads for men focus on cars, business products or investments. Another important distinction is that ads show entire figures of women and close-up shots for men, the former objectifying the female body, while the latter evoking positive associations. Thus culturally constructed gender roles and relationships continue to remain a cross-cutting element in limiting the portrayal of women in social media.
Another area where social networking sites have a significant gender difference is in the way users, especially youngsters, present themselves. Adolescent girls and boys differ in the types of content they post to their profiles; girls reportedly post "cute" pictures, either of themselves or random, while boys were more likely to share pictures and comments that they described as self-promoting and often containing sexual content or references to alcohol. Such behavior reiterates the cultural gender stereotypes and media portrayals of the "commodified" woman and the strong, stable man. Adolescent girls are also more likely to share personal information than boys, thus exposing themselves to possible sexual predation or cyber bullying. But on the positive side, women are more aware of the impact of their pictures and content, especially those related to alcohol, on their employable future than men, and tend to use social media more carefully. Fortunately for young adults and children, a variety of protection tools are available to allow monitoring by adults so that they (especially girls) do not fall victims to the social evils of social networking.
Social Networking holds potential to boost the economic, political and social empowerment of women, and the promotion of gender equality. But such boost is possible only with awareness of risks and benefits of the medium. Social networking cannot be demonized without a judicial consideration of benefits possible for women. The HeforShe campaign by The United Nations, for example, attempts to use social media to close the equality gap between men and women. A new study published in the British Journal of Social Psychology reports that even discussing sexism in social media could also improve women's wellbeing because of the possibility of a sense of catharsis and "collective action" that offers support. While blogging or tweeting is different from holding a protest march, its strength lies in the possibility to reach millions of people separated by geographic boundaries and extend support. Media researcher Johanna Blakeley believes that social media applications, as they outgrow traditional media, may actually free us from some of the gender assumptions in society.
Writing credit: Co-authored by Lakshmi, a Mobicip blogger who is just as passionately opinionated about the juxtaposition of technology, parenting, and education.
Popular in the Community