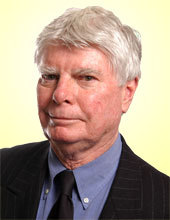 Forbes media columnist James Brady is known for chumminess with his subjects and the occasional big, wet kiss, but this is truly unbelievable. Today Brady writes of this AWESOME lady author of his acquaintance: Susan Konig, and her latest book, I Wear the Maternity Pants in This Family. She's been compared to Erma Bombeck! The talk shows love her! She's at #3 on Amazon's "family humor" section! She once birthed a book AND a baby in the same week! My God, what can't she do?
Brady asks the hard question: "So just who is this stay-at-home 'red hot mama?'" What follows is an 8-paragraph bio — born in Paris, graduated Georgetown, go-getter WaPo rookie reporter (namedrops: Ben Bradlee, Kay Graham, David Remnick, "demigods Woodward and Bernstein"), a "couple of graduate degrees," magazine offers, balancing marriage and babies with a successful writing career (My God, what can't she do?), trading up houses, trading up column inches, triumph on the airwaves, starting her third book, doing it all.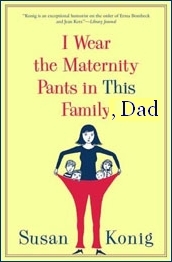 Eight paragraphs. Honestly, she sounds like a lovely woman, but why am I reading this again? Actually, I was reading it because of the headline — "Stay-At-Home Mom" &mdash" which I saw before the byline on my Gmail RSS. I saw that it was from Forbes and braced for the return of Michael Noer. Then I clicked through, saw it was Brady, and skimmed to the bottom. Where I saw this kicker:
How do I know all this? Full disclosure: In civilian life, Susan is one of my daughters.
OH! WELL THAT CLEARS ALL THAT UP! THANKS FOR THAT TOTALLY TRENCHANT MEDIA CRITICISM! AWESOME USE OF YOUR COLUMN IN A NATIONAL MAGAZINE! TOTALLY WORTH MY TIME! DEFINITELY GOING TO RUSH OUT AND PURCHASE YOUR DAUGHTER'S BOOKS, BECAUSE THAT'S A TOTALLY UNBIASED REVIEW!
Sorry. But am I crazy? Or is that column completely inappropriate and Brady's editor at Forbes should have his head examined? I dunno. It could be me.

Book cover totally doctored to accurately represent author-subject relationship.
Related
Popular in the Community