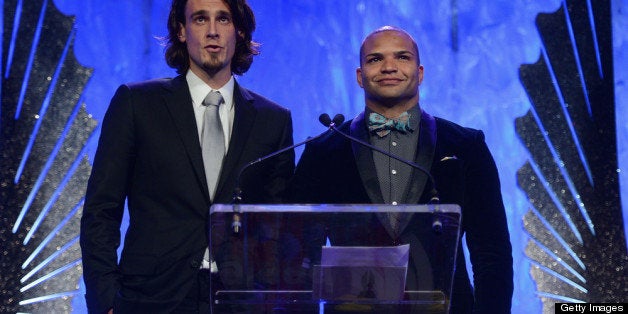 In a move anticipated ever since the Minnesota Vikings drafted punter Jeff Locke last month, the team cut punter and fierce LGBT rights supporter Chris Kluwe on Monday morning.
Kluwe announced the news on Twitter, writing "So long, Minnesota, and thanks for all the fish!"
While the Vikings aren't likely to say as much, word on the street is that the decision to drop Kluwe is at least partially due to his outspoken support for and advocacy on behalf of marriage equality. The Star Tribune's Chip Scoggins writes:
Regardless of whether they admit it, the Vikings are jettisoning Kluwe partly because they grew tired of his outspokenness. It's naive to think the move is based solely on his age (31), salary ($1.45 million) or how he performed last season (inconsistently). Kluwe has become the most visible punter in NFL history because of his social activism. The Vikings deny that Kluwe's public stance on issues factored into their decision -- not that they would ever admit it -- but they likely prefer someone who embraces the anonymous life of an NFL punter.
However, Kluwe told Scoggins that he has no regrets and refuses to keep quiet in the face of injustice just to secure a job:
This is me. I pay attention to what goes on in the world, and I like to speak up when I see something...

I think the sacrifice [of a job loss] would be worth it. Now, I would hope that I would get the chance to play football again, because I think I can still play. But if it ends up being something that costs me that position, I think making people aware of an issue that is causing children to commit suicide is more important than kicking a leather ball. . .

No single thing that I do defines me as a person. Just because I play football, that doesn't define me as a person.
Perhaps sensing that the cut was imminent, Kluwe reportedly remarked to NBC Sports reporter Mike Florio via text message that he believed the Vikings would release him because they found his activism a "distraction":
It's a shame that in a league with players given multiple second chances after arrests, including felony arrests, that speaking out on human rights has a chance of getting you cut.
Florio called shenanigans on the whole "distractions" thing:
Of course, the distractions weren't a problem when Kluwe was staying up very late playing Guitar Hero and Worlds of Warcraft, or staying out very late on Friday night doing shows with his band. After Kluwe opted to get behind a controversial social cause while also getting to bed at a decent hour, the team opted to acquire a player who, given that he was selected in round five, will likely have the field tilted in his favor when it comes to determining whether he or Kluwe gets [the job].
Kluwe's pink slip comes one month after fellow athlete ally Brendon Ayanbadejo was cut by the Baltimore Ravens. Ayanbadejo initially suggested that his equality advocacy may have played a role in the team's decision to release him, but quickly retracted those remarks, saying it was due to his age and not his inclusive views.
Call me skeptical, but I'm having a hard time believing that Ayanbadejo's outspoken support for marriage equality and LGBT rights didn't factor into the Ravens's decision to let him go, especially in light of the release of the equally outspoken Kluwe. I'm also saddened -- not for Kluwe, a brilliant guy who will easily recover from this momentary setback -- but for closeted NFL players, particularly the handful who are reportedly considering coming out.
Think about it: if coming out as an ally and publicly supporting equality is considered a "distraction," how will an NFL team react to the avalanche of media attention, accolades, hate mail, death threats, etc. when an active player actually comes out as gay? Would the glaring spotlight that will inevitably accompany such a history-making, courageous gesture also qualify as a "distraction?" And could such "distractions" potentially cost the NFL's first active, openly gay player his job?
Popular in the Community