Have you ever thought about how the act of networking is actually quite unnatural? Think about it. A person needs to attend an event, with or without knowing other attendees, and act like it is normal to walk up to complete strangers, shake hands with them, and then begin conversing. During this period both parties are "scoping" each other out to figure out one another's background, education, work experience, and other tidbits that show a person's level of "success".
I recently had a conversation with a friend about the perils of networking. If you don't go in with certain goals to reach, it could be extremely overwhelming. For example, just by typing in the word, "tech" on Eventbrite, I found 117 events listed just in Los Angeles. Good luck choosing. I turned to my friend who I was having this networking conversation with, Kristine Tsirigotis, and asked her how she handles it as a young professional who just recently relocated to Los Angeles and is attempting to launch a new business.
Kristine was tapped by Fast Switch, an information technology consulting company headquartered in Ohio, to come out West to grow the business development and account management sector in Los Angeles. Since arriving, Kristine has already connected with and begun working with Fortune 1000 companies such as Ask.com, Roche USA, Public Storage, and Nationwide Insurance. She said, "I actually like networking but I used to dread it. I was so nervous about talking to people I didn't know, but I do it so much now I don't even think twice about it." So, what is the secret to getting comfortable with networking? Here is what Kristine does that works for her:
1) Cast a wide net.
-She likes to attend a variety of events instead of just IT-related ones. She will go to business events, HR events, marketing/agency events, young professional meetings, and functions sponsored by the Chamber of Commerce.
-Why? This has helped Kristine not only get her name out to a broader group of people, but also has allowed her to find people in other industries who have provided great referrals. She said, "I can't tell you the number of times I tell people in finance or marketing that I am in IT staffing and they say, 'Oh! Our company is looking for an IT person,' or 'My friend in IT is in the market for a job!"
2) Follow up with everyone.
-A person who may not be useful today may be useful in the future and can offer great connections and business opportunities. You will never know if a new contact is a neighbor of or the childhood friend of someone who can use your service.
3) Give more than you take.
-Offer to help and provide referrals without being asked. Paying it forward provides rewards later when you may need help from others. Think about it. You probably remember someone who offered to help without strings attached.
A great advice Kristine ended with was to find a wingman (or wingwoman). She likes to take her brother to various events she attends because he is sociable and can strike up conversations easily. So, go ahead and ask a friend, relative, or coworker to attend a networking event with you. You might just see results you like afterwards!
Networking is an elusive skill that takes practice. What works for some won't work for others. However, it won't hurt to try different techniques because at some point you will find your happy medium.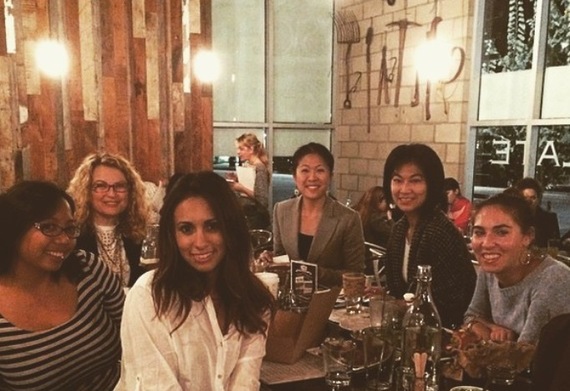 Calling all HuffPost superfans!
Sign up for membership to become a founding member and help shape HuffPost's next chapter