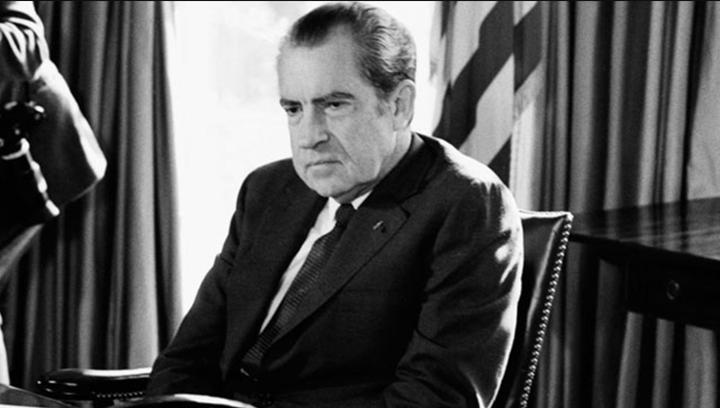 When President Donald J. Trump fired Federal Bureau of Investigation (FBI) Director, James Comey — the leader of the Trump-Russia investigation — he achieved one of his immediate goals: he changed the conversation in the media, as he often does. But he changed it by creating an even bigger threat to his presidency, one that has taken a president down in his own lifetime.
A different national climate doesn't mean a different Constitution.
At 2:30 a.m. on the morning of June 17, 1972, five burglars were arrested at the Watergate Hotel for trying to break in to, and bug, the Democratic National Committee (DNC) headquarters. Subsequent reporting over many months would reveal denials from President Richard Nixon's administration, secret payoffs, damaging recordings, indictments, and convictions, all culminating in impeachment proceedings for Nixon two years later.
Since Comey's dismissal, we are reminded of Nixon's Saturday Night Massacre on October 20, 1973, when he shuttered the office of the special prosecutor investigating Watergate by firing Archibald Cox. Both Attorney General Elliot Richardson and Deputy Attorney General William D. Ruckelshaus resigned the same day as calls for Nixon's impeachment grew in Congress and across the country.
Questions remain to this day about Nixon's knowledge of, and agency in, the actual underlying crime of the Watergate burglary. But it wasn't the burglary that cost him his presidency. The first of three articles of impeachment passed by the House Judiciary Committee on July 27, 1974 charged Nixon with obstruction of justice. Less than two weeks later, on August 8, 1974, Nixon ignominiously resigned — making him the first United States president ever to resign.
When considering Trump, Nixon, and the relative climate of the country in each leader's respective time, they represent very different national environments. Nixon won a genuine landslide victory in November of 1972 — one of the largest in American history — obtaining more than 60 percent of the country's popular vote and 520 electoral votes to Democrat George McGovern's 17. He won 49 states, just losing in Massachusetts and the District of Columbia. This was an electoral map worth handing out! Today, our country is much more divided and Trump's victory over Hillary Clinton — despite his claims to the contrary — much less impressive.
In a recent Quinnipiac Poll taken just before Comey's firing, Trump's approval rating hit a near all-time low at 36 percent. Nixon had that same approval rating a year before he was forced to resign, having plummeted from its peak of 67 percent in late January of 1973 as the Watergate investigation and its seamy revelations dripped on through his second term. Trump has barely broken 50 percent at any point in his campaign or presidency. In fact, Trump had a 41 percent approval rating in his first 100 days compared to both of Nixon's 100-day marks of 62 percent and 58 percent respectively.
Though Trump enjoys Republican-led chambers, Nixon faced Democratic leadership in the House and Senate. But Republican support was still required for an impeachment vote for Nixon. And patriotic Republicans stepped up.
Does Trump not understand the law or not respect it?
Prior to firing Comey, Republicans had been standing by Trump. Though this past week's actions might be changing the tide. In his interview with Lester Holt on May 11, 2017 Trump revealed that he fired Comey to end the Russia investigation and he did so with seemingly no understanding that this action could be construed as unethical, impolitic, or illegal.
Trump explained, "I said to myself, I said, you know, this Russia thing with Trump and Russia is a made-up story. It's an excuse by the Democrats for having lost an election that they should have won."
Whether "this Russia thing" is "a made-up story" or not, we still need to investigate it to ensure our elections are not vulnerable in the future. The underlying crime with "this Russia thing" is far more sinister than five men with flashlights, cameras, and 40 rolls of unexposed film. It involves a hostile foreign government seeking to divide America further, undermine faith in our democratic values and institutions, disrupt our way of life, and weaken us both home and abroad. To have coopted such a cause would be far more egregious than anything Nixon did if he raided the DNC. But like Nixon, even if it is never proven that Trump has colluded with Russia, he could be criminally liable for his attempts so far to obstruct the investigation. For example:
Trump has never shared his taxes. For a man who seems to share every self-indicting thought in his head, this concealment remains odd, particularly if his taxes could put to rest theories that he is hiding something. That would be something more embarrassing or damning than the one-billion-dollar loss leaked during the campaign. His lawyers' recent letter attesting to his lack of investment in Russia tells America nothing new and holds as much credibility as Trump himself.
Trump has denied Russia's involvement in the 2016 campaign, even does to this day. Speaking with Holt just two days after firing Comey, he still used the word "if" when discussing Russia's role in the DNC hack. His incredulity regarding accepted facts on this subject, along with his attempts to discredit the intelligence community, exacerbate suspicions for why he gives Russia undue deference. Not a crime, though this posture undermines the credibility of the intelligence community investigating him.
Initially all of Trump's advisors and campaign associates had lied about contacts with Russians. This lie extended all the way to Congress, with then Senator (now Attorney General), Jeff Sessions, saying under oath that he had no meetings with Russians. It was later revealed that Sessions had met with Russian Ambassador Sergey Kislyak, which could have been completely innocent, were it not for his concealment of it. Now we know of more than a dozen Trump associates that have met with Russians and tried to hide it. Where did all of these people get the direction to lie and why? Lying about meetings with Russians could be criminal if done under oath.
February 15, 2017, Trump Chief of Staff, Reince Priebus, asked then Deputy FBI Director (now Acting Director), Andrew McCabe, Senator Richard Burr (Chairman of the Senate Intelligence Committee), and Congressman Devin Nunes (Chairman of the Congressional Intelligence Committee), to publicly underplay the New York Times story about Trump associates' contacts with Russians. All of these men were investigating Trump associates' ties to Russia and he was clearly trying to interfere with the investigation.
On March 4, 2017, in an apparent effort to distract the media from National Security Advisor Michael Flynn's dismissal, Trump tweeted a false wiretapping charge, claiming Former President Barack Obama was illegally surveilling Trump Tower during the campaign. No evidence has ever been found to support this claim. In addition to slandering Obama, this lie could be regarded as interference in an investigation.
Nunes tried to distract the Congressional Intelligence Committee, a committee he chaired, in an attempt to help validate Trump's false wiretapping charge—by claiming he had evidence of improper unmasking (exposing the names of those caught accidentally in surveillance of a criminal suspect) by the Obama Administration. Again, evidence has never been found to support this claim, but it definitely distracted investigators and slowed the investigation.
Trashing the Russia investigation occupies much of Trump's mindshare and time. He's written 58 anti-Russia investigation tweets in the 57 days since Comey confirmed the existence of an FBI investigation into collusion by Trump associates with Russia on March 20, 2017. With this barrage of tweets, Trump continues to undermine and in some cases intimidate US investigators and witnesses.
Trump fired former Acting Attorney General Sally Yates just days after she alerted the White House Counsel to Flynn's lies to members of the administration and his potential for being compromised by Russia. Flynn stayed on as National Security Advisor 18 more days, until his lies were leaked and he was forced to resign. Though not criminal, keeping Flynn on despite warnings from the Department of Justice (DOJ) shows very poor judgment on Trump's part.
On March 23, 2017, the Trump Administration attempted to block Yates from testifying before Congress claiming "client confidences" and "presidential communications privilege." These attempts to stymie the investigation didn't work. But it could be regarded as witness intimidation.
Yates' was expected to testify to the Congressional Intelligence Committee in late March, but Nunes canceled the hearings to shield Trump. The hearings weren't scheduled again until after Nunes recused himself from the Russia investigation due to an ethics investigation into his own inappropriate interactions with Trump during the investigation.
On May 8, 2017, the eve of Yates' testimony to the Congress regarding Flynn's dismissal, Trump engaged in witness intimidation, trolling her on twitter.
On May 9, 2017 Trump fired Comey, giving his staff a false explanation to peddle to the media, and then changed his story during the Holt interview on May 11, 2017—unabashedly admitting it was because he wanted to end the Russia investigation. Trump arguably confessed to obstruction of justice in this admission, very similar to Nixon's firing of Cox in 1973. In Trump's termination letter to Comey he referenced Session's recommendation to fire him, the Attorney General who was supposed to be recused from all things Russia. This could be construed as obstruction by Sessions.
Discrepancies surface in the media regarding a dinner that Trump and Comey had just days after the inauguration. On May 12, 2017, Trump responded by tweeting a veiled threat to Comey, "James Comey better hope that there are no "tapes" of our conversations before he starts leaking to the press!" Again using twitter for witness intimidation.
On May 16, 2017, the New York Times reported that Comey noted in a memo recounting a February meeting at the White House, Trump asked everyone but Comey to leave the room, Sessions and Vice President Mike Pence included, and said, "I hope you can see your way clear to letting this go, to letting Flynn go." This could also be construed as obstruction of justice.
Less than a week later, on May 22, 2017, it was reported that in March Trump asked Daniel Coats, Director of National Intelligence, and Adm. Michael S. Rogers, Director of the National Security Agency to push back publicly against the Trump-Russia collusion investigation and deny the existence of evidence against his campaign. Both refused according to sources. Again, Trump is seemingly trying to obstruct the investigation.
Despite Trump's pattern of possible obstruction attempts, the investigations not only continue, they grow. The head of the Congressional Oversight Committee, Jason Chaffetz, is requesting an investigation on Comey's firing by the inspector general of the DOJ. Firing Comey is just one of a number of actions taken by Trump that might result in investigation, actions well beyond his potential conspiracy with Russia to interfere in the election. Given Trump's limited understanding of, or respect for, our rule of law, as well as his despotic nature — obstruction, witness intimidation, false and baseless accusations aimed at discrediting his opposition, and likely hundreds of emoluments violations — it's very possible more infractions will surface. Again, to this day we don't know with absolute certainty that Nixon ordered the Watergate break-in, just as we may never know if Trump colluded with Russia. But we do know that Nixon obstructed the Watergate investigation, which ultimately brought on his impeachment. There appears to be plenty of evidence by Trump's actions and words that he too has been attempting to obstruct the Trump-Russia investigation.
Those on the left relish Republican hypocrisy when it comes to Trump — it's like political crack. Of course they're not alone. Despite Trump's complete lack of integrity, Republicans still identify every bit of hypocrisy they can from the Democrats. In fact, these days hypocrisy may be the only bipartisan activity in America. Both parties are guilty of being hypocrites and hypocrite spotters. But it's an ineffective strategy for persuading anyone including lawmakers — whether Democrat or Republican. Particularly now, as shame lacks relevance in a country led by the shameless.
As it appears Americans now struggle to recognize our once-shared common values — decency, respect for differing views, pride of country — we need to stick to the law and the Constitution to direct us. They haven't changed, even if our acceptance for depravity has. If impeachment papers were filed on Nixon for obstructing justice when firing his investigation's prosecutor, lawmakers don't need to be tribally divided when confronted with similar circumstances and actions by Trump. Though being drunk with power is a rare treat for any party, Republicans need to sober up and realize that Trump undermines them with their constituents. In an NBC/WSJ poll conducted just after Comey's dismissal only 13 percent of Americans approve of the way Trump is dealing the Russia investigation. And though most have been quiet this past week, some Republican lawmakers are joining Americans in their disappointment. Senators Richard Burr, John McCain, Lindsey Graham, Congressman Ben Sasse, among other Republicans, have spoken out about Trump's decision to fire Comey.
There is no doubt that we need know as much as we can about Trump's relationship with Russia, how our election was infiltrated, if American's were corrupted, and what we can do to stop the next assault. But the "high crimes and misdemeanors" that are unfolding before us appear to be impeachable offenses and very consistent with Trump's nature — that of an ignorant bully and narcissist. And though some Republicans are condemning Trump, many have been slow to respond. As of May 14, 2017, 78 percent of Americans believe the Russia investigation should be independent. The point at which silent Republicans find themselves on the wrong side of history is fast upon us. Lawmakers are simply not serving Americans anymore if they are not serving the Constitution and Trump is in violation of it. America has a precedent for this type of behavior and when the investigation is completed, we need to follow it.
I've updated this piece since it was first published on May 17, 2017 to include more reported revelations of possible attempts by Trump to impede the Russia investigation. Bear with me, I'm confident Trump's questionable behavior will continue and more additions will come before this dark season comes to a welcomed end. Hang in there America and remember, we're better than this.
REAL LIFE. REAL NEWS. REAL VOICES.
Help us tell more of the stories that matter from voices that too often remain unheard.
BEFORE YOU GO