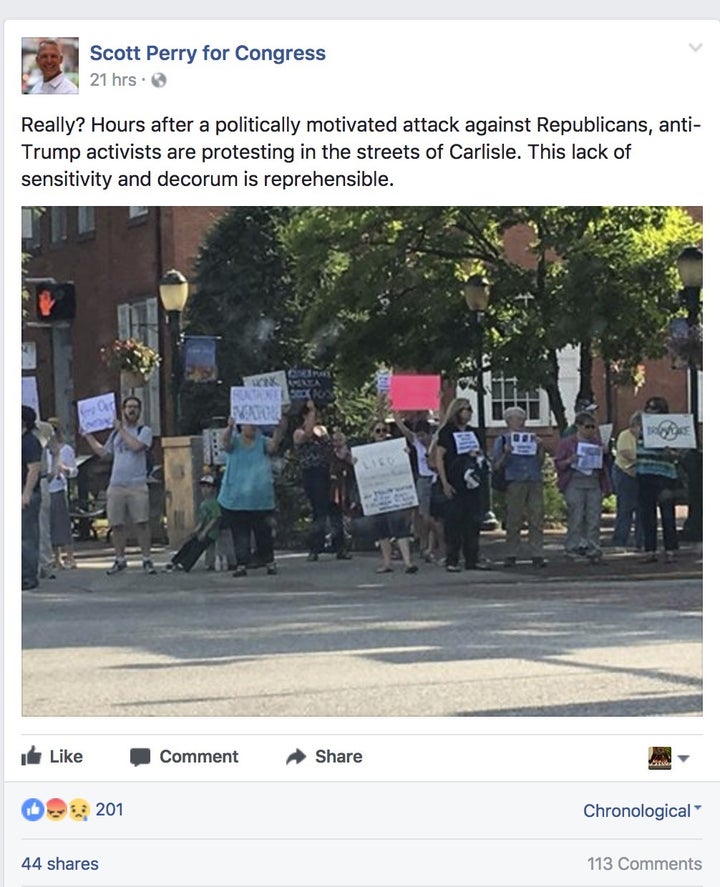 In the wake of recent events, central Pennsylvania politics proves that what the typical consumer of social media knows is decidedly less than what he or she would like to know.
Yesterday afternoon, the corners of High and Hanover streets in Carlisle, Pennsylvania, were home to a weekly public market and a monthly healthcare protest.
Just after 5:30 in the afternoon a post appeared on the Facebook page belonging to Scott Perry for Congress. The post didn't mention the market, but it did deride and wrongly identify the protest. The post reads, "Really? Hours after a politically motivated attack against Republicans, anti-Trump activists are protesting in the streets of Carlisle. This lack of sensitivity and decorum is reprehensible."
Scott Perry for Congress' post, referencing the shootings earlier in the day at the Congressional Republicans' ball practice, elicited a host of politically partisan attacks. And while the post was wrong about the purpose of the peaceful display of placards many of the comments were anything but sensitive or decorous. Commenters called the protesters "pathetic excuses for human beings, welfare workers, trash, idiots, anti-American leftists, garbage, douche bags and forgive me for typing this: libtards."
After these and other insults were hurled – including a wish that the, "Bunch of damn liberals go step in traffic and get run over," – Scott Perry for Congress commented only twice. In the 24 hour thread following the post, neither of Scott Perry for Congress' comments asked participants to be civil and to put aside political rancor.
There is also no admission or correction by Scott Perry for Congress that the protest was for health care and not against President Trump.
When asked to comment, Brandy Brown, Communications Director for Rep. Perry, remarked that the Congressman's office could not comment on anything posted on the Facebook page hosted by Scott Perry for Congress because it is a political website maintained by Patriots for Perry. Patriots for Perry is a registered political action committee, responsible for hundreds of thousands of dollars in contributions to Rep. Perry's two congressional campaigns. And while the posts on that site certainly appear to be made by the Congressman himself, Ms. Brown said that his congressional office was barred by the FEC from discussing it.
Facebook members and congressional constituents alike can't help but be confused. For example, a post dated the 6th of June states: "I attended a presentation on cyber security this evening." Is the Facebook page impersonating the Congressman? Or does he actually write the posts? At this time, neither his campaign nor his congressional office is answering those questions.
Patriots for Perry is registered with the State of Pennsylvania but the only telephone number listed is that of the organization's treasurer, Lisa Stone, who declined to comment explaining that she does not contribute content to the Facebook page.
And, as stated, Brandy Brown has refused to comment about Scott Perry for Congress because of FEC regulations. Fair enough. But when pressed further and asked if the Congressman would stand up against the misrepresentations that appear on the page – or encourage his supporters to also put aside partisan politics – Ms. Brown hung up the phone.
Until Rep. Perry speaks to the incendiary and false remarks made on his behalf, until Rep. Perry clears up the confusion to followers of Scott Perry for Congress, and until Rep. Perry apologizes to the peaceful protestors this page mischaracterized, no one in Pennsylvania's 4th congressional district will really know how he feels about peaceful protest and partisan rancor.
Oh, and the people mischaracterized by Scott Perry for Congress aren't even in his district. Perhaps that made them a little easier to insult.
Related
Popular in the Community