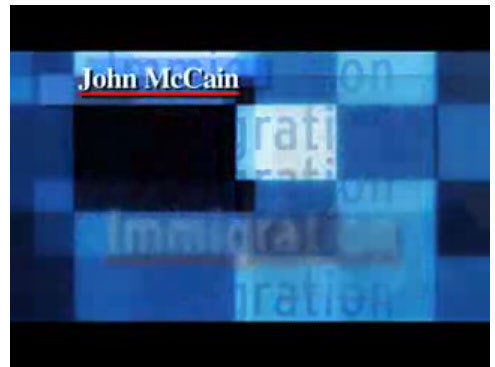 Is there a subliminal message in Mitt Romney's recent attack (err... contrast) ad against Sen. John McCain?
About seven seconds into a spot criticizing the Arizona Republican for his stance on immigration reform, the screen quickly flashes the word "rat" in a lone white box against a predominantly blue background. The rodent reference, which appears just under and to the right of McCain's name, is a highlighted portion of the word "immigration" and disappears almost immediately.
The inclusion of the word, Romney's campaign asserted, was completely unintentional. Any interpretation otherwise was "positively ridiculous."
"I saw that mentioned on some blog post and just chalked it up for exactly what it was: an over-imaginative scrutiny of a screenshot," Romney's spokesperson Kevin Madden told the Huffington Post when asked about the "rat" shot. "It's the same sort of reasoning that would argue that the 'gal' in the word 'illegal' is a subliminal appeal to female voters."
But some in the blogosphere have latched onto the word's appearance in the campaign spot because of the blatant historical parallels. In the 2000 presidential election, the Republican National Committee ran an advertisement against Al Gore's prescription drug plan that similarly included a brief screen shot of the word "RATS." In that instance the word was part of the phrase "BUREAUCRATS DECIDE."
The creator of the 2000 advertisement, Alex Castellanos, initially said there was nothing subliminal about the spot before later acknowledging that the word was included as "a visual drumbeat designed to make you look at the word bureaucrats." Castellanos currently serves as a high ranking media consultant for Romney's presidential campaign.
"I don't believe he did [the current ad]," Madden said.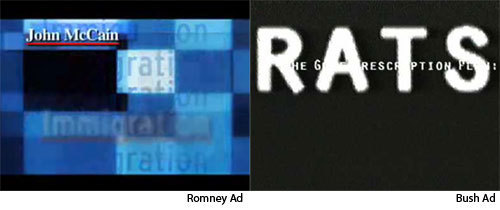 Beyond the questionable inclusion of the word "rat," Romney's advertisement underscores an intensifying negativity between his and McCain's campaigns. In a television spot before Iowa, the former Massachusetts governor criticized McCain over his stance on tax policies as well as illegal immigration.
McCain - who supported legislation that would allow illegal immigrants who come forward, pay fines, and wait for citizenship before collecting Social Security - has overtaken Romney in several New Hampshire polls. According to the Real Clear Politics average, the Arizona Republican finds himself at 31.3 percent support to Romney's 29.8
The McCain campaign did not return a request for comment.
Popular in the Community