I am not die-hard audiophile, but I do admit that like a little "bling" when listening to music or watching television/movies. Clearly, the world of flat panel HDTV and Blue Ray players along with those daunting gaming devices that many live and breath have brought new meaning to being "plugged in". Yeet I believe sound quality is still the battle cry of the masses.
Enter the new generation of audio technology -- The Sound Bar.
These sound "bars" offer a true alternative to a home theatre system with all of the benefits at a fraction of the cost along with none of the installation hassle and unsightly wires. They are truly a plug and play solution with the ability to get cozy with my smart phone and other "smartish" devices that play music allowing this non-expert to hear it all.
So what are the basics to the sound bar revolution? As is the case with almost all technology, prices vary from approximately $299 to $1,400 complete and they are readily available in most electronics stores as well as with on-line retailers.
Does size matter? It is not the length of the sound bar itself that makes for better sound, but rather what is contained inside and the better units come with subwoofers that deliver reliable low base sounds.
Of course, there are a plethora of bells and whistles you can invest in if you wish but most are just overkill. With that in mind, there are a several things that you will want and I have come to consider "non-negotiable". Get them or you will not be fully satisfied:
• A remote control
• Front display panel
• Both HDMI and wire capability to your TV set
• Virtual Surround
• Bluetooth and Wife
• Make sure the subwoofer is wireless
While there are many brands to choose from the stand out selections for me were:
The Jamo 360 Torsten Soundbar is a classic looking sound bar that comes with a wireless subwoofer. The bar size is 4.5" x 43" x 3" and subwoofer scales in at 13" x 9" x 16" in a sleek black casing. For the audiophiles in the house, the frequency response is 32Hz - 20kHz and powerful at 250 watts. This unit also offers Bluetooth Wireless Input with Dolby Digital decoding. The Jamo can sit on a shelf in front of the your television above or below the infrared remote spot on you TV and also hangs easily on any wall with just two screws.

The Klipsch SB 120 is a great example of a sound system, as is the Boston Acoustics TVee One Speaker Base. They both fit directly under most flat panel televisions offer plug and play technology taking only minutes to install. The Klipsch offers 160 watts of power and has 3-way speakers and built in subwoofers with The Boston Acoustics frequency response slightly more at 40-20kHz offering less power at 75 watts. Each has Bluetooth capabilities and Dolby Digital decoding as well as remote controls. They both delivered 100% as described and went from the box to power on in less than an hour.
The Polk SurroundBar 5000 is a sleek 31-inch long, 3.75 inches in height and 2.25 inches deep. It offers 160 watts of sound bar power along with and additional 120 watts coming from the subwoofer. With Bluetooth technology built in, as well as Dolby Digital decoding this is an excellent unit for a mid-size room where you want that extra audio power.
The Libratone Lounge is a sound system that is quite unique and the most expensive. It has a powerful wireless sound system of 150 watts. There is nothing typical about this unit so be ready to make a bold statement in your room. While it does not have Bluetooth capabilities it does use AirPlay to wirelessly stream sound and video from your smart devices. A wireless router is not required but Apple TV or some other OS X device is needed. This is big slice of technology measuring 40 x 8.7 x 4.7 inches offering rich, bold sound without apology.
The AUVIO UltraCompact Soundbar truly lives up to its name. It is compact and offers clear clean sound that is wireless and works in any room. Although it is small it offers 60 watts of power from its six speakers and bass port. Its response frequency is quite good for a compact system considering it is only 18" wide and 4.6" in height with a depth of 5". While Bluetooth capable, it does not offer Dolby Digital decoding. I found it perfect for a bedroom or any small living space and should be considered for children who have a television strictly for gaming.
While I may not be an expert, I do like to remain informed and in my opinion technology should be for the masses. So next time you turn on your TV ask yourself the question, "Do you hear what I hear?" If not, you might want to join me at the bar.
NOTE: In the spirit of full disclosure I have no commercial affiliation with any of the brands named nor was I paid to write this article.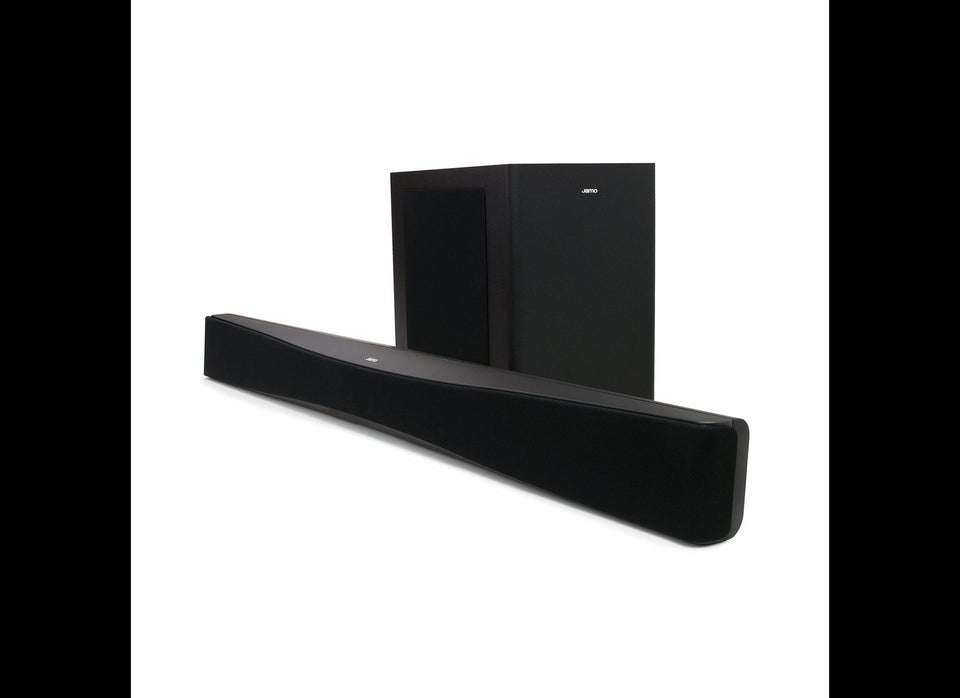 Does Size Matter? The New Age Of Soundbars