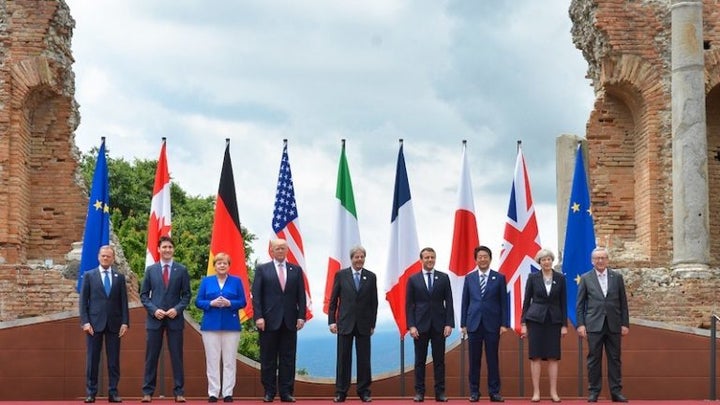 Last week Europe's climate chief, Miguel Arias Canete, tweeted a picture of himself hugging China's top climate envoy Xie Zhenhua and Canadian environment minister Catherine Mackenna.
"This is what climate leadership looks like," Arias Canete wrote under the picture, a carefully placed retort to U.S. climate skeptics and others who want to destroy the Paris Agreement.
Europe has staked significant political capital on addressing climate change. At the G7, German Chancellor Merkel and French president Macron urged the U.S. to stay in the UN's climate deal.
Leadership is more than just shaking hands at high-level summits. It's about doing what's right for your country and the world, making tough choices, rejecting sugar-coated and fake solutions.
That resolve will be tested again at the UN in little over a month's time, as over 170 countries sit down at the International Maritime Organisation's London HQ to discuss a mooted plan to address shipping's impact on the climate.
Bar a set of weak energy efficiency design regulations for new ships, the UN body has done little to require ships to cut greenhouse gas emissions as it was tasked to do so under Kyoto 20 years ago. And because the sector is "international" it escaped explicit mention under the Paris Agreement.
But time is running out. The IMO says by 2018 it wants to develop an "initial strategy" and a final set of proposals ― but only in 2023 ― that might see the maritime industry join other sectors in tackling global warming.
Last week another respected international body, the International Energy Agency (IEA), qualified the IMO's 2023 timeline for a final strategy as "not on track" with the 2 degrees C target set in Paris. Yet given past experience, even this timing runs the risk of being further degraded.
The danger is that weak proposals painted as "ambitious" by slick PR men could sway heads at the IMO, a body that excels in prevarication and delay and where flags of convenience hold great sway.
Only last week, the influential International Chamber of Shipping (ICS) and other international industry associations released their idea of a climate deal for shipping, a plan that rejected any notion of binding absolute GHG reductions yet was labeled "ambitious."
The ICS et al. submission was a masterclass in dissembling. It called for a global CO2 cap at 2008 levels while on the next page saying that emissions can't be capped and nothing can be binding.
And since today's emissions are below 2008 levels, the industry proposal seems merely to give itself room for emissions to rise 20% by 2050.
China, India, Brazil and Russia have previously made similar arguments about no binding cap and only aspirational goals. 
If the recent round of UN climate talks in Bonn are any guide, the US delegation ― which can be a force for progressive policy-making at the IMO ― will likely be small and/or silent.
That will offer opponents of tighter shipping laws led by the major flag states of Panama, Liberia, the Bahamas as well as the maverick Cook Islands, the hope they can sink tougher proposals.
Opposition will also come from India, China, Russia and Brazil to imposing burdens on developing countries even though in today's world two-thirds  of imports by sea arrive in these countries.
So it leaves European countries, together with a collection of small island states from the Pacific and Caribbean, needing to do the heavy lifting at the IMO.
Europe is strongest when it speaks with one voice: at present only Germany, France, Belgium and the Netherlands are in the frontline of ambition.
But states that rely heavily on shipping and are under the influence of shipping companies are undermining these calls: step forward Malta, Greece, Cyprus, and Denmark.
Deceptively ambitious proposals such as the one made by the ICS et al. are designed to split the EU, and weaken attempts by the European Parliament to hold the sector to account.
MEPs want to include shipping under Europe's emissions trading scheme by 2023 if no ambitious and effective IMO deal is agreed by then.
It's a stance in line with Arias Canete's pledge of leadership, yet one that has industry lobbyists like ICS, BIMCO and ECSA worried, as it offers real action to seethe shipping industry start to tackle its carbon footprint.
The sugar-coated plans submitted by ICS are an affront to the work that all 28 EU member states ground out to deliver the Paris Agreement.
The question for EU member states is clear: does Europe really want to be a climate leader and see the goals laid out by the UN deal achieved?
If the answer is yes, then it must hold its nerve, keep the option of including shipping in the ETS as leverage, and hold IMO to account.
Faig Abbasov is aviation and shipping policy officer at Transport & Environment. Follow him on twitter @faigabbasov
BEFORE YOU GO