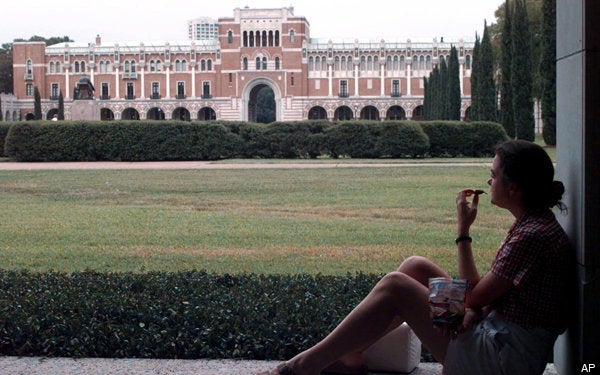 LOST IN THE MERITOCRACY: THE UNDEREDUCATION OF AN OVERACHIEVER
By Walter Kirn
Doubleday, 211 pages. $24.95
A natural-born child of the meritocracy, I'd been amassing momentum my whole life, entering spelling bees, vying for forensics medals, running my mouth in mock United Nations, and I knew only one direction: forward. I lived for prizes, plaques, citations, stars, and I gave no thought to any goal beyond my next appearance on the honor roll. Learning was secondary, promotion was primary. No one ever told me what the point was, except to keep on accumulating points, and this struck me as sufficient. What else was there?
Walter Kirn, author of the novels Up in the Air and Mission to America, has written the most enticing recent indictment of education in this country, recounting how he excelled at the meritocratic game ("Percentile is destiny in America"), went to Princeton as a transfer student, and earned a scholarship to Oxford. He lost his soul as he mastered the indispensable trick of imitating insider languages. At one point Kirn literally loses his speech, his aphasia a perfect symbol for the disorientation inculcated by academic gobbledygook like Derridean deconstructionism. Kirn's memoir reflects a certain sad wisdom typical of those who have gone through the initiation and submersion, only to emerge whole, somehow, on the other side. Throughout Lost in the Meritocracy, he contrasts the imitative non-learning taking place at Princeton, Harvard, Yale, and other such bastions with real learning, for which one only needs a willing mind and access to a public library holding the great classics.
The memoir's strong point is its connection of the degradation of liberal arts education with prior education; faddishness of the type prevalent at Princeton in the late seventies and early eighties, when Kirn attended, is borrowed from the rest of the culture, only taken to extremes in the Ivy League's hallowed confines. Kirn describes growing up in Minnesota: "My family lives on a small farm that we cultivate, Amish style, with a team of horses, and where I spend my after-school hours splitting firewood, setting fence posts, filling stock tanks, and collecting eggs. It's been my home for several years now, but it's also a stage set, a fantasy, and one that I've never found convincing. My father isn't a farmer, he's a patent lawyer, and our family's excursion into vintage agriculture (like our conversation to Mormonism, which preceded it) is just one more phase in his campaign against convention and conformity that began twelve years ago, when he joined the 3M Corporation in St. Paul and sacrificed, as he saw it, his sacred freedom to the dictates of the herd." His father also attended Princeton, though he doesn't talk much about it.
His schooling in Minnesota is perpetually informed by the illusion that it is part of a "drive for global leadership," something we've all experienced. Fraudulence is encouraged early on. At eight, young Kirn "art-wise...became a fraud...[reasoning] that if art was made of feelings and feelings were secret, known only to the artist, then art could be anything you said it was." In the mature Kirn's hankering for solidity, there is something of the naive realism our Midwestern writers are known for; one might argue, however, that as a start this realism is what we most need, and where the Ivy League falls most short. Perhaps the greatest dilemma of American education, the reason why the bright turn away from it so dissatisfied, is that it is forever being manipulated for some end, rather than being thought of for its own sake: "In fourth grade I learned that reading was serious business, not just a pleasant way to pass the time, and that like medicine or engineering, it had a definite, valuable purpose: to foster 'comprehension.'" Kirn ruthlessly competes with a girl named Karla to win a "language capabilities" contest. Already, the lesson is clear that to win in America one must acquire the ability to manipulate language.
In this climate, it is not really possible for a teacher to inspire. Mr. Applebaum, Kirn's social studies teacher, can rant all he wants, but the students know better than to engage with him. In America, imitation will get you anywhere. Kirn becomes "quite a Sunday speaker" at a young age, having learned the secret to success: "Establish a cadence, stretch it, vary it, return to it later in full force, and try not to think the words." In forensics, "the trick was directness and flexibility as I jousted...over the less-than-galvanizing issue of government funding for the arts." All issues, great and small, are ground to shells of their possibilities under compulsion of playing by preset rules. The only way out of the deadening conformity of Minnesota for Kirn was by showing aptitude, or really, "aptitude for showing aptitude...a talent for some things, a knack for many things, and a genius for one thing: running up the count."
The memoir would be claustrophobic were it not for alternative models of learning. The prime example is Kirn's relationship since childhood with "Uncle Admiral," Rear Admiral Robert Knox, Retired, who inspires genuine curiosity in the young Kirn: "And so it began, my two-year private tutorial under a world-traveling old Scotsman who treated me not as a child but as a first mate." But Uncle Admiral is the type of figure, toweringly self-learned, the Ivy League dismisses as a "patriarch." Still, "at four...long before my fall into the bitter sophistication which allows us to disdain the figures who make our doubting--our very thinking--possible, I regarded Uncle Admiral as a chieftain and Mankind as the family we both belonged to. Mankind was all of us, everywhere and always, highest to lowest, first to last." Of course, "mankind" is a term condemned by the Ivy League today on many levels; instead, we have been split into infinitely small victimized niches for deconstructive study. What Uncle Admiral teaches Kirn is not that "knowledge is power" (as used in its debased meaning by the Ivy League), but that "knowledge is a reckoning...a way to assess your location, your true position, not a strategy for improving your position." The last place on earth to approach knowledge from this humble perspective is the Ivy League. One goes to school there to be unschooled in the manners and mores which make us human; some escape, but only a very few.
A wistfulness accompanies rugged American self-improvement, immune to the trends of the times, of the kind Kirn's mother practices, but it is a definite beginning, superior to the delusions of the Ivy League: "She'd taught herself French in her spare time, progressing from a series of cassette tapes to translations of Peanuts comic books to, after no more than a year or so, works by Voltaire, Balzac, and Camus. She repeated the feat with Italian later on, without neglecting her housework or her nursing career. And her interest also ran to subjects other than literature. Now and then I'd catch her in an armchair reading a popular history of philosophy by Will and Ariel Durant, and once, stacked high on the floor beside her bed, I found a complete edition, in many volumes, of The Rise and Fall of the Roman Empire." We know this paradigm; it has limitations, since it usually doesn't lead to synthesizing thinking, because it's mostly passive. But it is a model to think of in contrast to Princeton's higher delusions.
When Kirn returns from Macalaster College for the senior prom "as a sort of returning celebrity," those who haven't played the meritocratic game scare him: "How stupid we all were, here in crass America.... The barbarous chest-pounding of our square-jawed prom king as he bellowed 'Seniors Rule!' across the lake. The way the homely girl we'd nicknamed 'Critter,' and who pathetically answered to the name, sat alone and shoeless on a log, dipping her toes in the froggy, fetid water. And the music! The music was the worst. Ted Nugent blaring at teeth-rattling volume..." Even his short stint at Macalaster, hardly the Ivy League, has created an unbridgeable fissure between him and his origins, a gap that can never be fully healed.
Princeton comes as much more of a shock:
My first semester at Princeton I had four roommates who resembled no one I'd ever known: Peter, a foppish piano prodigy with a mature, fine-bristled mustache, who dreamed of writing Broadway musical comedies and spent his leisure time in a robe and slippers, smoking Benson and Hedges Menthol 100s and hunching, vulturelike, over his black Steinway, plinking out show tunes about doe-eyed ingenues who'd been seduced and ruined by caddish tycoons. Jennifer, the composer's plump heiress girlfriend, whose father owned a night club and often sent a limousine on weekends so that his daughter could party with celebrities, who--as I learned from a framed snapshot which sat on a dresser in her and Peter's bedroom--included the two best-known members of the Bee Gees. Tim, the son of a New York journalist, who kept his cheeks fresh with Oil of Olay and treated the composer and the heiress as surrogate parents, addressing them in baby talk and asking them to tuck him in at night, which they did, complete with fairy tales. And Joshua, an earnest Long Island Quaker kid with a close-trimmed, pious-seeming red beard, who played guitar and protested apartheid, which I pretended to be concerned about, too, although I wasn't certain what it was.
Kirn isn't exactly a rube, but at Princeton it's easy to feel that way. Jennifer causes him the most trouble. She wants to charge him twenty dollars for a bottle of champagne after regaling him "with a saga of American commercial striving which commenced at the end of the last century and took in the construction of famous bridges, the invention of basic industrial materials, the compounding of fortunes through advantageous marriages, and the advent of the modern theme park." At another point, his roommates inform him that his share for the expensive furniture they have purchased for the common room is six hundred and seventy dollars, though he had no part in ordering it. Joshua, the Quaker roommate, leads him to the artsy crowd. One of these is "Nina, an established director at Princeton's Theater Intime," who informs Kirn: "You're fond of stichomythia.... You're a Beckett fan, obviously. Or is it Pinter?" Kirn's Minnesota education hasn't prepared him for such allusions. Nonetheless, he ventures into staging his own play, Late Modern, An Apocalyptic Comedy. This play, whom "a sorrowful tall Southerner named Reynolds," who plays the President, tells him is "part an homage to Kubric's Dr. Strangelove" and "part a stereotypical revue sketch on erotically blocked religious maniacs," goes down well with the Princeton audience. In the extreme orderliness, where "even the outbursts of petty student anarchy felt orthodox and premeditated" (such as the Nude Olympics, or the antiapartheid rallies), Kirn decides to take his revenge by ripping up his roommates' furniture during break. Princeton's mysterious disciplinary system goes into motion, forcing Kirn to move to an off-campus dormitory for losers.
Deciding to get serious about his studies, Kirn, "with virtually no stored literary material about which to harbor critical assumptions...[relies on his] gift for mimicking authority figures and playing back to them their own ideas as though they were conclusions...[he'd] reached himself." He deploys key words like "minimal," "gestural," "hermeneutical," "recursive," "heuristic," and "incommensurable," in a mob sentiment familiar to humanities students in the Ivy League: "Seeking security in numbers, I sought out the company of other frauds. We recognized one another instantly. We toted around books by Roland Barthes, Hans-Georg Gadamer, and Walter Benjamin. We spoke of 'playfulness' and 'textuality' and concluded before we'd read even a hundredth of it that the Western canon was 'illegitimate,' a veiled expression of powerful group interests that it was out duty to subvert." He still doesn't feel he belongs, because he was only "a confused young opportunist trying to turn his confusion to his advantage by sucking up to scholars of confusion."
Fake professors and students feed on each other: "I grew to suspect that certain professors were on to us, and I wondered if they, too, were fakes. In classroom discussions, and even when grading essays, they seemed to favor us over the hard workers, whose patient, sedentary study habits, and sense that confusion was something to be avoided rather than celebrated, appeared unsuited to the new attitude of antic postmodernism that I had mastered almost without effort. To thinkers of this school, great literature was an incoherent con, and I--a born con man who knew little about great literature--had every reason to agree with them."
Is there any intellectual honesty at an institution like Princeton? Not among the teachers. And certainly not among the students, who are carried away by fad after fad, ever the bane of undergraduate learning, but pushed to extremes in America today because of the utter disconnect between insiders and outsiders, the total absence of a philosophy of common good accessible to both the rulers and the ruled. Kirn becomes friends with a "self-proclaimed Marxist from New York City...and the only child of a classics professor and a nightclub singer," Barry Lehrer. This friend introduces him to a girl in New York, Holly, whose neighbor is Truman Capote, whose mother "beautifies and goes on pilgrimages," and whose father is an art dealer who keeps a real Vermeer "above the sofa." In poetry workshop, Kirn tries to "possess...[his] rival," a girl named Tessa, and imitates John Berryman, inventing an alter ego named Bittman. He experiences some relief as a junior when he befriends "V., a Pakistani boy who'd disappointed his family--and even, as he told it, his nation's leaders--by leaving his intended major, electrical engineering, for philosophy." In his company he feels a little better: "Whatever the schools were like in Pakistan, they clearly did a better job than ours in instilling analytic agility and at least the beginnings of erudition."
Kirn's descriptions of some of the main groups to be found at schools like Princeton are hilarious, yet utterly recognizable. The first of these is "Those Who'd Been on Sailboats":
The tender, sheltered skin that forms the eyelids seemed to cover their entire bodies. Their enemy was sunlight, which turned their skin a pre-carcinoma scarlet, while their friend was the double gin and tonic, which flushed vitality into their capillaries. Most of them suffered from thinning hair, the males and females both, which might have explained their fondness for stupid hats....
Their money arrived by stealth, in neutral envelopes sent by lawyers, accountants, and trustees, though sometimes it was delayed by court proceedings in Newport or Kennebunkport or Southampton, where their semiretired parents' sloops were docked. The names of these craft remembered beloved ancestors (Aunt Melissa), alluded to family commercial interests (Bid and Call), or displayed an inbred nautical wit (Triton's Trifle)....
If they dropped something--a pen, a book, a dollar--they scooped it back up like a ball at Wimbledon.... They danced at a pleasant low intensity, avoiding any new or tricky moves that might jostle the drinks in their right hands or stress their knees, the weakest part of them.... If, toward the end of a weekend party night, you spied one puking behind a hedge, he'd grin and salute you, then carry on heaving. Later you'd see him on the dance floor joking away with some girl you'd never speak to because you didn't understand lacrosse, and lacrosse was all she had to talk about....
For the boaters, Princeton was a lark before the real work of life began: building client lists, hiring tax advisers, courting the daughters of their fathers' partners, guiding the restoration of summer homes. This lent their time at Princeton a touch of pathos. Custom decreed that they live like there was no tomorrow, but tomorrow was coming, laden with obligations.
Then there are "Those Who Strove to Serve Mankind":
They studied at the Woodrow Wilson School of Public and International Policy... So crisp and determined they seemed, so sure and steady, so confident that their country would make them boss one day. Did they have doubts? Being young, they probably did, but they also had procedures for removing them, pie graph by pie graph, seminar by seminar....
The world for them was not some tricky text but a color-coded manila folder. Open it, remove the stacked white pages, scan the outline on page one, read for half an hour, walk down the hall, nod to the guards, and brief the president. The war should begin no later than next April. These short-term interest rates are unsustainable. Only three breeding pairs of black-beaked hawks remain, all of them near the Utah air force base where we're conducting Operation Parabola. "Thank you." "You're welcome, sir." "How's the family?" "Excellent." "Run today?" "Fifteen kilometers." "Good man."
Also, "Those Who Never Raised Their Eyes":
They were scientists, mathematicians, and engineers... They ate and drank to sustain their neural chemistries, but only while doing more constructive things such as walking to the lab or punching calculators. Somehow, someday, they'd reproduce, but that phase was not yet upon them, blessedly. For now they were free to decline communication and dress in pants that didn't reach their shoes. They were free to read while climbing stairs and free not to say they were sorry when they bumped into people.
At different times, Kirn tries to imitate each of these groups. What he actually succeeds in doing is losing his "ability to discern the boundaries between spoken words." Some sort of collapse, nervous or physical, after going through similar experiences as Kirn's, seems mandatory for Ivy League initiates: "My education was running in reverse as my mind shed its outermost layer of signs and symbols and shrank back to its dumb, preliterate core." Slowly, he undertakes a program of "mental reconstruction," which includes "a daily regimen of linguistic calisthenics" using a thesaurus and dictionary, and working in the library basement and reading fragments of knowledge unrelated to his classes. What Kirn is saying is that the Ivy League makes us lose our ability to speak--or comprehend words--at least in any way that makes sense. His recovery begins when he quickly writes a three-act play called Soft White Kids in Leather.
What is a meritocrat to do after graduation? "While my classmates signed up for on-campus 'face-to-faces' with recruiters from Wall Street brokerage firms (becoming an 'arbitrageur' was all the rage then, even among students who as juniors had vowed to spend their lives dancing or composing), I scanned the horizon for another test to take, another contest to compete in." He applies for a Rhodes scholarship, feeling he has "an outside shot...[because] I'd learned by then that the masters of advancement use a rough quota system in their work, reserving a certain number of wild-card slots for overreaching oddballs." He becomes one of a dozen state finalists, and though he corners a committee member to "give the irresistible impression of humble origins transcended...[by affecting] a Sunday-best vocabulary garnered from...[his] brain-restoring drills," he realizes he has no chance for a Rhodes scholarship. When asked by the panel what is the greatest problem facing the world today, he can only struggle to explain "miscommunication." A competitor, the expert "health-care girl," who would go on to win it, consoles him with, "You should feel honored that you reached this level," but Kirn realizes "she knew she was bound for the sharp end of the pyramid, and was merely rehearsing her royal manners."
What Kirn ends up doing is proceed to Oxford, based on the lesser-known Keasbey scholarship, for which the requirements are somewhat different than for the Rhodes. He can't help giving them what they want: "They wanted a hustler. They wanted an impressionist. They wanted someone to play a man of mystery who'd caught the fancy of a fool." And so he explains his athletic interests by saying he likes to take "long, meditative evening walks," that Lord Byron is his favorite author, and that he doesn't "believe in planning vacations" but "taking them."
Kirn does eventually start breaking free of Princeton, and in doesn't take him long either--it's the summer following his graduation. Something similar, for those of us who seem destined to escaped the orbit, seems customary:
One feverish night I found myself in the living room standing before the bookcase containing my mother's classics for the masses. I'd passed right by them a thousand times, scanned their titles no more than once a year, skimmed a couple of them...but that night, bored and sick, I took one down and held it tight: The Adventures of Huckleberry Finn. Then I did something unprecedented for me: I carried it to my steamy bedroom and actually let it absorb me, page by page, chapter by chapter, straight on to the end. A few days later I repeated the feat with Great Expectations, another canonical stalwart that I'd somehow gotten through Princeton without opening.
And so, belatedly, haltingly, accidentally, and quite implausibly and incredibly, it began at last: my education.... Alone in my room, congested and exhausted, I forgot my obsession with self-advancement. I wanted to lose myself. I wanted to read. Instead of filling in the blanks, I wanted to be a blank and be filled in.
I wanted to find out what others thought.
Kirn at last understands that learning takes place alone; one doesn't need communities. It happens when it's done for no other motivation than to learn. Princeton, Harvard, Yale and the rest don't let this happen. Thus the meritocratic system succeeds brilliantly in producing the only kinds of automatons the system requires. The lucky few who fail the meritocracy return to books as the educational system never let them.
One could argue that Walter Kirn has become who he has, successful writer for the most prestigious American magazines, well-known novelist, gadfly now to those who tortured him at every stage of his education, only because he went to Princeton: he may be oppositional, but where did he learn what to oppose? And this would be true, to a small extent, though the idea that the Ivy League is somehow the incubator of the country's greatest geniuses is utterly ridiculous; more often than not, the truly innovative thinkers seem to come from the great public universities (or at least they used to) or smaller colleges. Princeton theoretically provided him advantages in getting an early head start to his career. At every turning point, an Ivy Leaguer's credentials come in handy (or have the potential to). Less defensibly, one could further argue that Lost in the Meritocracy is itself a thoroughly practiced imitation of a certain language of rebellion, nonconformity, and protest meant to take to task the easy target of the postmodern academy. But this would be fatuous, since those who are still deluded by the Princeton education (the overwhelming majority) do not use this kind of clear language to understand their own problems. Their gibberish has nothing in common with Kirn's clearheadedness.
So it is possible to supersede the trauma nonconformists experience in America's elite academies. But it takes enormous effort and time--years and years, sometimes decades--to return to a sense of normality, to regain the power of speech, to overcome the aphasia the Ivy League so relentlessly instills. Meanwhile, the point where we might have started off without the delusions has forever receded. This sorrow over lost time always rankles. One has to overcome blindness again and again, encountered in different educational and community settings, by willing to be the one everyone else--successful, lauded, meritocratically blessed--is likely to call the blind. It takes a lot of energy. Sometimes, out of this process of self-cleansing comes a remarkable book like Lost in the Meritocracy, which speaks to a harried generation's shared experience. But the awareness applies to the tiniest of fractions: the rest are busy destroying America, destroying the world, secure in not knowing.
Kirn graduated in 1983. Have things gotten better or worse in the Ivy League? Infinitely worse, one would have to say, judging by all the evidence. There are enough dissenting voices against the dominance of theory within the academy for it to mean something now, unlike theory's unquestioned hegemony in the eighties and nineties, but in every respect that counts, the elite academy is more isolated from reality than ever, more obsessed with speaking in tongues and laying on of hands. This is because in the ensuing decades there has been a sharper demarcation between those who make it to the elite institutions, and those who don't. The divisions according to income and background are far sharper than they used to be.
Meritocracy's barometers, as understood by the ruling elite, are in place stronger than ever: the race starts earlier and earlier, and is carried to increasingly insane levels of intensity. Model citizens of the type the academy loves to think will change the world for the better beat out nonconformist self-starters in the race for admissions and awards anytime. The whole art has been fine-tuned more than was imaginable in Kirn's time. An event like Henry Louis Gates, Jr.'s arrest at his own home in Cambridge propels waves of indignation within the Ivory Tower's bubble that are utterly different than those set off outside it. The pressure to assume lunatic identities for the sake of standing out, deconstructive madness carried to newfangled regimes not thought of before, and other suicidal tendencies rage full-blown, while most, upon graduation, head instantly to Wall Street (or did until a couple of years ago) or its equivalents, there to practice super-refined forms of disconnect between themselves and the ordinary people affected by their decisions and actions.
There is no reckoning, since the higher educational system has attained a point of total self-sufficiency, immune to whatever goes on outside. It is a high form of decadence practiced within the Ivy walls, and those of us who have reflected on it understand it for what it is. There are those--the majority in power--who think we suffer from aphasia; they give us a salute, and quickly move on. In fact, we are in various stages of recovery, from the beginning to the very advanced.
Calling all HuffPost superfans!
Sign up for membership to become a founding member and help shape HuffPost's next chapter