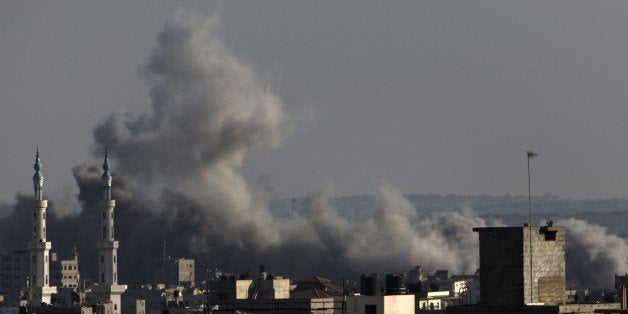 At this time of writing, the temporary ceasefire between Israel and Hamas has ended. Against the backdrop of Gaza's destruction, Israeli and Palestinian combatants are once again at war.
In its coverage of the conflict in Gaza and Israel, the New York Times has used a daily chart that risks misleading readers about the firepower involved. The chart in question improperly compares the total Israeli "targets" struck in Gaza to the number of "rockets" launched at Israel by Hamas and Palestinian armed groups.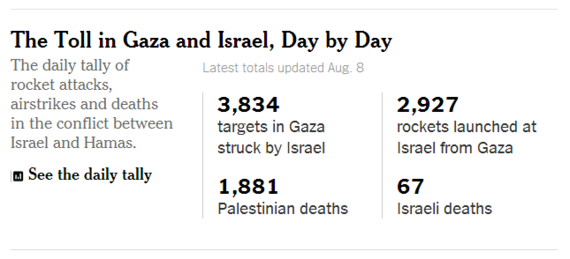 This graphic obscures the following realities:
A single Israeli "strike" may include dozens of rockets and other weapons, fired at a target on more than one occasion.
Israeli bombs and missiles can have significantly more weight and destructive power than the rockets fired by Hamas or Palestinian armed groups.
Why is this important?

In a conflict with massive human rights violations, U.S. readers of the Times need a clear sense of just how U.S.-funded arms to Israel are likely to be used. The appalling human rights records of Israel, Hamas, and Palestinian armed groups are precisely what led Amnesty International to call for an arms embargo on all parties to the conflict.
So how could the Times fix its flawed statistical comparison?
One step would be to compare missiles, bombs, and mortars fired by Israel with rockets fired by Hamas and Palestinian armed groups. If this comparison were made, it would likely be obvious that the Israeli military has fired vastly more missiles, mortars, and bombs at Gaza targets than the rockets that Hamas and Palestinian armed groups have fired towards Israel. This is in part because many targets hit by Israeli forces in Gaza have been struck multiple times (Example: "knock on the roof" procedure) and because each target or strike may include multiple missiles or other munitions (Example: multiple reported shellings of a hospital).
Another possibility would be to compare the estimated tonnage of munitions fired by all parties to the conflict. Israeli missiles, bombs, and mortars can be of significantly greater weight than the smaller rockets fired by Hamas. The New York Times' current approach to its data obscures these facts. This deprives readers of the opportunity to place the U.S.-armed Israeli military's actions in proper context.
It's important to point out that no party to this conflict is excused from international humanitarian and human rights law, no matter what the size or shape of their arsenal.
Israeli forces have also carried out indiscriminate strikes on Gaza, which would amount to war crimes. Israel has engaged in intensive bombardment of the Gaza Strip from the air, land and sea, severely affecting the civilian population there. The overwhelming scale of destruction of civilian homes in Gaza, in some cases with entire families inside them, points to a distressing pattern of repeated violations of the laws of war. Israeli forces have also targeted medical facilities in violation of international law. Air strikes and shelling of Gaza have caused major damage to water and sanitation infrastructure.
This conflict has devastated the lives of hundreds of thousands of civilians, and readers of the Times require clear and accurate comparisons of data. As of August 8th, according to the United Nations Office for the Coordination of Humanitarian Affairs, over 1,900 Palestinians had been killed, including more than 1,400 civilians, of whom over 400 are children. Sixty-four Israeli soldiers were also killed, as well as two Israeli civilians and one foreign national. Approximately 200,000 Gaza civilians are staying in UN and government shelters -- more than 10% of the population.
The taxpayers and citizens of countries responsible for arming Israel, Hamas, and Palestinian armed groups deserve accurate numbers when it comes to the military tactics of parties to the conflict. The Times must endeavor to find and report this information accurately. If such information is not accessible, or if parties to the conflict refuse to provide it, the current approach of the Times remains unacceptable as a substitute and should be removed. Incorrect comparisons are not an appropriate replacement for inaccessible information.
Popular in the Community