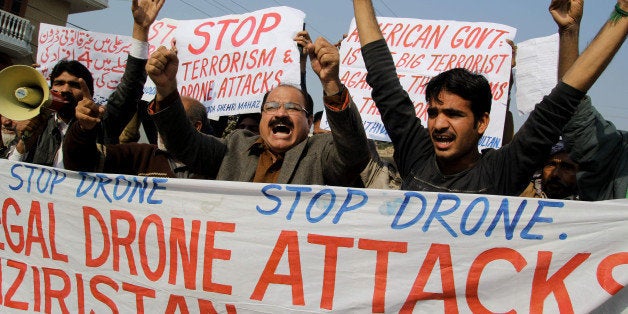 How many innocent people will the Obama administration kill before it comes clean on who these people are and why they were taken from their families, their friends and their communities? Despite President Obama's repeated promises of more transparency, he had James Clapper, Director of National Intelligence, sent a letter to the heads of the Select Committee on Intelligence seeking the removal of a provision from the proposed Intelligence Authorization Act for Fiscal Year 2014 that would have modestly required President Obama to report the number of innocent people killed in drone strikes from only the previous year. Not surprisingly, this request was granted.
In the letter, dated April 18, Clapper wrote, "We are confident that we can find a reporting structure that provides the American people additional information to inform their understanding of important government operations to protect our nation, while preserving the ability to continue those operations." In other words, President Obama will continue to hide from the public the number of innocent people his administration has killed until they can manufacture "context" that paints each and every strike as necessary and in conformity with international law.
On the same day Clapper submitted his letter, at least three innocent people were killed and two others injured by drones in Yemen. The three day laborers killed in Yemen were simply driving down the same road as the suspected militants who were targeted. According to Salem al-Kashm, one of the survivors of the attack, "Our vehicle was 15 meters from the attacked pickup, and the shrapnel from the strike poured on our car. Minutes after the first attack a second attack took place killing three of my friends in process."
The Stanford/NYU report, Living Under Drones, states that the blast radius from a Hellfire missile "can extend anywhere from 15-20 meters; shrapnel may also be projected significant distances from the blast." Why was this attack launched when there was a vehicle carrying five innocent people so close to the vehicles carrying the "suspected militants"? If and when President Obama decides to issue a report on the number of innocent people killed by drones, what context will he provide to justify this attack? Will he claim the day laborers were militants or will he label them as "not specifically targeted," regrettable, but legal "collateral damage"?
The Bureau of Investigative Journalism has reported that in Yemen there have been around 75 confirmed drone strikes resulting in upwards of 480 people killed. Of those killed, as many as 84 were civilians. According to TBIJ's numbers, the ratio of alleged militants killed to innocent civilians killed ranges from 10:1 to 6:1. As horrific as these numbers are, they may actually underrepresent the number of innocent people killed. How can we be sure that every individual counted as a "militant" in fact was one when President Obama counts all "military-age males" as such and authorizes the use of "signature strikes"?
In Pakistan, the numbers are even more alarming. There have been approximately 383 strikes -- 332 during President Obama's time in office -- resulting in up to 3,719 people killed. Of those killed, as many as 957 were civilians, including almost 200 children. According to TBIJ's numbers, the ratio of alleged militants killed to innocent civilians killed ranges from 4:1 to 5:1. What context can President Obama provide to justify killing so many innocent people?
Behind every innocent person killed by drone attacks are stories and it is morally imperative that these stories be the focus of our attention. We need not wait to hear the Obama administration's version of the story when we can hear directly from those whose lives have been irreparably changed. On Oct. 29, 2013, a Pakistani family was the first to tell its story to Congress. One year prior, Momina Bibi was killed by a drone strike. Bibi's son, Rafiq ur Rehman, a Pakistani primary school teacher, testified at the briefing: "In Urdu we have a saying: aik lari main pro kay rakhna. Literally translated, it means the string that holds the pearls together. That is what my mother was. She was the string that held our family together. Since her death, the string has been broken and life has not been the same."
Stop and think for a moment what it would feel like to have someone you love ripped from your world for no apparent reason. Before a drone attack kills another innocent person, we must demand justice and accountability from the Obama administration for families like Rehman's and all of the other victims of the drone program.
Calling all HuffPost superfans!
Sign up for membership to become a founding member and help shape HuffPost's next chapter