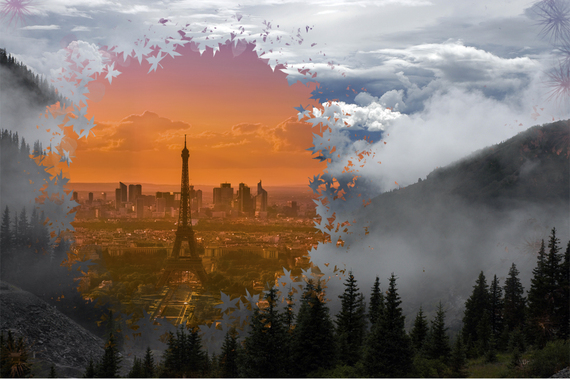 "It was the best of times, it was the worst of times..." This quote comes to mind following every environmental announcement and the climate agreement that emerged from Paris last weekend has inspired even more divergent commentary than usual. Extremely knowledgeable people are alternatively calling it the salvation of the Earth or nothing short of our planet's death knell.
President Obama called the Paris climate deal "the best chance we have" to save the planet and Al Gore called it a "bold and historic agreement." Meanwhile, Bill McKibben said that as for saving the planet, the Paris agreement was "not even close," and George Monbiot called the agreement a "disaster." The funny thing is they are all right.
If the specifics of this agreement were 100 percent implemented the best science says the planet we would hand off to our children would be hard to recognize and life on Earth would be far more difficult. But if the climate movement keeps rolling up its sleeves and fighting everyday, as we have for years, to keep even more fossil fuels in the ground, replace dirty energy with wind and solar, we've got a shot at climate stability.
In other words, what happens next is up to all of us. We will solve climate disruption with hard work on the ground stopping extreme oil, replacing coal with clean energy, and protecting forests -- just like we have always done.
But, we have much more going for us now than before Paris.
The climate movement would have suffered a serious blow if there was another failure to come to an international climate agreement. Instead, we have even more momentum: coal and oil stocks slumped and renewables jumped just on the news of the Paris accord. This is not about share prices really, it's about creating a new norm. That new norm is that all the countries of the world agree that fossil fuels must be phased out and clean energy be built up as quickly as possible.
The agreement also creates an architecture for continued improvements and a return to the negotiating table every five years, which means there will be ongoing international attention toward continuously tackling this problem. And that is the only way big problems are solved -- not all at once in an agreement, but over time with more and more pressure for more aggressive change.
Would we have preferred a binding agreement with even more stringent goals, one that would somehow gain U.S. Senate approval since a binding agreement would be a treaty? Of course. But it is stunning that after years, decades, of failure, the global climate movement has made this agreement not only possible, but required. And that growing movement is what will turn the Paris agreement into what we need to get to a climate-stable world -- by challenging powerful international corporations and governments to change their practices and policies to protect people and forests, to leave extreme fossil fuels in the ground, to prioritize our health and safety above private profits for the few.
Day by day and battle by battle is how we will make this transition a reality. For our part, the Paris agreement caps off an incredibly successful year on our campaigns to stop extreme oil and protect healthy forests and the communities that depend on them.
In the first weeks of January we kicked off a new challenge of the logging industry greenwash labeling program that we continued throughout the year by engaging the industry and individual companies.
We challenged the Obama administration on weak oil train rules, lobbying by the rail and oil industries, and the environmental injustice of threats to communities from oil trains in California.
We fought the Canadian government's attempts to short-circuit environmental review for pipelines and promote tar sands .
None of these were easy fights, and there were no guarantees of success. But today, as the final days of 2015 tick down, we can count up accomplishments that were hard to imagine just a year ago:
In March we announced 3M's new industry leading sustainability plan, policies to protect endangered forests, local communities and wild places and we expanded the list of major companies committing to responsible paper.
We coordinated 80-plus events for the Oil Train Week of Action, convened the first Oil Train Response summit , and helped beat back the California WesPac extreme oil project (over a quarter million barrel per day facility) and fought oil train terminals in California, Washington, and across the US.
We also helped achieve the end to the proposed Enbridge tar sands pipeline on the North Coast of British Columbia and a plan by the Alberta government to limit carbon pollution from tar sands production.
This -- and much more -- in the coming years is what it will take to get from a Paris accord to climate stability. Momentum matters and we have it. We need to capitalize on it as we get ready for 2016 and the hard, day-to-day work of making change happen over the objections of the most powerful companies the world has ever seen. The post-Paris moment is not a time for despair, it's a time for action.
Calling all HuffPost superfans!
Sign up for membership to become a founding member and help shape HuffPost's next chapter