In the run up to the historic climate talks just concluded in Paris, we saw an increasing number of companies announcing ambitious and unprecedented commitments to protect the environment, not least on deforestation. Arguably it was one of the many reasons why policymakers were emboldened to come to such an ambitious accord.
 
While this is welcome, we all know that what matters most is not making promises, but keeping them.
 
CDP's data shows that commitments around reducing or removing deforestation are yet to successfully transition to action. This begs the question, should we be asking more companies to make pledges in this area when few appear to be delivering on them? What point do these pledges serve in any case? How do we hold companies accountable to them? And what's holding them back from achieving them?
 
Well as the old adage goes: "Go big or go home." If these commitments have achieved anything, they have forced companies to dream big, creating unstoppable momentum towards freeing companies' supply chains from deforestation.  It is worth keeping in mind that for many companies making these bold commitments, they are taking their business down a whole new path. As Asia Pulp & Paper's director of sustainability, Aida Greenbury, puts it, they have thrown themselves into "uncharted territory".
This is not without a carrot.  Companies recognize the risk of not tackling this issue and importantly almost 90% see opportunities, like building a brand consumers trust and increasing the sustainability of their supply, associated with doing so. But how to get there?
 
One reason for the difficulty in meeting these commitments appears to be in translating what they mean in practice. How, for example, does the buyer for a giant consumer goods company take these often detailed zero-deforestation commitments to the marketplace?
 
The data suggests that these commitments aren't coming through to the marketplace. While companies are often looking to buy certified products with labels like FSC (Forest Stewardship Council), they are a long way from meeting their corporate goals. For example, 26% of companies are yet to get any certified palm oil (a key driver of deforestation in S.E. Asia) into their product supply chains, despite having commitments to do so.  And at the moment only a quarter of manufacturers and retailers are running workshops or training with their suppliers to help change this situation. Even fewer (13%) are working on joint projects with their supply chain.
 
However, there are some good news stories out there.  As Christmas approaches and we reach for those chocolate treats, it is worth noting some of the strategies being taken by the big confectionery brands. Mars has analyzed over 250 Malaysian mills to start getting visibility in its palm oil supply chain; and Nestlé is working with TFT (The Forest Trust) to increase the resilience and adaptability of smallholder palm oil producers.
 
There are some clear steps that these companies can take to bring their supply chain with them on this journey. Five steps to be precise. These include translating commitments into procurement processes, through to collaborating along the value chain and reviewing what's working, and what's not.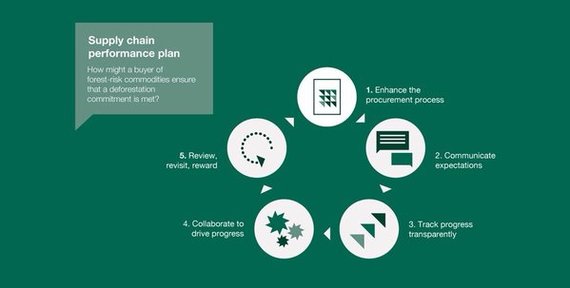 What this process makes clear is that achieving these goals will not be easy. Companies are on a journey when it comes to deforestation and there is no 'one size fits all' solution (there never is, is there?). Deforestation commitments are useful to the consumer too; no one wants to buy products that destroy the rainforest. A company making a commitment is asking to be held accountable for the actions it is taking.
 
If companies are brave and wise enough to start down this journey of commitment and transparency, we should match their willing and enable them to meet these goals. Our forests and our warming climate depend on it. 
Calling all HuffPost superfans!
Sign up for membership to become a founding member and help shape HuffPost's next chapter