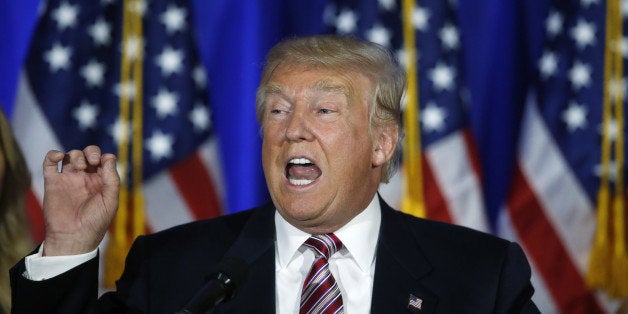 Some observations after watching Trump's "victory" speech as the next GOP nominee.
The speech was delivered at the Trump-owned suburban Briarwood Golf Club to what appeared to be an almost all-white crowd. Pretty bad symbolism. Who made THAT decision?
He used a teleprompter -- perhaps for the first time during this campaign -- and seemed to be reading the speech word-for-word, with only a few ad-libs. He had obviously listened to his advisors who warned him not to give another one of his disastrous shoot-from-the-hip speech. Is this the sign of newly-disciplined Trump or is this a one-time concession in the wake of the worst week of his campaign, triggered by his impulsive and racist comments about Judge Curiel and the resulting fallout, including criticism from many Republicans. He was clearly trying to prevent any more key Republican office holders from distancing themselves from The Donald.
This was probably the least bombastic speech he's given during the entire campaign. He did his best to control his impulsive narcissism. He didn't lash out at any critics. He promised to unite the Republican Party.
The dilemma for Trump is that the speech was incredibly boring. It didn't even excite the hand-picked crowd at the golf club.
Trump seemed to be testing a new slogan, "America First." At the end, he repeated his "Make American Great Again" line but the through-line of the speech was "America First." I doubt Trump knows anything about the history of that slogan as the theme of the (mostly) right-wing isolationists between WW1 and WW2.
He had one line designed to appeal to African Americans but, typically, it was patronizing and even racist: "We'll take care of our African Americans."
His speech included no lines designed to appeal to Latinos, despite his consistently racist comments about Mexican Americans. It appears he's given up trying to get Latino votes.
The speech included no lines designed to appeal to women, another group that he has consistently alienated. His overall favorability ratings are unprecedentedly low, but they are particularly low among women.
He talked a lot about our crumbling infrastructure, troubled inner cities, rising crime, and failing schools. He has yet to articulate a policy to address these issues, but it was definitely meant to broaden his appeal.
He promised to give a speech next Monday detailing his critique of Hillary Clinton. This is clearly meant to be a rebuttal to her fantastic takedown of Trump last week.
This speech was clearly designed to pivot from attracting conservative Republican primary voters to getting more independents and "swing" voters.
He made a strong point of appealing to Sanders voters by saying that they'd been screwed by the rigged Democratic Party primary system. He even said he agreed with Sanders on trade policy.
For all his efforts to appear presidential, the old Trump impulsive showed up toward the end of his speech, when he went off-script and brandished a juvenile toilet joke. Trump was promising to protect Americans from unfair foreign competition when a man in the audience shouted, "No PPP." He was referring to the Trans-Pacific Partnership, but he got the letters wrong. Trump responded, "No PPP. You're right about that." Then he paused, and smiled, and said, "And you mean, no pee-pee." Let's just say it was an awkward, but revealing, moment.
The question from here on in is whether Trump can control himself, especially when he's doing interviews or in small meetings instead of giving a scripted speech before a hand-picked friendly crowd.
The Democrats' slogan should be "Let Donald Be Donald." That's a recipe for a Democratic landslide in November.
Peter Dreier is E.P. Clapp Distinguished Professor of Politics and chair of the Urban and Environment Policy Department at Occidental College. His most recent book is The 100 Greatest Americans of the 20th Century: A Social Justice Hall of Fame (Nation Books)
Calling all HuffPost superfans!
Sign up for membership to become a founding member and help shape HuffPost's next chapter