On the 5th Anniversary of Katrina Land Of Opportunity a new film asks -- Is your city the next New Orleans?
The recent tragedies in Pakistan and Haiti and the unprecedented catastrophe of the BP oil spill in the Gulf Coast reveal that the lessons of New Orleans have only become more relevant in the past few years. Luisa Dantas, my co-producer on Wal-Mart: The High Cost of Low Prices left for New Orleans soon after Hurricane Katina hit to document the impact of the storm on the people of this devastated city.
Five years later, this time as a first-time director, Luisa presents Land of Opportunity, a verité character-driven documentary and multi-platform video project, interweaving the stories of a diverse group of people as they struggle to rebuild their lives in post-Katrina New Orleans. The film is so hot out of the editing room, I haven't had a chance to see it yet. Here's a "special sneak peek" that marks Katrina's 5th Anniversary: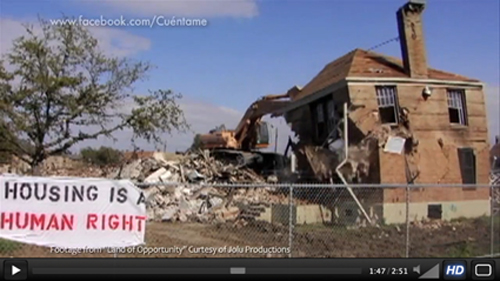 Luisa and her team designed Land of Opportunity as more than a film, it is a multi-platform project that will leverage over one thousand hours of footage into web-based short content for educational and organizing purposes. Land of Opportunity re-frames the 5th anniversary of Katrina into the beginning of a discussion, rather than a conclusion. What happens in New Orleans doesn't stay there. In fact, Katrinas are happening to every city in the nation. The tagline, "Happening to a city near you" opens dialogue about the future of urban America and provides an opportunity to redefine disaster recovery. From New York to Detroit to New Orleans, cities are experiencing disasters every day, whether they're defined as economic, natural or man-made.
Luisa put 5 years of thoughtful work, sweat and love into this project. I am a cheerleader for her and Land of Opportunity. Brave New Foundation is proud to introduce Land of Opportunity and encourages you to "share this film" with friends and family to explore the meaning of home and community in an age of displacement and migration. Land of Opportunity and Cuéntame will mark the 5th Anniversary of Katrina with a short video on this Sunday August 29th. Make sure to check out Cuéntame and leave your comments on Sunday when the video is posted!
As communities around the nation combat dramatic challenges, we face an unprecedented need to create effective new systems to support more efficient and sustainable community and economic development efforts. The stories told in Land of Opportunity offer much needed perspectives on the most pressing issues facing our urban areas.
Most of us sat helplessly while our government watched New Orleans and its inhabitants drown. Not Luisa Dantas, she looked for the Land of Opportunity.
Check out HAPPENINGS IN NYC & OAKLAND at www.landofopportunitymovie.com...BRING A HAPPENING TO YOUR CITY!

Popular in the Community