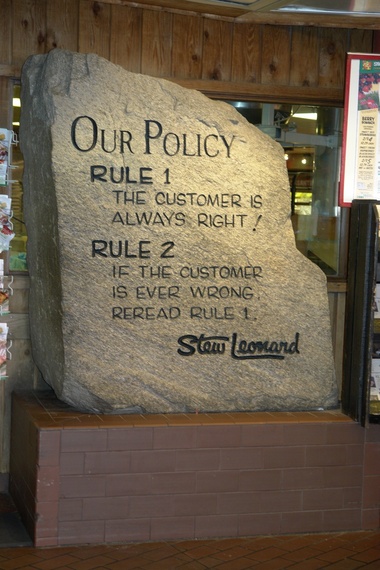 Does your business need social media? It depends on your answer to this question: Does your business have customers that are on social networks? If the answer is yes, then you need to be there with them. As best-selling author Jay Baer said in a September 2015 interview with Oracle, Hug Your Haters: A Conversation About Social Customer Service With Jay Baer, "It doesn't matter whether you're B2B [business to business] or B2C [business to consumer], you need to interact with your customers where they want to meet you." It used to be the only requirements for a marketing plan were a listing in the phonebook and an ad with the local media. And some would argue that is still all you need. Let me think, who would that apply to? Um, no one. We have this thing called the internet now with a whole new playing field known as digital: Hello email! Call to action -- click here! Like! Engagement, brand awareness and social customer service all rolled into one platform.
Six years ago the world of customer relations opened up to business owners in a form of media that was, well, social. In 2009 customers could become a Facebook fan of your company or brand. This became your opportunity to interact with them in an online community. Social media was free and easy. Advertising on Facebook and the other networks wasn't available just yet. So what was the point of putting yourself out there in the cybersphere? As another way to connect with the customer. "Why do we need to 'engage' with our customers online?" business owners asked. "Can't the conversation just take place here in the store while they're shopping? Why do I have to add more work learning this Facebook thing and maintaining it everyday?" I can't tell you how many times I've heard that. Fast forward to present day and it's a given. By now almost all business owners have some familiarity with Facebook as well as the other key social networks and are on them, intentionally or not. Engagement is up. We are now multi-level conversers.
Brand awareness is perhaps the biggest buzzword in advertising. It's not a trend because brands have always existed (think Coke.) But social media has added a new dimension. "What's your story?" is a fun conversation opener. And why not? Personal stories are interesting. They bring people together, give credibility, create interaction, and most importantly for business, build loyalty. What's the best way to get your story out there? Social media. From an Inc article by Peter Roesler from September 2014, 5 Benefits of Social Media Business Owners Need to Understand, "A website establishes that a brand exists, but a social media page establishes that the brand is active." No one wants to sit through a dull story. You don't just have a logo anymore, you have a brand. Make it big! (And at the very least, if your logo doesn't fit in the Facebook avatar, update it!) Find the social networks that work for you and your customer and get out there. Keep your website current, post on your blog regularly, and move the conversation back to the heart of your online personality, which is your website, not your social media network. Think of social media as the brains of the operation, active, changing, informing, communicating, etc. Studies have shown that when people interact on social media, it boosts the pleasure zones in the brain. How's that for creating loyalty?
The most important reason why your business needs social media is social customer service. I know, you're thinking, "What? Another level of customer service? Isn't that what those pesky review sites like Yelp and Trip Advisor are for?" And you may secretly be thinking that if disgruntled customers (plural because you will have more than one) can't pick up the phone or come in to see you in person, you can't be bothered to deal with them. Well, it doesn't work that way anymore. Looking back, you probably should have hugged the brave soul who took the time out of her day to express a concern to you face to face. That just doesn't happen anymore! Don't let your customers "ghost" you! Believe it or not, social media is the saving grace of customer service. And this isn't just a positive spin for a painful process. When embraced as the powerful marketing tool that it is, using social media to address customer feedback is the easiest way to get the most bang for your buck. It's free, it has reach, it's immediate, and it gets results. Once you're able to let go of the outcome and be present as your authentic brand (a kinder way of saying step up, let go of your ego, address the problem, and be truthful) you will inevitably gain the trust, loyalty, and recognition you deserve for spending time on social media networks. From The only purpose of "customer service"... by Seth Godin, best selling author and marketing genius:
The customer who seeks out your help isn't often looking to deplete your bank account. He is usually seeking validation, support and a path to feeling the way he felt before you let him down.

The best measurement of customer support is whether, after the interaction, the customer would recommend you to a friend. Time on the line, refunds given or the facts of the case are irrelevant. The feelings are all that matter, and changing feelings takes humanity and connection, not cash.
You won't get this if you ignore your customers' comments. You can pay a lot of money to advertise your brand and create a website, but without a social media presence you could miss your chance to make a connection.
And now for the statistics to back this up: I'm not going to quote any numbers. Trust me they're out there. More important than data, the reason your business needs social media goes back to the basic business tenet that the customer is always right. Just like it says on Stew Leonard's famous granite rock.