Every child deserves a chance in this world, but the zip code a child is born in often determines his or her destiny. In the United States, an estimated 6 million youth -- 1 of every 7 children -- between the ages 16 and 24 is disengaged from both school and the workforce. Upward mobility in America is on a steep decline. The American Dream has become increasingly harder to achieve because many neighborhoods lack the fellowship and community that creates significant opportunities for young people.
Karina Patterson -- a National Hispanic Merit Scholar -- grew up in a neighborhood facing intergenerational poverty in Queens, New York. However, due in large part to her ardent parents, resourceful mentors, and an innate ability to learn quickly, she was able to excel in high school and receive many scholarships to colleges around the country. Among those acceptances was the University of Pennsylvania, but she decided to attend Northeastern University for its prestigious co-op program. The majority of Patterson's friends are still hanging around her neighborhood. She said:
There are only a few of my Jackson Heights friends that went to college this year, and I'm the only one out of state. Many of them graduated high school, but there's an equal amount still waiting to get their GED. The neighborhood is a distraction for all of us, myself included. It's so easy to get caught up in hanging out and roaming the streets, doing everything but what we're supposed to be doing. If you want to make it out the hood, you really have to want it, work for it, and fight for it. We all want the same thing: to be successful.
NYU Professor Dr. Sharkey, an expert of neighborhood mobility and social policy, argues in his recently published novel Stuck in Place: "The multigenerational nature of neighborhood disadvantage should change the way we study neighborhood inequality and the way public policies are used to confront neighborhood inequality." In order to understand the costs to society imposed by neighborhood disadvantage, researchers must measure the cumulative effects of exposure to poor neighborhoods over multiple generations.
FSG, which was co-founded by well-renowned Dr. Michael Porter, illustrated in their report that the economic burden on society as a whole resulting from failure to invest in opportunity youth is an estimated 4.75 trillion dollars. Also, the youth unemployment rate in the United States is now higher than that of Austria, Germany, Netherlands, Demark, and Norway. The negative economic and social spillovers imposed by opportunity youth will affect future generations.
Boston University's Dean of the School of Education Hardin Coleman invited me to attend an Executive Leadership Seminar at The Hampshire House on Beacon Hill. There, Dean Coleman said, "The achievement gap has uncovered the opportunity gap. Standardized testing, while it may be flawed, has been useful in that it has shown us economic and racial disparities. Therefore, we should focus on using what we learned from the achievement gaps to narrow the opportunity gap."
City Year Co-Founder Alan Khazei told me, "I think it's an incredible time to focus the country on opportunity. No one in the nation can solve this problem on his or her own. No one sector can solve the world's problems. There's no silver bullet." This is why he founded Be The Change, Inc., which creates and manages national issue-based campaigns - such as Opportunity Nation - that use convening powers to build cross-sector coalition and drive change in our society.
Opportunity Nation is a national, bipartisan campaign to expand economic mobility and jumpstart the American Dream. It recently put on a reception with Washington Monthly that was sponsored by Bank of America, titled "Where is Opportunity in America?" The event highlighted the Opportunity Index. Professor Sharkey believes: "[T]he Opportunity Index taps into some of the most important aspects of neighborhoods and urban areas that alter the life chances of children and families within them. The inclusion of the measure of violent crime is particularly appropriate."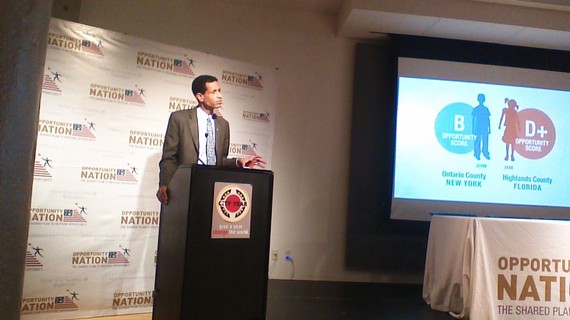 This showed me that income is not a leading factor in determining overall opportunity; education plays a leading role in social mobility. To increase access to a college education, President Obama has also proposed to rank colleges based on preparation criteria - whether or not they're going to move kids into positions of job readiness and help families make informed educational decisions.
"[P]olicies providing a short-term departure out of disadvantaged neighborhoods are unlikely to create transformative changes in families' lives or in the trajectories of communities. Instead, we need 'durable' urban policies that are sustained over time and that have the capacity to reach multiple generations of family members," said Professor Sharkey in a statement.
Opportunity Nation's Executive Director Mark Edwards believes practical solutions (and roadmaps) can ensure that all of America's young adults get a fair shot at moving up the ladder and contributing to the health and vibrancy of our society. For example, we can increase pathways to success for all youth in urban and suburban neighborhoods by: pairing college planning support with savings plans for low-income youth like Jim Casey Youth Opportunities Initiative; investing in programs that work like Year Up; encouraging partnerships with employers that can help reengage opportunity youth; and updating and reauthorizing the Perkins Act.
Although our political system is gridlocked, especially relating to the Workforce Investment Act, Republican Senator Rob Portman and Democratic Senator Michael Bennett introduced the CAREER Act, which would implement pay-for-performance model job training programs. This exampled bipartisan piece of legislation can help communities give birth to new tax-paying citizens whom in turn revitalize and create new opportunities in their own communities.
"Everyone who needs opportunity knows what it means. Those whom are beneficiaries of opportunity must tell all. Opportunity has been at the core of what makes America great. People are our strength. People must have a stake in promoting peace and prosperity. This is an opportunity to win hearts and minds. It's a reminder that we're in it together," said Harvard Business School Professor Rosabeth Moss Kanter in a statement.
Martin Luther King's lifework was centered on improving the Opportunity Gap in America. His work is highlighted in the book Closing the Opportunity Gap written by Kevin Welner. Welner tells us what America must do to give every child an even chance. By investing in the futures of all youth, American neighborhoods will always be exceptional. President of Bank of America Massachusetts Robert Gallery said, "We can only be as strong as the businesses, schools, and communities we live in."
Together, we can restore the American Dream. However, the first step in solving any problem is identifying the problem and thinking about potential solutions. Click here to find out if your neighborhood sucks. [Footnote: The Heath brothers' 'SUCCESs model' in the novel Made to Stick encouraged me to choose such a title.]
Related
Popular in the Community