This is what it looks like to be abandoned.
But though it's hard to watch this video showing an unidentified man surrendering his dog, Shadow, to Carson Animal Care Center in Gardena, California, the clip may be the canine's ticket to a loving new home.
"Shadow's owner wasn't very nice to him when they were waiting and [Shadow] was really trying to cling to him, hoping this wasn't really happening," reads a post by Saving Carson Shelter Dogs, a Facebook group dedicated to publicizing the dogs at Carson ACC. "He is very scared and confused now. They said he is very playful and loves little kids and other dogs."
In the video, Shadow looks around, appearing worried and afraid, as the sound of other dogs barking can be heard in the background. He repeatedly turns his head away and his ears are back, which can be signs of anxiety in dogs.
The reason the owner gave for giving Shadow up is that he had difficulty "containing" him, according to the post. At one point, not shown in the video, the man roughly made Shadow sit down, a spokesperson from Saving Carson Shelter Dogs -- which is not affiliated with the shelter itself -- told The Huffington Post.
Despite being a "little fearful" in his new environment, Shadow is "really sweet," the spokesperson said.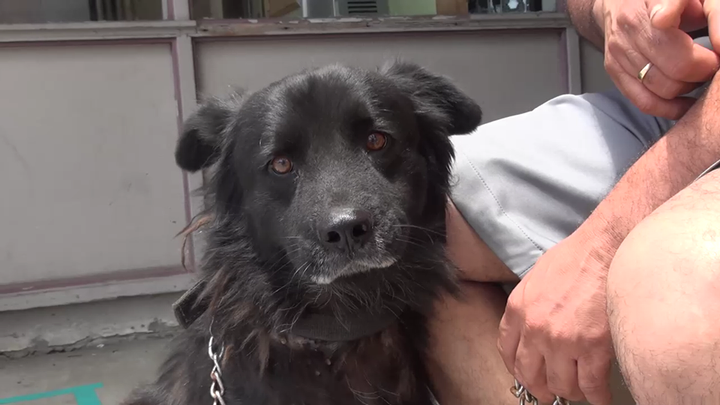 The video has rallied social media users in support of Shadow, garnering thousands of shares and numerous offers of help. A rescue group has already inquired about the possibility of pulling Shadow from the shelter.
"He is really special and he deserves a great home," the spokesperson added. 
Even so, Shadow is currently still at the facility, and will be available for public adoption on Thursday, according to the LA County site. Shelter staff believes he is about 7 years old and describes him as a flat coat retriever.
The shelter also has more than a hundred dogs, and numerous other animals, who need homes. You can view animals up for adoption at the Carson ACC and other shelters in LA County here. And if you're not local to LA County, check out the shelters and rescue groups near you.
Calling all HuffPost superfans!
Sign up for membership to become a founding member and help shape HuffPost's next chapter
BEFORE YOU GO
PHOTO GALLERY
Super Senior Dogs