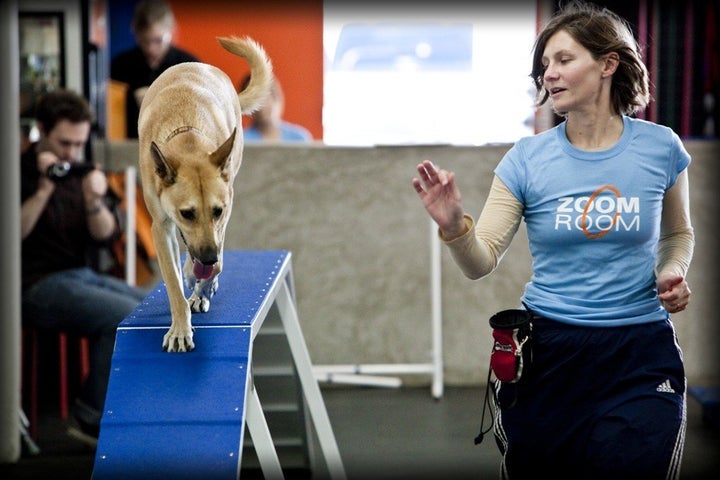 Like many kids, when Jason and Steven Parker were teenagers, they wanted a dog. And like many parents, theirs said no. So they came up with the next best thing to spend some time with man's best friend -- they started their own pet-sitting business.
The brothers, now 24 and 27, kept it going through college and eventually sold it for six figures. After they graduated, they went on to start K9 Resorts Daycare & Luxury Hotel.
"If you love dogs and want to get into the dog business, now is the perfect time," Steven says.
You might say dogs are an entrepreneur's best friend too. Consider the size of the market. According to the American Pet Products Association, dogs are found in 46.3 million homes across America. (By contrast, cats are in 38 million, freshwater fish in 11 million, birds in 5 million and saltwater fish are last, in just 700,000 homes.) So it's no wonder so many small businesses and large corporations alike slobber over the $50.84 billion spent on pets every year.
The modern-day dog business can trace its roots to the 1920s and 1930s, when movie star dog Rin Tin Tin was in his heyday. In 1918, just a couple months before World War I ended, an American soldier, Lee Duncan, found the famed puppy in Lorraine, France, in a dog kennel that had been bombed. The puppy survived, and Duncan named him Rin Tin Tin, taking the name of a puppet that French children gave American soldiers for good luck. Four years later, when a movie director was having trouble coaxing a performance out of his wolf in the movie "The Man From Hell's River," Duncan loaned out his dog, and a canine career was born. The dog starred in several silent films during the 1920s and four talkies during the '30s.
As a result, children across the country began asking their parents, "Can we get a dog?"
During the 1940s, when many fathers were called away to service, the demand for dogs as company and protection grew, and as more people owned dogs, the market for dog products began to thrive. (The 1940 book "Lassie Come Home" probably helped.) By the early 1950s, newspapers began reporting on a booming dog industry, with everything from rubber bones, dog clothes, and prefabricated doghouses to training schools and pet cemeteries. In 1958, Harry Miller, director of the Gaines Dog Research Center, offered a prescient quote to a UPI news reporter. "There's no recession in the dog industry," he said. "It's thriving, with 40 percent of the nation's homes having one or more dogs. We figure the total gross last year, including sale of puppies, food, shows, medical expenses and otherwise, was well over $500 million."
By the 1960s, pet-grooming facilities, often called dog salons, took off. Dog-rental businesses, which allowed people to rent watchdogs, not so much, although for a brief time it seemed as if it might be embraced by the mainstream. That said, as early as 1933, Chicago entrepreneur Michal Von Motseek owned "Rent a Dog for Any Purpose" Kennels, selling to people who wanted watchdogs and to advertisers who needed dogs to photograph. (The modern-day version, FlexPetz, was founded in 2007, which rents pets to busy families that share them with other families.)
Franchising in the pet industry also began to blossom in the '60s. In 1964, the first franchised pet store, Pet Docktor Center, opened. According to Katherine C. Grier's "Pets in America: A History," two successful brothers and owners of a pet store in Philadelphia decided to clone their success. For years, Docktor Pet Centers was the PetSmart of its day, prominent in shopping malls across America, until the then-widespread practice of relying on puppy mills brought on a lot of lawsuits. Today, there are just a handful of remaining Pet Docktor Centers in the country.
It all paved the way for today's booming dog industry. Now, if you want to, you can buy a specially made backpack to carry your dog. Martha Stewart has a line of dog beds, not to mention bandanas and a dog bathrobe. There are life jackets for dogs. Sunglasses too. If they make it for people, chances are they make it for dogs.
In 2007, Jaime and Mark Van Wye, 34 and 43, respectively, decided that they, too, wanted to become part of the dog industry's illustrious history. They opened Zoom Room, a dog agility training center -- near the end of 2009, began franchising and currently have seven locations across the country with several more set to open. Jaime, before opening Zoom Room in Los Angeles, was already immersed in dog culture as a dog kennel owner as well as author of "How to Have an Ill-Behaved Dog."
When Jaime told her future husband she wanted to open a dog agility facility, Mark -- a marketing guy whose clients included the Nat King Cole estate -- was initially hesitant, but soon warmed up to the idea. "Jamie always had people asking her, 'Where I can train my dog in dog agility?' and her answer was always that they could go to this one place on Thursday mornings at 11 a.m., and there's a huge waiting list. Then we had the realization that it's the number-one dog sport in America, and ESPN was even carrying dog agility competitions. My thought was similar to the 1970s when yoga became popular in America. It was a novelty only practiced by yoga gurus, and now there isn't a gym in America that doesn't have yoga."
Jaime made a list of a lot of the pros and cons of working in the dog industry and, in the end, felt she had created a business model that stripped away a lot of the negatives.
Mark says that "kennels and doggie day cares can make money but are not a lot of fun to run. People used to come in and say to Jaime, 'You must love your job. You play with dogs all day.' And she would think, 'No, are you kidding?'"
Jaime cites some of the frustrations that kennels and doggie daycares have: Zoning issues due to dogs living on the premises; needing someone on staff virtually 24 hours a day, seven days a week, to watch over the animals; staffing issues: liability issues if the animal gets sick or dies; and the costs of caring for the animals.
"It's exhausting, and you don't play with dogs all day," Jaime says. "You may not even see dogs most of the day."
'Much Easier to Work with Than People'
That doesn't mean that dog business owners don't find themselves working and playing with cuddly canines. Christy Howard, 39, is the owner of two Three Dog Bakery establishments in the Dallas/Forth Worth market, part of a chain since 1989. She has 12 employees among the two stores, one of which is new and the other 3 years old. Between the two, her stores bring in more than $1 million in sales.
Howard runs the day-to-day operations but co-owns the mini-franchise empire with her husband, who handles the financials, including insurance (the annual insurance that Howard pays for her two stores, including workers comp, property and liability: $12,000).
Another cost to be prepared for: Cleaning. Your typical small business doesn't have too many customers who shed, but if you're on the service side of the dog industry, expect to be cleaning up dog fur. And maybe a few other, um, deposits.
On the plus side, while beleaguered entrepreneurs feel licked at times, it's one of the perks of the dog business. "Dogs are much easier to work with than people," Steven Parker of K9 Resorts quips.
But what's gratifying and helpful for the dog-serving entrepreneur is how devoted the masters are to their pets. Jason Parker says the economy has affected their bottom line somewhat, but not as much as you might think. "People are spending the same amount of money on their dogs," Jason says. "We have different types of rooms at our resort, and people are still opting for the luxury suites and if not that, the executive rooms, which are cage-free. They may cut their vacation a little shorter, but they aren't cutting back on their dogs."
Popular in the Community