"Lucky dog" doesn't even begin to cover it.
After Kenny, a 2-year-old husky/shepherd mix, fell off a 150-foot cliff in Oregon's Columbia River Gorge last week, strangers near and far haven't hesitated to come to his aid. That includes the rescue itself -- a nearly 12-hour ordeal -- owner Mark Winans told The Huffington Post, and helping cover thousands of dollars in medical bills.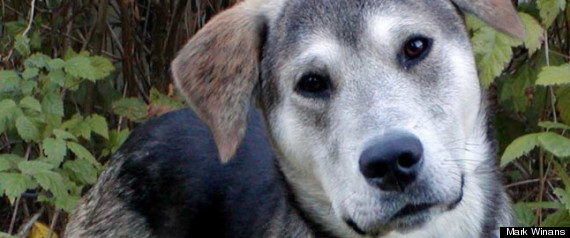 Kenny fell off the cliff after his leash broke last Thursday, says Winans, when he chased a squirrel and broke free of the restraint, then tumbled 150 feet and landed in a creek below. Unable to reach Kenny himself, Winans' roommate, who had taken the dog on a walk, ran down the trail, found cell service and called police.
A 10-person rescue team from the Oregon Humane Society responded to the scene, which included a two-hour hike up steep terrain to reach Kenny, according to a release.
Following the hike in, Jennifer Stangel, a Technical Animal Rescue team member, then repelled down the cliff and fitted the dog with a rescue harness, allowing the team to hoist Kenny back up the drop and carry him out -- a process not completed until 2 a.m. the following morning.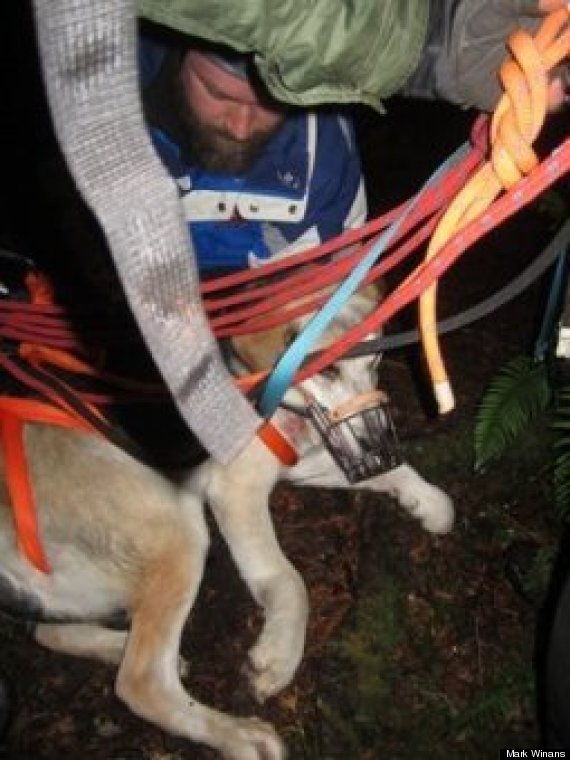 "None of this would have been possible had [the Oregon Humane Society Animal Rescue team] not literally risked their lives to save Kenny," Winans told HuffPost in an email. "At the time of his rescue, the trail conditions were cold, wet and extremely dark -- hazardous to say the least."
But that was just the beginning of the effort, as Kenny was whisked into six-hour surgery, during which time a surgeon reconstructed the dog's legs and racked up $13,000 in medical bills, says Winan.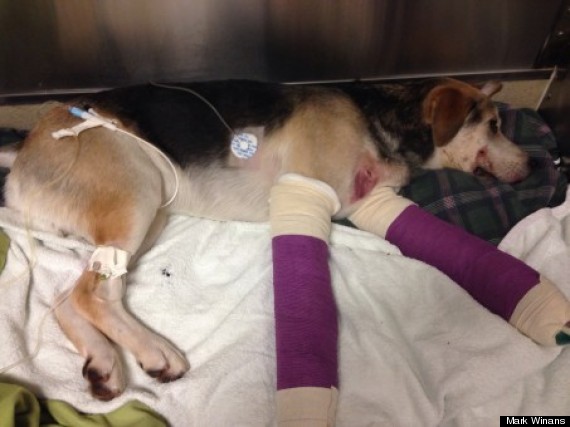 As of Sunday, Kenny was allowed to return home, where, thanks to "some serious doses of TLC (and pain medication)" he's said to be resting comfortably, and expected to be out of his casts and walking in about two months.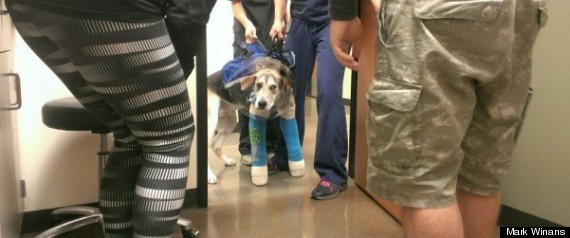 "I am absolutely blown away by such an amazing outpouring of good will and generosity," Winans added in a Giveforward update. "[I] can't thank you enough for your support through this crazy ordeal."
REAL LIFE. REAL NEWS. REAL VOICES.
Help us tell more of the stories that matter from voices that too often remain unheard.
BEFORE YOU GO
PHOTO GALLERY
Animals Who Need Hugs