One year ago, 367 pit bulls were rescued from what was said to be the second-largest dog fighting bust in the country's history. Since then, 13 of the 14 defendants involved in the raid have pleaded guilty and will be sentenced in October, according to an official with the American Society for the Prevention of Cruelty to Animals.
The Huffington Post profiled Timmy, one of the adorable pups rescued during the raid, earlier this year. But many of the other dogs have shown just how resilient the canine spirit is, withstanding overwhelming odds to find their forever homes.
On the anniversary of last year's bust, we wanted to present some of the stories of those dogs who have turned their lives around, and send a shout-out to the hundreds of volunteers who helped rehabilitate them. And remember, if you're looking to foster or adopt a dog in need, head on over to your local shelter or the ASPCA adoption site.
All photos and caption information provided by the ASPCA.
Mabel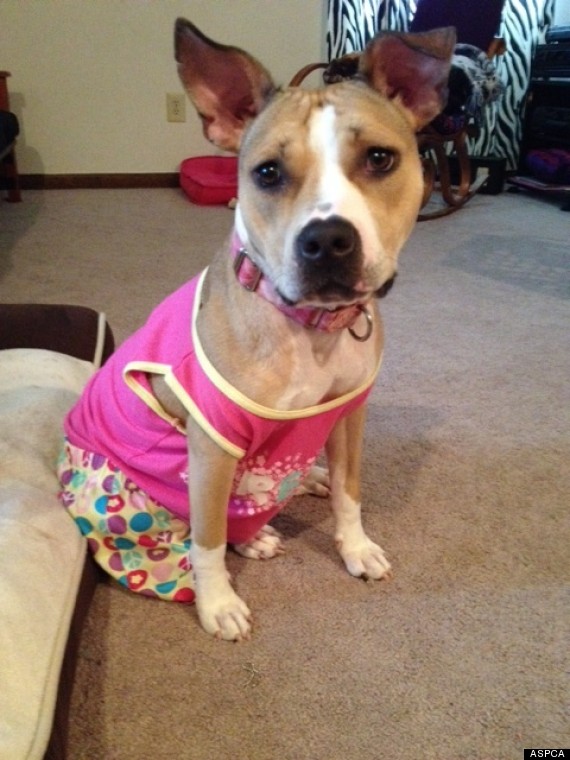 Lisa Grant, a 50-year-old private housekeeper, adopted Mabel (whose name she has since changed to Hope) after she saw him on a local news station in Merriam, Kansas, according to the ASPCA. When she noticed that Hope's ID collar had the number 923 on it, she told the organization that "it was meant to be" because it's the same as her birthday, Sept. 23.
Willie Wonka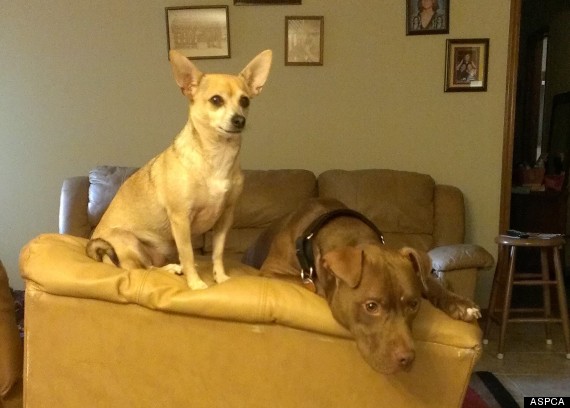 Willie Wonka was found filled with hookworms before he was treated and transferred to Pit Sisters, a rescue organization in Jacksonville, Florida, according to the ASPCA. Michelle Aponte reached out to the group in May while on the hunt for a new canine pal, and immediately bonded with Willie, who has since been renamed Jack. He now lives with Aponte and her family, including two other dogs and a cat he adores.
Arabelle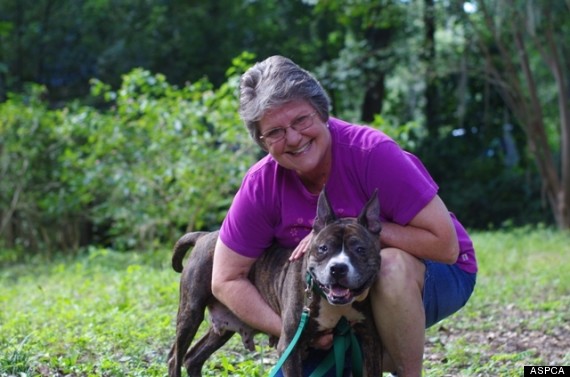 Arabelle was held in captivity by dogfighters for more than a decade and forced to have puppies who were later thrown in the ring themselves, according to the ASPCA. Fortunately, she was rescued in the bust and adopted by her foster parent, Sharon. She quickly became a loving member of her new family in Gainesville, Florida.
Buddy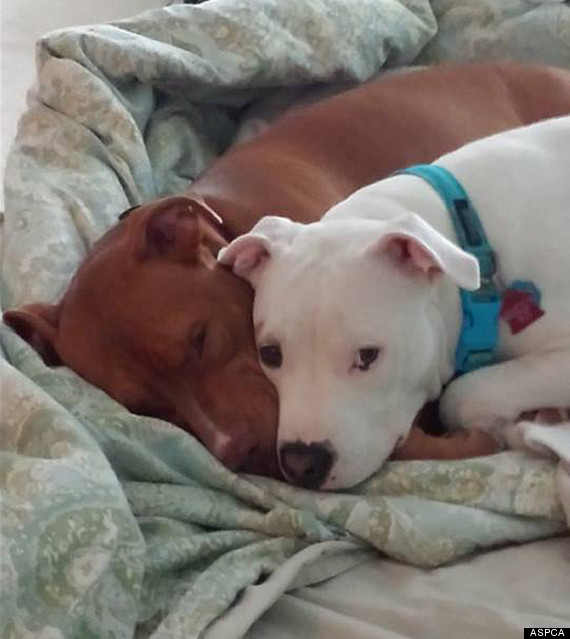 Buddy was rescued during the dogfighting raid after spending his entire life on a chain, according to the ASPCA. Michele Wilkins jumped in to foster him, quickly integrating him with her other dogs while she searched to find him a permanent home.
Buddy found a new owner in Andrew Metzger while serving as a greeter at the Charleston Animal Society in South Carolina. Metzger introduced the pup to his other dog, Cinnamon, and after the two hit it off, Metzger took Buddy home to be the newest addition to his family, the ASPCA says.
Abby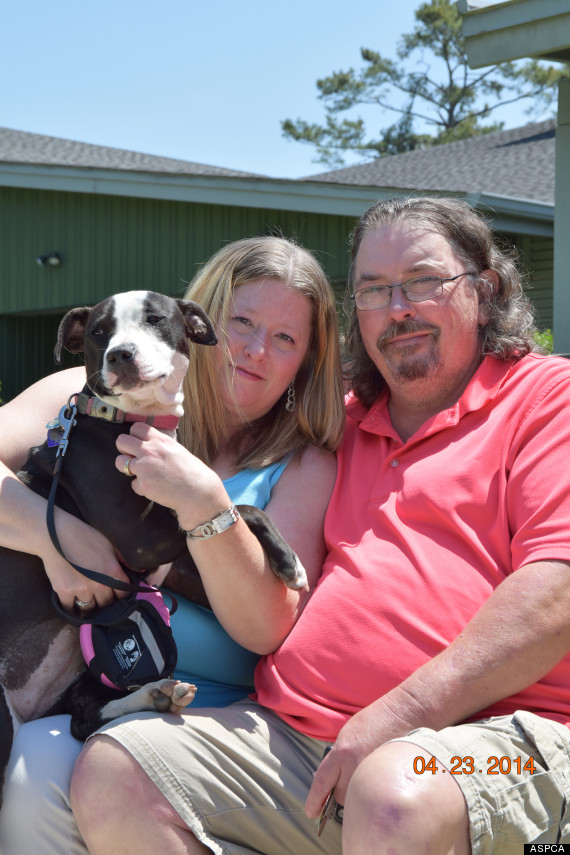 Tamara Houston became Abby's foster parent last October, when the pup was just 3 months old, according to the ASPCA. Houston already had two dogs and wasn't planning on adding any more members to her family, but Abby ultimately won her heart and she adopted the pit bull for good earlier this year.
Edgar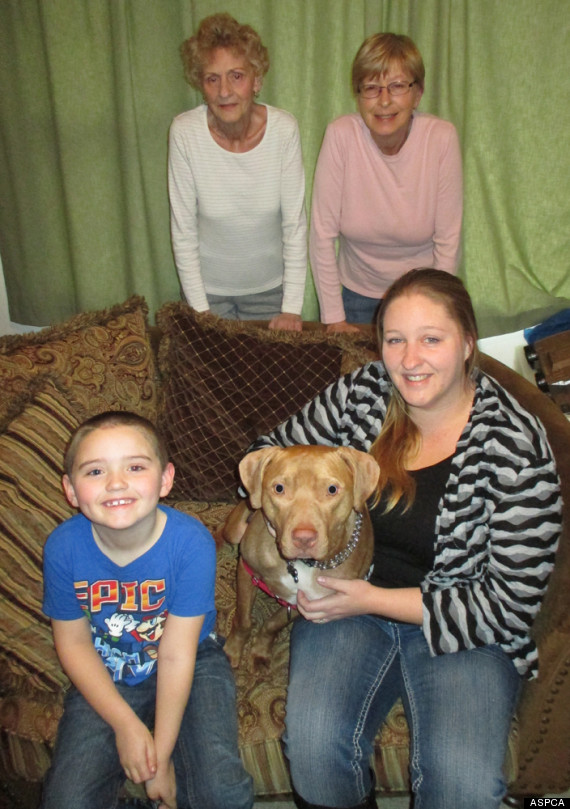 Edgar was adopted by Amber Norton of Dunkirk, Maryland, and now spends all his time with Norton and her son, mother and grandmother.
"He's pretty spoiled; someone's with him all day," Amber told the ASPCA.
Ringo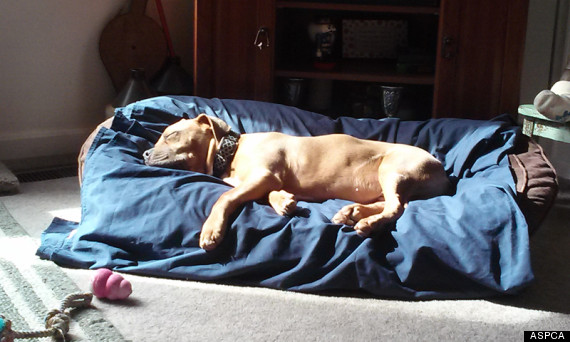 After getting rescued by the ASPCA, Ringo was sent to the Calvert County Humane Society in Maryland. His foster mom, Jenine Wellman, told the organization that he gained 19 pounds in just six weeks.
"We really weren't planning on another dog, but Ringo stole our hearts the minute we saw him," she told the ASPCA.
Calling all HuffPost superfans!
Sign up for membership to become a founding member and help shape HuffPost's next chapter